This page was last updated in 2022.
The Georgetown University School of Nursing now offers a DNAP program!
Georgetown University School of Nursing DNAP Program
NURSE ANESTHESIA PROGRAM
School of Nursing & Health Studies
St. Mary's Hall
3700 Reservoir Road, N.W.
Washington D.C. 20057-1107
Contact Information
Edith De Leon
en48@georgetown.edu
(202) 687-3912
Quick Facts
CRNA Degree offered
DNAP
Program Length
36 months
Credit Hours
64 hours
Starting Month
June
Application Deadline
October 15
Entire Cost of CRNA School for Georgetown University School of Nursing DNAP Program.
Tuition is calculated at the 2017-2018 rate. Tuition at most schools increases each academic year. Over the duration of the program, expect to pay a tuition that is 5% to 15% higher than what is shown here.
Cost of Tuition: $146,512
*Fees and expenses: $7,130
Grand Total:$153,642
*This includes the cost of books mandatory fees
Georgetown University School of Nursing Tuition Link
Class Size
About 20-25
Number of Applicants
Around 200 students typically apply.
CRNA Program Summary
Are you concerned that Georgetown University won't give you the specific experiences or training you need to be a successful CRNA? Learn what standards CRNA Programs must meet in order to be accredited by the Council on Accreditation of Nurse Anesthesia (COA).
The program is structured into 2 phases. The first phase is front-loaded, classroom, didactic learning, supplemented by work in clinical simulation and research project phase, consisting of 50-60 hours + on- call per week of clinical work.
Program Requirements
Looking for something specific? Find CRNA schools categorized by their unique requirements.
Some CRNA schools require much more out of their applicants than others. See how the requirements at Georgetown University School of Nursing compare to most CRNA school's requirements.
CRNA Program Requirements
Required Bachelor Degree
Baccalaureate degree from a U.S. Department of Education accredited institution. They do not require a BSN.
RN:
Current RN license in the US.
Critical Care:
Minimum two-year experience in critical care (Surgical Intensive Care is preferred).
GPA:
Cumulative 3.0 and minimum science GPA of 3.0
Minimum GRE scores:
GRE is required if GPA is lower than 3.5.
TOEFL:
(Test of English as a Foreign Language) for students whose degree program was administered in a language other than English. A minimum score of 100 (iBT test) is required.
Course Prerequisites
Chemistry: 3 or more credits, completed with a B or better, within the last five years.
Biochemistry: Highly recommended
Statistics: 3 or more credits, completed with a B or better
Georgetown University School of Nursing DNAP Program
CRNA School Performance
Accredited CRNA Programs are reviewed regularly.
Georgetown University School of Nursing Nurse Anesthetist MSN Program was last reviewed 05/2014. It was given 10 years accreditation andards.  The Georgetown University DNAP Program is still pending accreditation.
Pass Rate for CRNA Boards at Georgetown University School of Nursing
Please note: It is extremely rare for a student at any CRNA school to not eventually pass the exam. Most students who don't pass the first time pass the second. Very rarely does a person ever take it a third time. This statistic only measures how well the program prepares students to pass the test the first time around.
First-time test takers: 97% (2015 – MSN Program)
National average (2016): 84.5%
Attrition Rate: 8% (2015 – MSN Program)
Employment Rate: 100% (2015 – MSN Program)
CRNA Salaries
An average nurse anesthetist salary in Georgetown University School of Nursing DNAP Program, Washington DC.
Washington CRNA salaries tend to be in-line with the national average around $170k.
An average annual nurse anesthetist salary in the US is $173,129 (according to a 2016 study)
Rural average: $174,214
Metropolitan average: $164,148
Suburban average: $156,630
Average starting CRNA salaries range from $110,000-$130,000.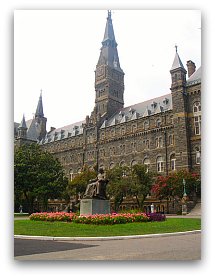 Frequently Asked Questions
How many hours should I expect to be engaged in the program each week?
During the clinical portion of the program, students are doing clinical 50-60 hours per week plus call.
Can I work as an RN while I'm in the program?
Working is strongly discouraged due to the academic rigor and time constraints of the Nurse Anesthesia program.
Do they require a research paper?
Students must successfully complete a Thesis or successfully complete a Scholarly Project.
All information given on this site about Georgetown University School of Nursing's Nurse Anesthetist Program was taken directly from their website.
Did you find an error on this page? Please report it here