The Excela Health School of Anesthesia is one of twelve CRNA schools in Pennsylvania.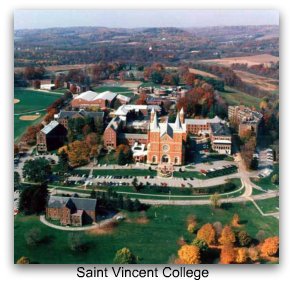 Excela Health School of Anesthesia
Saint Vincent College
One Mellon Way
Latrobe, PA 15650
Excela Health
Administrative Offices
532 West Pittsburgh Street
Greensburg, PA 15601
Contact Information
Michael A. DeBroeck, CRNA, DNP,  Director
ph: (724) 537-2638
fax: (724) 539-7608
email: jhursh@excelahealth.org
Quick Facts
CRNA Degree offered
Master of Health Science in Nurse Anesthesia
Program Length
27 1/2 months, full time
Credit Hours
56 credit hours
Starting Month
August
Application Deadline
September 1st for admission the following August.
Entire Program Cost of CRNA School at Excela Health.

Tuition is calculated at the 2015-2016 rate. Tuition at most schools increases each academic year. Over the duration of the program, expect to pay a tuition that is 5% to 15% higher than what is shown here.
Cost of Tuition: $66,595
Fees and expenses: $6,595
*Grand Total: $73,190
*This includes the cost of books, supplies, test fees, and miscellaneous school expenses.
Class Size
30
When did this CRNA Program begin?
Excela Health School of Anesthesia graduated its first class in 1955.
CRNA Program Summary
Are you concerned that Excela Health School of Anesthesia's Program won't give you the specific experiences or training you need to be a successful CRNA? Learn what standards CRNA Programs must meet in order to be accredited by the Council on Accreditation of Nurse Anesthesia (COA).

This CRNA program (as well as all others that are accredited by the COA) prepares you to take the CCNA certification exam at the conclusion of the program, allowing you to become a CRNA.
CRNA Program Structure
At this integrated CRNA school, you'll spend your first 4 months at Saint Vincent College immersed in didactic study. The remaining 24 month period takes place at Excela Health and includes both didactic as well as clinical education.
Your clinical rotations will take place in as many as 20 affiliate sites in the tri-state area. During clinicals, you will gain experience in the administration of general, regional, and IV sedation to patients of all acuities and ages.
Program Requirements
Looking for something specific? Find CRNA schools categorized by their unique requirements.

Some CRNA schools require much more out of their applicants than others. See how the requirements at Excela CRNA compare to most CRNA school's requirements.
CRNA Program Requirements
Required Bachelor Degree
Baccalaureate degree in nursing OR a diploma or associate degree in nursing plus a baccalaureate degree other than a BSN, providing the program considers it appropriate.
RN:
Current Registered Nurse license
Critical Care:
Minimum of one year of nursing experience in an acute care setting.
Acceptable critical care experience includes:
ICU (Intensive Care Unit)
CCU (Coronary Care Unit)
ER (Emergency Room – Level One Trauma Only)
PACU (Post Anesthesia Care Unit)
Neonatal ICU
Pediatric ICU
Trauma ICU
Surgical ICU
GPA :
Overall GPA of 3.0 or above in your undergraduate degree.
Minimum GRE scores:
GRE is NOT required but preferred.
Certifications:
BLS (Basic Life Support)
ACLS (Advanced Cardiac Life Support)
PALS (Preferred and must be obtained prior to clinicals if accepted)
Excela Health School of Anesthesia's website
CRNA School Performance
CRNA School Rankings – Schools by Rank
Ranked #47 for the 2015 graduating class.
*Please note: Read about how CRNA rankings are created.*
Accredited CRNA Programs are reviewed regularly.
Excela Health School of Anesthesia Nurse Anesthetist Program was last reviewed 10/2010. It was given eight years accreditation and will be reviewed again 10/2018. This shows that the program is in full compliance with the COA's accreditation standards.
Pass Rate for CRNA Boards at Excela Health School of Anesthesia 
Please note: It is extremely rare for a student at any CRNA school to not eventually pass the exam. Most students who don't pass the first time pass the second. Very rarely does a person ever take it a third time. This statistic only measures how well the program prepares students to pass the test the first time around.

First-time test takers
80% (Class of 2017)
Attrition Rate
0% (Class of 2017)
Employment Rate
97% (Class of 2017)
CRNA Salaries
An average nurse anesthetist salary in Pennsylvania
Pennsylvania CRNA salaries are a little lower than the national average with an annual mean wage of $162,980.
An average annual nurse anesthetist salary in the US is $169,450 (according to the Bureau of Labor Statistics 2017 study)
Frequently Asked Questions
Time Commitment
You will be expected to devote no more than 64 hours per week to the program. This includes two hours of study for every one hour of class.
Call Experience
On-call experience (anytime after 3 p.m.) will be required during the latter half of the first year and the second year. You will be allowed off the day following call.
Can I Work While in School?
You are allowed to work part-time as an RN, though it is not recommended. Working is strongly discouraged after the first semester.
Salaries pulled from Bureau of Labor Statistics
All information given on this site about Excela CRNA was taken directly from their website.
*This page was updated July 27th, 2018.*
Did you find an error on this page? Please report it here