This page was last updated in 2022.
The Emory University DNP Nurse Anesthesia Program has been eagerly anticipated and new in 2017!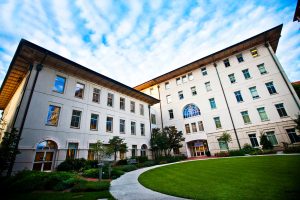 Emory University
Nell Hodgson Woodruff School of Nursing
Department of Nurse Anesthesia
1520 Clifton Road NE
Atlanta, GA 30322
Contact Information
Kelly L. Wiltse Nicely, Ph.D., CRNA
Program Director, Nurse Anesthesia
email: kelly.wiltse.nicely@emory.edu
Emalee Aparo
Program Administrator
email: crnaquestions@emory.edu
Quick Facts
CRNA Degree offered 
Doctor of Nursing Practice – Nurse Anesthesia
Program Length
36 months
Credit Hours 
88-90
Starting Month
August
Application Deadline
June 1st – early admissions with interviews scheduled for July/August
September 1st – interviews scheduled for October/November
Cost of the DNP, Nurse Anesthesia at Emory University
Cost of Tuition: $181,440
*Fees and Total: $189,690
Emory University School of Nursing Tuition Link
*This total does not include out of pocket expenses such as housing and clinical travel. The inclusion of these expenses could add an additional $70,000 to the total.
Class Size
10 students accepted annually.
CRNA Program Summary
Are you concerned that Emory University won't give you the specific experiences or training you need to be a successful CRNA? Learn what standards CRNA Programs must meet in order to be accredited by the Council on Accreditation of Nurse Anesthesia (COA).

Emory University (as well as all others that are accredited by the COA) prepares you to take the CCNA certification exam at the conclusion of the program, allowing you to become a CRNA.
CRNA Training
The DNP, Nurse Anesthesia Program will give you additional knowledge and clinical experiences starting during the second semester of your first year.
You will build a professional portfolio which will include written case studies of clinical experiences that have significance for nurse anesthesia practice.
Program Requirements
Looking for something specific? Find CRNA schools categorized by their unique requirements.

Some CRNA schools require much more out of their applicants than others. See how the requirements at Raleigh School of Nurse Anesthesia compare to most CRNA school's requirements
CRNA Program Requirements
BSN
Or a baccalaureate degree from an accredited nursing program (CCNE, NLNAC).
RN: 
Current RN license. If your license is out of state, you will need to be eligible for an RN license in the state of Georgia.
Critical Care:
A minimum of one year of current full-time critical care, but prefer 2-3 years.  This experience must be completed by matriculation not application.
They do not accept:
Telemetry
Cardiac Cath Lab
Operating room
PACU or RR
Interventional Radiology
Emergency Department
GPA:
Cumulative undergraduate grade point average of 3.0 or higher on a 4.0 scale (preferred).
Courses:
A graduate level statistics course must be completed prior to the start of the program.
Minimum GRE scores: 
Not required
Certifications
BLS (Basic Life Support)
ACLS (Advanced Cardiac Life Support)
PALS (Pediatric Advanced Life Support)
Shadowing a CRNA
It is strongly recommended that you shadow a CRNA or Anesthesiologist for a minimum of 16 hours prior to applying.
Emory University DNP Nurse Anesthesia Program
CRNA School Performance
Accredited CRNA Programs are reviewed regularly. 
Emory University Doctor of Nursing Practice Nurse Anesthesia Program was initially reviewed 05/2017. It was given 6 years' accreditation and will be reviewed again 05/2023.
Pass Rate for CRNA Boards at Emory School of Nursing
As this is a brand new program, there are no current statistics, but we will update this information as soon as it becomes available.
Please note: It is extremely rare for a student at any CRNA school to not eventually pass the exam. Most students who don't pass the first time pass the second. Very rarely does a person ever take it a third time. This statistic only measures how well the program prepares students to pass the test the first time around.
CRNA Salaries
An average nurse anesthetist salary in Emory University DNP Nurse Anesthesia Program, Georgia.
Georgia CRNA salaries are slightly below the national average with an annual mean wage of $179,630.
An average annual nurse anesthetist salary in the US is $189,190 (according to a 2020 study) 
Did you find an error on this page? Please report it here