The Wayne State University Detroit Nurse Anesthetist Program was ranked #17 in 2011.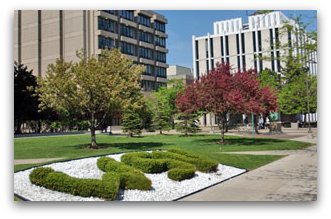 Wayne State University Detroit MI
Wayne State University, Eugene Applebaum
College of Pharmacy and Health Sciences
259 Mack Avenue
Suite 1600
Detroit, MI 48201
Contact Information
Prudentia Worth, CRNA, Ph.D., Director, Nurse Anesthesia Program
ph: (313) 993-7824
fax: (313) 577-5467
email: aa1635@wayne.edu
General Questions
313-577-1716
cphsinfo@wayne.edu
Quick Facts
CRNA Degree offered
Master's of Science in Anesthesia
Program Length
24 months
Credit Hours
64 Anesthesia Program semester hours, 74 total semester hours, including prerequisites
Starting Month
August
Application Deadline
Applications are accepted from May until July 1st (the year before the program begins)
Entire Program Cost of CRNA School at Wayne State University Detroit MI.
Please note that tuition is calculated at the current rate posted on their website. Tuition at most schools increases slightly each academic year. Over the duration of the program, expect to pay a tuition that is slightly higher than what is shown here.
*Cost of In State Tuition: $45, 360
Fees and expenses: $4,755
Grand Total: $50,115
*Cost of Out of State Tuition: $88,681
Fees and expenses: $4,755
Grand Total: $93,436
*Includes books, equipment, materials, test fees, graduation fee, malpractice fee and national certification fee.
Wayne State FAQs (Within the FAQs is the Tuition and Fee schedule)
Class Size
18-20
CRNA Training
Are you concerned Wayne State University Detroit MI's CRNA program won't give you the specific experiences or training you need to be a successful CRNA? Learn what standards CRNA Programs must meet in order to be accredited by the Council on Accreditation of Nurse Anesthesia (COA).
The curriculum is fully integrated allowing students to begin clinical experiences in the first semester and continuing throughout the length of the program. Students begin their clinical experiences with observation, preparation, and implementation of a basic anesthetic for simple cases and gradually progressing to the more complex and challenging cases.
Anesthesia classes are held in the Eugene Applebaum College of Pharmacy and Health Sciences (EACPHS) building. Physiology classes (1st and 2nd semesters) are held in Scott Hall in the School of Medicine (SOM) at WSU.
The program has clinical sites in the Detroit Metropolitan Area, in Toledo, Pigeon, Michigan and Jackson, Michigan. Students will not be expected to rotate through all 19 available clinical sites. However, there are certain Primary Clinical sites which all students will rotate through. Students from Toledo, Ohio will complete most of their clinical experiences in Toledo, Ohio.
Program Requirements
Looking for something specific? Find CRNA schools categorized by their unique requirements.
Some CRNA schools require much more out of their applicants than others. See how the requirements at Wayne State University Detroit MI compare to most CRNA school's requirements.
CRNA Program Requirements
You may submit your application before all of your prerequisites are complete. All undergraduate prerequisites need to be completed before interview.  Update your application with additional accomplishments prior to your interview.
Required Bachelor Degree
Baccalaureate degree in nursing or related science
RN:
Current licensure as a registered nurse
Critical Care:
A minimum of One year of full-time experience in an adult intensive care unit within the past 2 years. Applicants must be full time in any of these three ICUs:
Surgical ICU
Cardiac ICU
Medical ICU
Not Accepted: 
GPA:
Cumulative undergraduate grade point average of 3.0 on a scale of 4.0 or higher and in all sciences
Minimum GRE scores:
Not required. The program has replaced the GRE for CCRN certification.
International Students
Graduate applicants who graduated from colleges/universities in other countries must demonstrate proficiency in English. To fulfill this requirement an applicant must satisfy one of the following criteria:
1. Complete baccalaureate degree requirements at an accredited U.S. institution or at an institution where English is the medium of instruction.
2. Present an acceptable score on the Michigan English Language Assessment Battery (MELAB).
3. Present an acceptable score on the Test of English as a Foreign Language (TOEFL).
Shadowing Experience
Completion of One In-Hospital shadow experience at Detroit Receiving Hospital on or before July 1.
Contact: Mary Walczyk, CRNA at mwalczyk@dmc.org.  Plan ahead as these shadow days fill quickly.
Certifications: 
ACLS (Advance Cardiac Life Support)
PALS
CCRN
CRNA Educational Requirements
6 credits of UG Chemistry: Organic, Inorganic, or Biochemistry (within 10 years)
Biology (within 10 years, 4 credits UG)
Once accepted into the program, you will need to take these graduate courses in the spring/summer semesters before the program starts in the fall:
EER 7630 Statistics
EER 7640 Research
AN 590 Anatomy
Wayne State University Detroit MI's CRNA program website
CRNA School Performance
CRNA School Rankings – U.S. News & World Report (2011)
3.2 out of 5.0. Ranked 17 out of 107 CRNA programs.
*Please note: CRNA rankings are bias and subjective. Read disclaimer about how CRNA rankings are created.*
Accredited CRNA Programs are reviewed regularly.
Wayne State University Detroit MI Nurse Anesthetist Program was last reviewed 10/2014. It was given the maximum of 10 years accreditation and will be reviewed again 05/2024. This shows that the program is in full compliance with the COA's accreditation standards.
Pass Rate for CRNA Boards at Wayne State University Detroit MI
Please note: It is extremely rare for a student at any CRNA school to not eventually pass the exam. Most students who don't pass the first time pass the second. Very rarely does a person ever take it a third time. This statistic only measures how well the program prepares students to pass the test the first time around.
87% (Class of 2014)
National average (2008): 89.9%
Attrition Rate
0% (Class of 2014)
Employment Rate
100% (Class of 2014)
CRNA Salaries
An average nurse anesthetist salary in Michigan
Michigan CRNA salaries are above the national average and range from $160k-180k.
An average annual nurse anesthetist salary in the US is $163,467 (according to a 2008 study)
Rural average: $174,214
Metropolitan average: $164,148
Suburban average: $156,630
Average starting CRNA salaries range from: $110,000-$130,000.
Frequently Asked Questions
How many hours should I expect to be engaged in the program each week?
60-61 hours per week during the first year, 47-78 during the second.
What makes Wayne State University Detroit MI's CRNA School unique?
Most CRNA Schools won't even look at your application until you've met all of their prerequisites. Wayne State University Detroit MI's CRNA program, however, encourages you to send in your application early (even before you've met all of their requirements), and allows you to notify them as you complete the requirements.
This gives you the potential to be accepted into their program an entire year earlier than you could be at other programs! For instance, you can apply after only 3 months of ICU experience, and before you take the GRE. During the year between the application deadline and the school's start date, you can be fulfilling all of the prerequisites.
Compare this to most CRNA Schools, where you would have to wait until you had completed your year of ICU before applying, then wait another year after you sent in your application before the program started!
Keep in mind that the number of applicants for any program fluctuates from year to year. The more applicants they have, the more competitive your application needs to be in order to stand out. Just because they'll take your application, doesn't mean they'll accept you into their program.
All information given on this site about Wayne State University Detroit MI's Nurse Anesthetist Program was taken directly from their
Website
.
*This page was updated April 17th, 2017*
Did you find an error on this page? Please report it here