Because of its distance learning option, Texas Wesleyan University's CRNA program can be completed in 9 different states!  Within the 9 states, there are 20 different clinical facilities.
In comparison to most CRNA School websites, Texas Wesleyan University offers an abundance of information about their program.
In an attempt to save you time, I've boiled it down to what I feel would be most helpful to you in choosing between this program and another. Most information has been summarized, some have been omitted.
For complete details, please visit their program website.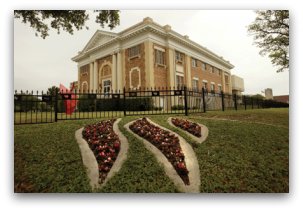 Texas Wesleyan University
Graduate Programs of Nurse Anesthesia Building
1201 Wesleyan Street
Fort Worth, TX 76105
Contact Information
Tito Tubog, DNAP, CRNA, Program Director
817-531-4406
tdtubog@txwes.edu
Tommie Kates, Coordinator of GPNA
817-531-4279
tkates@txwes.edu
Lisa Graham, Admissions Coordinator
Phone: 817-531-5854
ejgraham@txwes.edu
Quick Facts
CRNA Degree offered at Texas Wesleyan University
Master of Science in Nurse Anesthesia is the only degree offered at Texas Wesleyan University that is an entry program for RNs. Both the Master of Health Science and the DNAP require that you be a CRNA already.
The Master of Science and the Master of Health are virtually the same. The only difference is that the MHS does not require Phase II (clinical experience), as it is intended for current CRNAs who lack a Master's degree.
Program Length
28 months, full time
Credit Hours
66 semester hours
Starting Month
August
Application Deadline
Priority enrollment is Sept 15.  They will accept your application after this date but will start allocating seats once interviews start Oct 15-Jan 31.
Entire Program Cost of CRNA School at Texas Wesleyan University.
Please note that tuition is calculated at the 2016-2017 rate. Tuition at most schools increases slightly each academic year. Over the duration of the program, expect to pay 5-15% more than what is shown here. It is often difficult to calculate tuition. 
Tuition: $74,626
Fees & Expenses: $15,848
Grand Total: $90,474
This total includes all of the expense listed on their website minus the living expenditures.
*Financial Aid Grand Total: $155,345 This includes tuition, fees, books, living expenditures, and other miscellaneous costs.
*Note: This total includes living expenditures.  We normally do not include these costs since they can vary dramatically from person to person, however, the tuition totals listed on the Texas Wesleyan University website includes tuition, fees, books, living expenditures and other costs as one number. The tuition total seen above has been taken directly from the school's website.
Class Size
120-135 for the MSNA.
Number of Applicants
460 apply to the MSNA, not all applicants meet the minimum requirements. Only 300 are generally interviewed.
CRNA Training
Are you concerned Texas Wesleyan University's CRNA program won't give you the specific experiences or training you need to be a successful CRNA? Learn what standards CRNA Programs must meet in order to be accredited by the Council on Accreditation of Nurse Anesthesia (COA).
Didactic Curriculum Phase I – 12 months
Phase I begins each fall at Texas Wesleyan University and is completed the following August. During this period, you must complete 42 graduate credit hours with a 3.0 GPA in order to begin Phase II.
Long Distance Option
The Graduate Program of Nurse Anesthesia at Texas Wesleyan University offers long distance education options.  Contact the school directly to get all the details.
Clinical Curriculum Phase II
Phase II begins the third Monday in August and lasts approximately sixteen (16) months. While Phase II is mostly clinical, you'll return to the classroom once a week for extensive clinical related study.
This classroom time will include clinical conferences; journal club; and seminars dealing with current topics including, but not necessarily limited to, respiratory, cardiovascular, thoracic, neurosurgical, regional, obstetrical, pediatric, and special areas of anesthesia.
Because of Texas Wesleyan University's emphasis on outcome-based nurse anesthesia education, you'll be expected to:
submit a minimum of 50 written anesthesia care plans
assess the patient pre-operatively before creating each care plan
complete a post-operative evaluation on each patient you are actively involved with
document each visit and assessment on the patient's anesthetic record
take a minimum of 650 cases
Clinical Rotations
During your clinical rotation, you'll gain experience in a Recovery Unit, Holding Unit, Anesthesia Department Management, Surgical Satellite Pharmacy Unit, and Other locations as available.
Since most primary training facilities do not meet all clinical requirements for graduation, you'll need to complete a specialty rotation somewhere else.
In order to do this, you may need to relocate for one or two months in order to complete your specialty rotation. While some hospitals will provide housing during this time, others may not. All travel expenses are your responsibility.
If the rotation site is in another state, you'll need to pay for RN licensure in that state as well.
Primary Clinical Sites
Alabama:
Mobile Infirmary Medical Center, Mobile
Arkansas:
Baptist Medical Center, Little Rock
St. Bernard's Regional Medical Center, Jonesboro
California:
Arrowhead Regional Medical Center, Colton
Colorado:
Denver Health Medical Center, Denver
University of Colorado Hospital, Denver
Kansas:
Wesley Medical Center, Wichita
Stormont-Vail Medical Center, Topeka
Louisiana:
CHRISTUS St. Frances Cabrini Hospital, Alexandria
LSU Medical Center, Shreveport
North Dakota:
CHI St. Alexius Health, Bismarck
Ohio:
Miami Valley Hospital, Dayton
Texas:
Dallas, Texas: Dallas V.A. Hospital
Dallas, Texas: Baylor University Medical Center
Dallas, Texas: UT Southwestern Medical Center
Fort Worth, Texas: Baylor All Saints Health System
Fort Worth, Texas: Harris Methodist Hospital
Fort Worth, Texas: John Peter Smith Hospital
Fort Worth, Texas: Plaza Medical Center
Harlingen, Texas: Valley Baptist Medical Center
Lubbock, Texas: Texas Tech University Health Science Center
Master of Science in Nurse Anesthesia (MSNA) – for RN & BS prepared applicants
Looking for something specific? Find CRNA schools categorized by their unique requirements.
Some CRNA schools require much more out of their applicants than others. See how the requirements at Texas Wesleyan University compare to most CRNA school's requirements.
CRNA Program Requirements
Required Bachelor Degree
A baccalaureate degree from a fully accredited college or university.  Because this is a competitive program, your nursing degree must have included clinicals and degrees must come from institutions that use a traditional grading system
RN:
Current R.N. license in one of the fifty states. The license must be unrestricted; free from probation, suspension or stipulations.
Critical Care:
A minimum of one calendar year of full-time current experience as an R.N. in an intensive care patient setting (within 3 years of admission). The minimum one-year experience must be complete by February 1st of the year you wish to enter the program. Two or more years experience is strongly recommended.
Acceptable critical care experience includes:
Adult ICU is preferred
Pediatric ICU
*The ICU experience must be obtained at a U.S. military hospital or a hospital located in the United States or U.S. territories.
They do not accept:
ER (Emergency Room)
PACU (Post Anesthesia Care Unit)
Cath-Lab
GPA:
A minimum science GPA of at least 3.0 (overall or last 60 hours) is required for admission consideration.
GRE:
An official copy of the GRE (the University's institution code is 6828)
You need to meet 2 or more of these 4 requirements: Combined total GRE score in verbal and quantitative sections of 1000 or greater under the GRE scoring system prior to August 1, 2011, or a combined score of 297 or greater under the GRE scoring system after August 1, 2011. The analytical writing section is required; a score of 3.5 or greater is preferred.  An overall GPA of 3.0 or greater (all college/university coursework)A GPA of 3.0 or greater for the last 60 hours of university/college coursework.  A GPA of 3.0 or greater for all science coursework (a minimum science GPA of 2.5 is required for consideration regardless of the other GPAs or GRE scores)
Certifications:
ACLS (Advanced Cardiac Life Support)
PALS (Pediatric Advanced Life Support)
CCRN (Critical Care Registered Nurse) is encouraged for 1st-time applicants and required for reapplication
CRNA Educational Requirements
College-level Chemistry course within 3 years of admission
Texas Wesleyan University's CRNA program website
CRNA School Performance
CRNA School Rankings – Schools by Rank 
Ranked 54 for the 2015 graduating class.
*Please note: Read about how CRNA rankings are created.*
Accredited CRNA Programs are reviewed regularly.
Texas Wesleyan University Nurse Anesthetist Program was last reviewed 10/2011. It was given 10 years accreditation and will be reviewed again 10/2021. This shows that the program is in full compliance with the COA's accreditation standards at the time of the review.
Pass Rate for CRNA Boards at Texas Wesleyan University for 2015

Texas Wesleyan: 90%
National Average: 85%
MSNA Program Completion Rate
2015 92.5%
The new CRNAs have a 100% employment rate within six months of completing the MSNA program.

An average nurse anesthetist salary in Texas
Texas CRNA salaries average around $153k.
An average annual nurse anesthetist salary in the US is $173,129 (according to a 2016 study)
Rural average: $174,214
Metropolitan average: $164,148
Suburban average: $156,630
Average starting CRNA salaries range from: $110,000-$130,000.
Frequently Asked Questions
Time Commitment
The time commitment at Texas Wesleyan University's Nurse Anesthesia program is approximately 64 hours during a seven-day week. This may vary from week-to-week and clinical site-to-clinical site. This time commitment includes study time. One hour of classroom time generates two hours or more of study time. The clinical day, on average, involves 10 to 12 hours in the hospital.
Clinical Hours and Call Schedule
Clinical students (RRNAs) are scheduled 5 shifts per week on the average. Shifts are typically longer than 8 hours. RRNAs are on a rotating call schedule and should expect to work 40-70 hours per week on the average.
If call is taken from home, this will be viewed as committed time and the RRNA will be given the next day off even when not called back into the hospital.
Holidays
Phase 1: You'll get all Texas Wesleyan University holidays and semester breaks including Labor Day, Fall Break, Thanksgiving, Christmas/New Year, Easter, Independence Day, and Martin Luther King Day. You'll also be given time to relocate to your primary clinical site between Phase I and Phase II.
Phase II: Labor Day, Thanksgiving, Christmas/New Year, Memorial Day, and Independence Day. These may not be given on actual holiday.
May I work as an RN while in the program?
As with most CRNA programs, employment is discouraged. It is allowed, however, as long as it does not interfere with Texas Wesleyan University CRNA program commitments.
All information given on this site about Texas Wesleyan University's Nurse Anesthetist Program was taken directly from their Website.
*This page was updated October 8th, 2017.*
Did you find an error on this page? Please report it here