Samuel Merritt University (which used to be Samuel Merritt College) has a great reputation, both with employers and with students, and is centered in the heart of the Bay Area.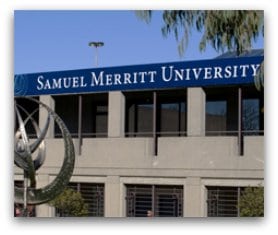 Samuel Merritt University
Nurse Anesthetist Program
School of Nursing – Providence Pavilion
3100 Summit Street, 3rd Floor
Oakland, CA 94609
Contact Information
Joseph Janakes, CRNA, MSN, Interim Program Director
email: jjanakes@samuelmerritt.edu
Shawna Holbrook, admissions
ph: 510-869-1598
fax: 510-869-6525
sholbrook@samuelmerritt.edu
Quick Facts
CRNA Degree offered
Master of Science in Nursing
Program Length
27 months, full time
Credit Hours
66 semester units
Starting Month
August
Application Deadline
November 1
Entire Program Cost of CRNA School at Samuel Merritt University.
Tuition is calculated at the 2015-2016 rate. Tuition at most schools increases each academic year. Over the duration of the program, expect to pay a tuition that is 5% to 15% higher than what is shown here.
Cost of In State Tuition: $85,074
Fees and expenses: $3,335
Grand Total: $88,409
*Kaiser Permanente is competitively awarding $10,000 per year for 2 years ($20,000) to 20 applicants, forgivable after graduation if you are employed by a Northern California Kaiser facility.
Samuel Merritt University Tuition Link This is a good link to show the break down of tuition and fees.  Our total does not include the health insurance the school has available.  But it does have the application fee and estimated cost of books included.
Class Size
28
Number of Applicants
100
CRNA Program Summary
Are you concerned that the Samuel Merritt University Nurse Anesthesia Program won't give you the specific experiences or training you need to be a successful CRNA? Learn what standards CRNA Programs must meet in order to be accredited by the Council on Accreditation of Nurse Anesthesia (COA).
This CRNA program (as well as all others that are accredited by the COA) prepares you to take the CCNA certification exam at the conclusion of the program, allowing you to become a CRNA.
Consistent with most CRNA Programs, Samuel Merritt University is mostly front loaded. As a student here, your heaviest class load will be your first semester (19) units). During your second semester, you'll finish up the bulk of your classes and gain an introduction to clinical anesthesia. This will help you put all of your knowledge in perspective.
You will continue your didactic learning through the remainder of the program, with increasing emphasis on your clinical experience. The following clinical experiences will prepare you for the full scope of practice in nurse anesthesia:
General and regional techniques
Conscious sedation
Ancillary services such as pain management
Interventional radiology procedures
Emergency airway management
Under close and immediate supervision, you will be responsible for the administration and management of virtually all specialty surgery categories and common invasive monitoring modalities for the full range of patient age and acuity levels.
The graduates of Samuel Merritt University all reported that they were well prepared to enter the employment field as CRNAs and felt fully competent to assume their professional role.
Program Requirements
Looking for something specific? Find CRNA schools categorized by their unique requirements.
Some CRNA schools require much more out of their applicants than others. See how the requirements at Samuel Merritt University compare to most CRNA school's requirements.
CRNA Program Requirements
BSN
Bachelor of Science in Nursing is preferred. RNs with baccalaureate degrees in other fields will be evaluated individually and additional course work may be required.
RN:
Current California licensure as a registered nurse – may be obtained after you're accepted, must be available by new student orientation.
Critical Care:
One year ICU experience at the time of interview required. Two to three years of critical care nursing experience is preferable.  Experience must be within the last 5 years.
Acceptable critical care experience includes:
Surgical ICU (including trauma, post-cardiovascular surgery and neurosurgical specialty units)
Medical ICU (coronary care, pulmonary care, and other medical sub-specialty units)
Pediatric ICU
Neonatal ICU
They do NOT accept:
GPA:
Minimum cumulative GPA of 3.0 – average is 3.4.
Minimum last 60 semester or 90 quarter unit GPA of 3.0 – average is 3.6.
Minimum GRE scores:
A minimum score of 290 – average is 311.  Must have been taken within the last 5 years.
TOEFL:
For international students, official TOEFL or IELTS score report, with a score of 100 or higher for TOEFL, 7.0 or higher for IELTS.
Certifications may be obtained after you're accepted:
ACLS (Advanced Cardiac Life Support)
PALS (Pediatric Advanced Life Support)
CCRN highly recommended
Completion of a 1-2 day clinical shadowing experience with a CRNA or physician anesthesiologist.
Course Prerequisites
College Chemistry: Content to include inorganic, organic and/or biochemistry (6 – 8 semester units total)
Statistics (4 semester units)
Intro to Physics: Highly recommended (4 semester units)
Samuel Merritt University's CRNA program website
School's Performance
CRNA School Rankings – U.S. News & World Report (2011)
3.3 out of 5.0. Ranked 11 out of 107 CRNA programs.
*Please note: CRNA rankings are somewhat bias and subjective. Read disclaimer about how CRNA rankings are created.*
Accredited CRNA Programs are reviewed regularly.
Samuel Merritt University Nurse Anesthetist Program was last reviewed 05/2014. It was given10 years accreditation and will be reviewed again 05/2024. This shows that the program is very stable.
Pass Rate for CRNA Boards at Samuel Merritt University
First-time test takers: 100% (2015)
Attrition Rate
3% (2015)
CRNA Employment Rate of program graduates
96% (2015)
CRNA Salaries
An average nurse anesthetist salary in California
California CRNA salaries are among the highest in the U.S., largely because of the higher cost of living. Most jobs range from $150k-$200k per year.
An average annual nurse anesthetist salary in the US is $163,467 (according to a 2008 study)
Rural average: $174,214
Metropolitan average: $164,148
Suburban average: $156,630
Average starting CRNA salaries range from: $110,000-$130,000.
FAQs
How many students do you invite to interview each year?
About 50 students are invited every year for an interview. This number can be more depending on the quality of the applicant pool.
How many students do you accept in the part-time option of the program each year?
No more than 4 students are accepted on a part time basis.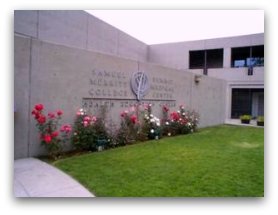 See CRNA School Reviews
All information given on this site about Samuel Merritt's Nurse Anesthetist Program was taken directly from their website.
*This page was updated September 24th, 2016*
Did you find an error on this page? Please report it here