The Uniformed Services University Nurse Anesthetist School was ranked #5 in 2011.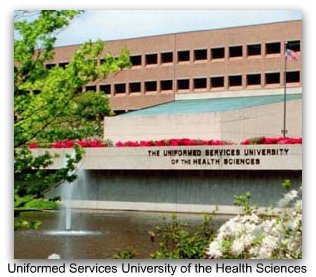 Uniformed Services University of the Health Sciences
Graduate School of Nursing
Nurse Anesthesia School
4301 Jones Bridge Road
Bethesda, MD 20814
Contact Information
CDR Justice M. Parrott, USN, MSN, DNAP, CRNA and Program Director
ph: (301) 295-1199
email:  justice.parrott@usuhs.edu
Quick Facts
CRNA Degree offered
Doctor of Nursing Practice
Program Length
36 months, full time
Credit Hours
101 credit hours
Starting Month
May
Application Deadline
August 15
Cost of CRNA School at Uniformed Services University Nurse Anesthesia School
Cost of Tuition: Active duty service commitment to the military in exchange for free tuition and a full time salary for the duration of your education.
Fees and expenses: books and instruments are supplied without charge or on a loan basis.
CRNA Program Summary
Are you concerned that the Uniformed Services University Nurse Anesthesia Program won't give you the specific experiences or training you need to be a successful CRNA? Learn what standards CRNA Programs must meet in order to be accredited by the Council on Accreditation of Nurse Anesthesia (COA).
This CRNA program (as well as all others that are accredited by the COA) prepares you to take the National Certification Exam (NCE)  allowing you to become a CRNA.
The Graduate School of Nursing (GSN) students are all active duty, uniformed nurses.
Uniformed Services University of the Health Sciences Nurse Anesthesia School is front loaded. Phase 1 is composed of 15 months of didactic and lab experiences.
Phase II is 21 months with a focus on the application of science and research applied to clinical anesthesia. Clinical rotations are held primarily at military hospitals.
An emphasis is placed on statistics and research methodology enabling you to critically analyze anesthesia literature and evaluate potential problems in anesthesia. The primary goal of the program is to produce safe, competent, adaptable anesthetists who can meet the challenges of today's federal health care needs.
The human patient simulator provides realistic training experiences to enhance clinical decision making and problem solving for complex situations.
Program Requirements
Looking for something specific? Find CRNA schools categorized by their unique requirements.
Some CRNA schools require much more out of their applicants than others. See how the requirements at Uniformed Services University Nurse compare to most CRNA school's requirements.
CRNA Program Requirements
BSN
Uniformed personnel with at least a Bachelor of Science in Nursing
RN:
Current RN license
Critical Care:
One year of experience as an RN in an acute care area.
Critical care experience must be obtained in a critical care area. During this experience, applicants should have developed critical decision-making and psychomotor skills, competency in patient assessment, and the ability to use and interpret advanced monitoring techniques.
GPA:
Undergraduate GPA of 3.0 on a 4.0 scale, Science GPA of 3.0 on a 4.0 scale and if applicable Graduate GPA of 3.0 on a 4.0 scale.
Minimum GRE scores:
Competitive GRE scores within the last five years.
Certifications:
Basic Cardiac Life Support (BCLS)
Advanced Cardiac Life Support (ACLS) prior to the start of the program
Pediatric Advanced Life Support (PALS)
References:
One of your three letters of recommendation must be from a military CRNA.
CRNA Educational Requirements (Undergraduate or graduate courses completed with a grade of B or higher) 
Biochemistry – completed within five years of application.
Statistics
Uniformed Services University Nurse Anesthesia School's website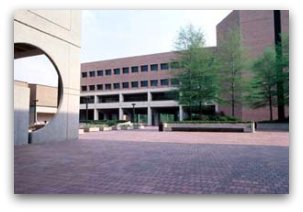 CRNA School Performance
CRNA School Rankings – U.S. News & World Report (2011)
3.5 out of 5.0. Ranked 5 out of 107 CRNA programs.
*Please note: CRNA rankings are bias and subjective. Read disclaimer about how CRNA rankings are created.*
Accredited CRNA Programs are reviewed regularly.
Uniformed Services University Nurse Anesthesia School was last reviewed 10/2013. It was given 10 years accreditation and will be reviewed again 10/23. This shows that the program is very stable.
Pass Rate for CRNA Boards at Uniformed Services University of the Health Sciences
Please note: It is extremely rare for a student at any CRNA school to not eventually pass the exam. Most students who don't pass the first time pass the second. Very rarely does a person ever take it a third time. This statistic only measures how well the program prepares students to pass the test the first time around.
Due to their transition from MSN to DNP, they did not have a graduating class of 2015.
First-time test takers: 95% (Class of 2014)

Attrition Rate
2% (Class of 2014)
CRNA Employment Rate of program graduates
100%
CRNA Salaries
Note: Employment and education location has no bearing on military salaries.  Click here for most current military pay schedule.
An average nurse anesthetist salary in Maryland
Maryland CRNA salaries are about the same as the national average and range from $140k-160k.
An average annual nurse anesthetist salary in the US is $163,467 (according to a 2008 study)
Rural average: $174,214
Metropolitan average: $164,148
Suburban average: $156,630
Average starting CRNA salaries range from: $110,000-$130,000.
All information given on this site about the Uniformed Services University Nurse Anesthetist Program was taken directly from their website.
*This page was updated July 30th, 2016.*
Did you find an error on this page? Please report it here