Gulf Coast University Florida's extremely high success rate on the National Board Exam (NCE) combined with the small class size and very low attrition rate, beautiful campus, state of the art simulation facilities and caring, student-oriented instructors make the choice for FGCU an easy one!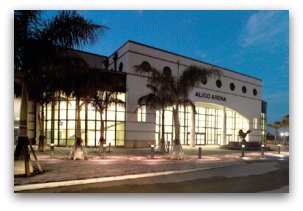 Gulf Coast University Florida
(Florida Gulf Coast University)
MSN Nurse Anesthetist Program
10501 FGCU Boulevard South
Fort Myers, FL 33965
Contact Information
Rosann Spiegel, JD, DNAP, CRNA
Program Director, MSN Nurse Anesthesia Program
Assistant Professor
Email: rspiegel@fgcu.edu
Phone: (239) 745-4309
Gretchen Warn
Graduate Program Assistant – Nursing
Email: gwarn@fgcu.edu
Phone: (239)590-7505
Quick Facts
CRNA Degree offered
Master of Science in Nursing
Program Length
28 months, full time
Credit Hours
81
Starting Month
January
Application Deadline
 May 15th, Interviews in June and July.  You must apply through NursingCAS.
Entire Program Cost of CRNA School at Gulf Coast University Florida.
Please note that tuition is calculated at the current 2015-2016 rate. Tuition at most schools increases each academic year. Over the duration of the program, expect to pay a tuition that is 5% to 15% higher than what is shown here.
Cost of In State Tuition: $30,244
*Fees and expenses: $3,065
Grand Total: $33,309
Cost of Out of State Tuition: $105,353
*Fees and expenses: $3,065
Grand Total: $108,418
*This includes the estimated cost for books and the application fee.
There is a clinical fee and an equipment fee for each semester – contact the program for more specific tuition details.
Florida Gulf Coast University CRNA Program Tuition link
Clinicals
They strive to provide the most current and marketable skills to their students: above and beyond the basics, in order to graduate a "full-service -provider". They offer hands-on training in ultrasound guided regional anesthesia as well as vascular line.
Commute time
All current clinical sites are in Lee, Collier and Charlotte Counties, which makes the commute usually less than 30 minutes. Clinical sites used by the program may change before or during a students time at FGCU.  In the future, sites may include elective or mandatory clinical sites requiring travel to other counties in Florida. If a student must travel to a distant site for a mandatory rotation, housing will be provided.  Students will be responsible for travel to sites in Florida.
Program Requirements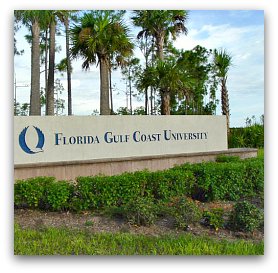 Looking for something specific? Find CRNA schools categorized by their unique requirements.
Some CRNA schools require much more out of their applicants than others. See how the requirements at Gulf Coast University Florida compare to most CRNA school's requirements.
CRNA Program Requirements
Required Bachelor Degree
BSN from a nationally accredited nursing program
RN:
Current and unrestricted registration as a registered nurse with eligibility for Florida RN licensure.
Critical Care:
A minimum one year current practice experience as a registered nurse in acute care setting which incorporates use and interpretation of advanced monitoring techniques based on knowledge of physiological and pharmacological principles.
GPA:
Cumulative GPA of 3.0 or higher on a 4.0 scale.
Minimum GRE scores:
Combined score of 1000 on verbal and quantitative sections or equivalent score using revised GRE. Analytical score must also be reported. These are the average scores of students admitted from years past:
Revised GRE taken after August 1, 2011
Verbal: 149-156
Quantitative: 146-152
These certifications are not required for application, but must be maintained while in the program:
BLS (Basic Life Support)
ACLS(Advanced Cardiac Life Support)
PALS (Pediatric Advanced Life Support)
Course Prerequisites (must earn a C or better)
Statistics course.
Health assessment course.
Two chemistry courses, one with a laboratory component.
Gulf Coast University Florida's CRNA program website
CRNA School Performance
CRNA School Rankings – U.S. News & World Report (2011)
2.1 out of 5.0. Ranked 90 out of 107 CRNA programs.
*Please note: CRNA rankings are bias and subjective. Read disclaimer about how CRNA rankings are created.*
Accredited CRNA Programs are reviewed regularly.
Gulf Coast University Florida Nurse Anesthetist Program was last reviewed on 10/2012. It was given 10 years accreditation and will be reviewed again on 10/2022. The maximum accreditation available is 10 years.
First time test takers
87% – 2016
Attrition Rate
6%  – 2016
Employment Rate
100% – 2016
CRNA Salaries
An average nurse anesthetist salary in Florida
Florida CRNA salaries are about the same as the national average and fluctuate between$150k-175k.
An average annual nurse anesthetist salary in the US is $163,467 (according to a 2008 study) Rural average: $174,214 Metropolitan average: $164,148 Suburban average: $156,630 Average starting CRNA salaries range from: $110,000-$130,000.
All information given on this site about Gulf Coast University Florida's Nurse Anesthetist Program was taken directly from their website.
*This page was updated March 28, 2017.*
Did you find an error on this page? Please report it here