Are you looking for a rewarding career in the medical field without the years of training? Do you enjoy working with people as a part of a team? A career as an Anesthesia Assistant (AA) might be a great fit for you.
An AA is a highly trained and credentialed specialist who provides anesthesia care under the direction of an anesthesiologist. AAs work as part of an Anesthesia Care Team that may include anesthesiologist residents, anesthesiologist assistants and nurse anesthetists. AAs must complete more than two years of training in an accredited master's degree program.
Salaries for anesthesia assistants are excellent with average starting salaries ranging from $95,000 to $120,000, comparable to those of CRNAs. Top performers in the field can expect an average salary of $160,000 to $180,000.
Individuals entering the anesthesia assistant ranks join a small, dynamic, and evolving profession. The first AA education programs began in 1969 as an answer to the shortage of qualified individuals in the field of anesthesiology. Today, more than 1,800 AAs provide anesthesia care throughout the United States.
What You Do
AAs function as a member of an Aesthesia Care Team providing care under the medical direction of a qualified anesthesiologist. Work environments include but are not limited to outpatient ambulatory centers, teaching institutions, and private hospitals. Individuals providing anesthesia care work with patients representing all specialty areas.
AAs work with autonomy in performing the functions involved in providing anesthesia care. AAs can perform tasks such as
Performing a physical examination and obtaining a health history prior to surgery
Administering anesthetic drugs and monitoring the patient throughout surgery and the post-operative recovery period
Recognizing and treating surgical complications, including life-threatening situations
Training and supervising personnel in anesthesia care.
The work of an anesthesia assistant is comparable to that of a certified registered nurse anesthetist. The greatest distinction between the two professions is the AA's need for direct medical supervision by a qualified anesthesiologist whereas a CRNA can work independently.
Where You Can Practice
Anesthesia assistants can practice in seventeen (17) states and the District of Columbia.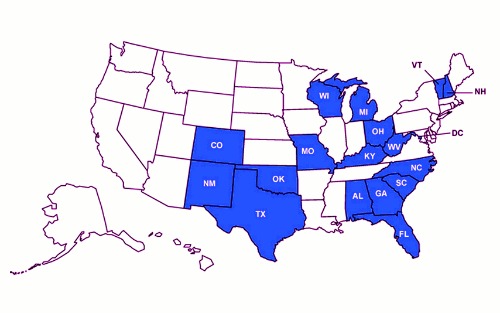 AAs can practice based on a license, regulation, and/or certification in the following areas:
Alabama
District of Columbia
Florida
Georgia
Kentucky
Missouri
New Mexico (university hospital settings)
North Carolina
Ohio
Oklahoma
South Carolina
Vermont.
AAs can practice through physician delegation (i.e. the anesthesiologist delegates tasks to an AA) in these states:
Colorado
Michigan
New Hampshire
Texas
West Virginia
Wisconsin.
AAs can practice throughout the country by working for the federal government. The Department of Veterans Affairs and the Department of Defense hire AAs to practice under the TRICARE program.
Becoming an AA
Students earn a master's degree from one of 7 anesthesiologist assistant programs in the United States. The accredited AA programs are found across the country at the following sites:
Case Western Reserve University, Cleveland, Ohio
Case Western University, Houston, TX
Emory University, Atlanta, Georgia
Nova Southeastern University, Ft. Lauderdale, Florida
Nova Southeastern University, Tampa, Florida
South University, Savannah, Georgia
University of Missouri, Kansas City, Missouri.
Preparation for admission to an accredited anesthesia assistant program requires a bachelor's degree with courses typical of a premedical curriculum. Prerequisites for admission include undergraduate coursework in biology, biochemistry, chemistry, organic chemistry, mathematics, physics and English. A GPA greater than 3.0 on 4.0 scale is expected.
Programs entail 24 to 28 months of study and clinical work. Entering class sizes range from 8 to 50 students depending on the particular program. Students entering the program are motivated and dedicated – retention rates in the programs stand at 95%.
Graduates of AA programs are members of an exclusive group. Combined, all the US programs graduated only 119 new anesthesia assistants in 2009. Programs report a stellar 100% pass rate on the certifying exam administered by the National Commission for Certification of Anesthesiologist Assistant.
Continuing Education
Being an AA requires a dedication to lifelong learning. AAs must complete 40 hours of continuing medical education credits every two years to maintain certification. In addition, every six years you must successfully pass the Examination for Continued Demonstration of Qualifications administered by the National Board of Medical Examiners.
You can learn more about a career as a anesthesia assistant at the American Academy of Anesthesiologist Assistants (AAAA) website.
*This page was updated May 6th, 2012*
Did you find an error on this page? Please report it here