After reviewing Wake Forest School of Medicine Nurse Anesthesia Program's CRNA program page, I was impressed by their thorough quiz that shows you how you measure up as an applicant.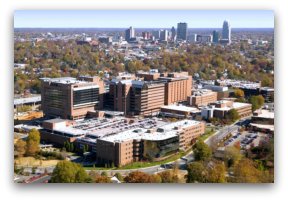 Wake Forest School of Medicine Nurse Anesthesia Program
Wake Forest School of Medicine
Nurse Anesthesia Program
525 Vine Street, Suite 230
Winston Salem, NC 27101
Contact Information
Michael Rieker, DNP, CRNA, Program Director
ph: (336) 716-1411
fax: (336) 716-1412
email: napinfo@wakehealth.edu
Quick Facts
CRNA Degree offered
Master of Science in Nurse Anesthesia
Program Length
24 months
Credit Hours 
64 credit hours
Starting Month
August
Application Deadline
April 1st (interviews in May) October 1st (interviews in November)
The most qualified applicants from the May interviews can receive early admission decision. Early application is encouraged, however they do accept applications on a rolling basis.  All applicants are considered until all spots are filled.
2015 Statistics

For the 2015 interview season, candidates accepted into the new class had an average undergraduate GPA of 3.6,  GRE of 307 (verbal + quantitative), ICU experience of 2.5 years, and RN experience of  3 years.
Entire Program Cost of CRNA School at Wake Forest School of Medicine Nurse Anesthesia Program.
Tuition is based on the 2016-2017 rate. Tuition at most schools increases each academic year. Over the duration of the program, expect to pay a tuition that is 5% to 15% higher than what is shown here.
Cost of Tuition: $65,000
*Fees and expenses: $3,500
Grand Total: $68,500
*Fees and expenses include books, equipment, application fee and program fees. You will still be responsible for health insurance.
Class Size
24
Number of Applicants
150 applicants. 60-70 interviews. They also implemented a new policy of early decision allowing them to make decisions and acceptance offers to highly-qualified applicants who submit their application early in the year.
When did this CRNA Program begin?
1942
CRNA Program Summary
Are you concerned that Wake Forest School of Medicine Nurse Anesthesia Program won't give you the specific experiences or training you need to be a successful CRNA? Learn whatstandards CRNA Programs must meet in order to be accredited by the Council on Accreditation of Nurse Anesthesia (COA).
The CRNA program at Wake Forest School of Medicine Nurse Anesthesia Program (as well as all others that are accredited by the COA) prepares you to take the CCNA certification exam at the conclusion of the program, allowing you to become a CRNA.
The richness of the clinical education they offer has been a strength of this program, since their inception. Being integrated in design, they provide students with an intensive introduction to clinical anesthesia in the first two months of the program. Then, you'll spend the rest of the program in the classroom as well as in clinicals.
Many Wake Forest School of Medicine Nurse Anesthesia Program CRNA students find that this integration suits their learning style, as they can immediately translate theory from the classroom into clinical application in the operating room.
As a student at Wake Forest School of Medicine Nurse Anesthesia Program, you'll obtain clinical experiences at a variety of affiliated clinical sites which provide a broad exposure to anesthetic practice. Some of the many experiences include: fiberoptic airway management, stereotactic surgey, high-tech anesthesia, patient care information systems and experiences in a wide range of surgical specialties including cardiovascular, neurosurgery, orthopedic and otolaryngology.
Program Requirements
Looking for something specific? Find CRNA schools categorized by their unique requirements.
Some CRNA schools require much more out of their applicants than others. See how the requirements at Wake Forest School of Medicine Nurse Anesthesia Program compare to mostCRNA school's requirements.
CRNA Program Requirements
Do you feel confident as an applicant to Wake Forest School of Medicine Nurse Anesthesia Program? Don't just go off of a feeling, find out if you have what they are looking for and take their applicant self-assessment quiz. It will give you tips on what you can do to improve your chances of getting accepted. It's very well done and quite helpful.
Required Bachelor Degree
Baccalaureate degree in nursing (BSN) or degree in a related field from an accredited program (NLNAC, CCNE, or regional accreditation). If you are an experienced nurse, you may be granted an interview if you are in your last semester of your BSN program.
RN:
Current licensure as a registered nurse – (NC licensure required for matriculation)
Critical Care:
A minimum of one year (2,080 hours) of full-time experience within the 2 years prior to application in an intensive care (ICU) or coronary care unit (CCU).
Clinical experience must involve:
Direct patient care
Independent decision-making (experience in orientation or in managerial positions is not applicable)
Examples of experiences most applicable to nurse anesthesia study include:
Management of vasoactive infusions
Invasive monitors
Ventilator modalities
Sedative and paralytic drugs
Blood test interpretation
The broader range of experiences you have, the easier nurse anesthesia school will be for you.
Though the following types of experience reflect well on an applicant's diversity of experience, they will not be considered as meeting the minimum one year requirement.
Post Anesthesia Care Unit (PACU)
Emergency Department (ED)
Step-down
Surgery
Other non-ICU acute care
GPA:
A minimum GPA of 3.0 in nursing and supporting courses. However, a GPA less than 3.5 without good academic indicators otherwise may be considered less competitive. A high GPA based upon a large number of transfer credits or non-nursing courses may not be considered adequate.
If your GPA is on the low end (3.0) you may consider taking some graduate courses. Performance in sciences such as pharmacology, pathophysiology, or chemistry are good ways to demonstrate your academic ability in technical graduate-level courses.
They look at the cumulative GPA and in particular at performance in science and nursing courses. Many applicants take some of their core courses at UNCG or other graduate coursework before or while applying. Performance in relevant graduate coursework is weighed in their assessment, as well.
GRE: 
Satisfactory score on the Graduate Record Examination within the past 5 years.
Individual area GRE scores should exceed approximately the 50th percentile (150 for verbal, and 150 for quantitative). they expect applicants to have a GRE score (New GRE scoring system) over 300 for the combined quantitative and verbal score. The average GRE score for accepted students is 1100 for combined verbal and quantitative.
As these measures are meant to predict your ability in graduate study, consideration of significant graduate-level work completed may outweigh the impact of your standardized scores.
International Students:
Foreign applicants or those with very low GRE verbal scores will be required to demonstrate a TOEFL score of at least 600.
Certifications:
BLS (Basic Life Support)
ACLS (Advanced Cardiac Life Support)
Undergraduate Course Prerequisites
Biostatistics or Statistics (preferably including inferential) (3 units)
Chemistry (organic chemistry is not required but definitely helpful) (3 units)
Health Assessment (recommended not required)
Shadow a CRNA for a day (recommended, not required)
WFUBMC's CRNA program website
CRNA School Performance
CRNA School Rankings – U.S. News & World Report (2011)
3.4 out of 5.0. Ranked 7 out of 107 CRNA programs.
*Please note: CRNA rankings are bias and subjective. Read disclaimer about how CRNA rankings are created.*
Accredited CRNA Programs are reviewed regularly.
Wake Forest School of Medicine Nurse Anesthesia Program was last reviewed 10/2015. It was given the maximum of 10 years accreditation and will be reviewed again 10/2025. This shows that the program is in full compliance with the COA's accreditation standards.
First Time Test Takers – Certification Exam
96% (2016)
Attrition Rate
8% (2016)
Employment Rate
100% (2016)
CRNA Salaries
An average nurse anesthetist salary in North Carolina
North Carolina CRNA salaries are in line with the national average and range from $140k to $160k.
An average annual nurse anesthetist salary in the US is $163,467 (according to a 2008 study)
Rural average: $174,214
Metropolitan average: $164,148
Suburban average: $156,630
Average starting CRNA salaries range from: $110,000-$130,000.
Frequently Asked Questions
Time off
(20) Personal days off per year.
Can I work as an RN while I'm in WFSM's program?
Due to the varied clinical assignment schedule (including evening, weekend, and call shifts) as well as the rigors of the academic program, it is exceedingly difficult to work while in school. Some students occasionally pick up an extra shift in the PACU or ICU, but it is highly discouraged that students expect to depend upon part-time work as a necessary component of financial support while in the program.
Other Programs Offered
Global Health Certificate Program
A program for students interested in international healthcare. This is a 24-month program that runs concurrently with the anesthesia program, and participants receive additional experiences and weekly education alongside physicians, residents, faculty members, and students of other programs. A capstone project is required (involving work in another country), and students receive a Certificate in Global Health from Wake Forest School of Medicine.
Lifespan Development Courses
They also provide extensive Lifespan Development courses to prospective and entering students to help ensure their success in anesthesia school.
All information given on this site about Wake Forest School of Medicine Nurse Anesthesia Program was taken directly from their website or questions were answered from the program director.
*This page was updated November 15th, 2016.*
Did you find an error on this page? Please report it here
Wake Forest Reviews
Submit a Review for Wake Forest Here
Average Score: N/A (1 rating)
Wake Forest - Nothing but Great Things to Say
As a rising senior at Wake Forest Baptist Medical Center, I truthfully have nothing but great things to say about this CRNA program!
The clinical experience is great including a great variety of sites, none that are much further than an hour away which is a convenience we are grateful for.
The faculty of this program desire to see all of their students succeed. This is obvious by the added work they do to ensure extra opportunities to better prepare their students, including an optional summer course for the incoming class for the year.
The optional summer course is completely student geared and helps the incoming class get a taste for what to expect before they actually start class a month later. It involves hands on clinical skills, a cadaver lab day to practice airway tools and regional techniques, as well as opportunities to interact and ask questions of the students in the class ahead. This is just one example of the extra opportunities this program's faculty offers.
This program has scheduled simulation days for all the students in the "Mock OR" which is shared with the medical school. It is complete with all the airway tools/gas machine/etc that are exactly like the real OR's and the patient can do all scenarios very true to real life.
I could go on, but overall I would highly recommend this program! It is difficult and challenging but I think it prepares the students well to be excellent CRNA's.
Wake Forest Nurse Anesthesia Program Develops Leaders
This is an incredible program. The faculty truly care about students' success. There are many opportunities for leadership. They tell us, "You can get out as much as you want to put in." The faculty are very supportive of students getting involved in professional leadership activities.
This program has been around for 75 years, so it is well-established. The program is about to move to a new part of our medical school, in a very modern, downtown area.
Wake Forest Creates Leaders in the Anesthesia Profession
When applying to CRNA schools, Wake was my top choice. I had attended a conference for ICU a nurses the program provided and I was highly impressed with the knowledgeable faculty. Dr. Rieker (program director) has his act together and has made this program top notch. Each year I do not believe this program can get better, but somehow it does!
Current students helping at this conference were highly professional and I was impressed at the information they knew about anesthesia after just one year of the program.
Other than being linked to a major medical center that provides immense opportunities as an SRNA , the learning facilities were state-of-the-art. I had the privilege of visiting their "mock OR" for lifelike simulation learning experiences and the program also has access to the medical school's cadaver lab, in which students can practice intubations and epidurals on true anatomical structures.
Another impressive feature about this program is the opportunity to complete medical mission work while in school. The program director has collaborated and developed an anesthesia program in Ghana, and WF SRNAs are encouraged to travel to these under-served communities to provide anesthesia to patients who are in desperate need.
Another aspect of the program that interested me was the strong history of leadership this program possesses. Many graduates have gone on to serve as board members of the AANA. Also, students of the program have been elected as student representatives for the organization. This program does not just produce CRNAs. The program truly creates leaders in the nurse anesthesia profession.
Other than the excellent reputation this program has, I could write a book on reasons why I chose Wake Forest, but the board passing rates, brilliant faculty/professors, and ties to the school of medicine makes this program outstanding.
Wake Forest Interview and Program Review
Initially, when researching anesthesia programs, I was drawn to Wake Forest for its high national ranking and its well established history of producing well trained anesthesia providers. For these reasons among others, Wake Forest topped my list of prospective programs to attend before I even interviewed. Of course, I was equal parts elated and nervous when I received an invitation to interview for my first choice program.
Throughout the interview process, I was made to feel at ease not only by the director, faculty members, and current students, but also by the personal nature of the interview process. The interview day began with presentations on the history of academic excellence of the program as well as it's focus on community and global outreach. The interview portion of the day included both a personal and clinical interview. Interviews are inherently stressful, but I feel that this was all self-imposed stress. The faculty members, staff, and current students that participated in the interview were all friendly, welcoming, and genuinely interested in getting to know me and how I would fit with the program. The day concluded with a critical thinking/writing exercise.
The main impression I walked away with after the interview was that although Wake Forest has a history of excellence and a current high ranking, they are not satisfied with resting on their laurels. They are always trying to improve themselves and how they train their students.
My other main impression is that while this is a high intensity, demanding program, it is also a close knit group of people that genuinely want to see each student succeed! After my interview, I was even more nervous than I was before because I knew at that point, Wake Forest was by far my number one choice program, and even more so, I truly felt like I belonged in the program. Of course, I was ecstatic to be offered a position in the program, and I can't wait to see what the next 24 months have in store. I'm so proud to be part of this program!
Wake Forest is Very Impressive!
Very impressed! When researching CRNA schools during the application process, I was looking for a school with a solid reputation for producing well-prepared CRNAs. I wanted a school that not only had a strong academic program, but also provided leadership opportunities. I was thrilled to receive an interview to Wake Forest and was not disappointed. The interview process was extensive, but very well organized.
During the interview, facility and current students greeted you and you began the day with a presentation from the Director, Dr. Rieker about their program followed by several other speakers including current students. They had many great things to highlight including their strong academic ranking, their community and global outreach opportunities and their strong presence in the AANA. The things that really stood out to me were their drive for improvement despite their already amazing accomplishments as a program and that it was clear faculty and students alike were proud to represent Wake Forest.
After the initial information session, the remainder of the day was devoted to getting to know the applicant through a panel interview format. You spend approximately 15 minutes in two rooms. The first was a typical interview style with question and answer regarding your experience and interests and your goals of becoming a CRNA. The second was clinical questions focused around a patient scenario. The day then ended with a writing sample focused around your ability to analyze information.
The interview was intimidating but well worth it! Since acceptance into the program, I have had nothing but positive interactions with the faculty. I feel good about my decision to attend Wake Forest and look forward to a crazy, but rewarding two years!
-Tina (Portland, Oregon)
Wake Forest is all I was hoping for
I was originally drawn to Wake for its national ranking, beautiful facilities, and well-established program. Now in the program, Wake has confirmed all that I was hoping for when I was applying and researching schools. While tough and demanding, the process has been constructed in a way that really focuses around the students.
Dr. Rieker, the program director, really cares about each student; he personally is brilliant, and gives amazing entertaining and enriching lectures. Make sure Wake Forest is at the top of your list when applying to programs!
Wake Forest Baptist Nurse Anesthesia Program is an excellent program
Wake Forest Baptist Nurse Anesthesia Program is an excellent program, and is consistently ranked in the top 10 nationally. The program has a great reputation locally (North Carolina) and across the country, so finding a job and networking following graduation would not be a problem.
The interview process is easy to navigate and the ancillary staff for the program will promptly answer any questions or concerns you have along the way. Dr. Rieker is the program director there and has just been recognized by the AANA as program director of the year. His enthusiasm and dedication to the program will make you even more excited about anesthesia during his presentation on the day of the interview. The entire staff is very welcoming on interview day and they also have current students on interview day to give tours and answer any questions.
You cannot beat the clinical variety and strength of sites allowing for a wide range of complex to ambulatory settings and procedures. Wake Forest Baptist is a major medical center with its own children's hospital and operating room. The school also collaborates with the school of medicine which allows for shared simulation space which only enhances your educational experience.
Wake Forest is everything you'd want in an anesthesia program!
I am a senior at Wake Nurse Anesthesia Program. I chose it over VCU, Columbia U., and U. Pittsburgh anesthesia programs because the program supports you, inspires you to excel in anesthesia, integrated didactic/clinical, have excellent clinical experience in Level 1 Adult/pediatric center. The new location @525 is amazing! Have cadaver lab, mock simulations, anesthesia clinical instructors actually love teaching ….everything you would want in a well organized adult centered anesthesia program!
Wake Forest University is Top Notch!
Though I'm certain every SRNA is willing to tout the virtues of their respective programs, you'd be extra hard-pressed to wipe the smile off this unabashed fan. As a NY transplant living in Pittsburgh at the time of application, I'd prioritized Pitt and Wake as my two ideal programs. Wake called first and as I carried my tumultuous, overflowing nerves into interview day, my fears were allayed by the incredible presentation put forth by Dr. Rieker and the faculty (and I remember it in detail like you wouldn't believe). The quality of clinical and didactic education with the cost of tuition is a value that's virtually unmatched. I left that interview knowing there wasn't a better fit for me.
The principles the program promotes are perpetually perceptible: professional growth and leadership of SRNA's, an enriching, rigorous clinical experience and maximizing the myriad resources the program, now in conjunction with the School of Medicine, has to offer. Wake isn't a place that will just sit and churn out staff CRNA's. This program -cultivates a wholesome, well-rounded professional by encouraging you to attend conferences and giving back to community on both a local and international (global outreach trips) level.
When you come to Wake, you understand that you're being taught by experts in anesthesia, including the 2016 AANA Program Director of the year, Dr. Rieker. The faculty, from the top down, truly cares for your development and goes the extra mile to provide you with the tools you need to succeed. The program is didactic heavy the first 10 weeks (starts August) with some observation days sprinkled in. After that, you'll begin to ramp up clinical days starting November. Being able to integrate all that knowledge right away was the perfect structure for me and a pivotal reason I chose Wake. Couldn't be happier with my decision!
Wake Forest is the Most Competitive Program in the Nation
Wake forest Baptist Medical Center is the toughest CRNA program to get admitted to in the country. it is much tougher to gain admission there than VCU. They in my mind should be ranked ahead of VCU.
Only the Most Competitive Applicants Have a Chance
I worked with a nurse who recently graduated from VCU CRNA. She applied to Wake Forest and told me it was brutal and they did not accept her even though she had a very high GPA and several years of ICU experience.
You might as well be applying to a med school when you apply with them; they care less about nursing classes regarding GPA and focus primarily on the tough science and math classes the applicants have completed. They also have an oral interview and she told me it was like taking and oral CCRN, or BKAT exam.
Interview Questions
Questions about vent modes, svo2, svr, ci, vasoactive drips, on and on, she left feeling she didn't impress them with her knowledge which was validated by her denial for admission letter. So to everyone viewing if you want to apply to the toughest CRNA school and what the majority view as having the smartest CRNA students, then appy to Wake Forest CRNA.