The VCU School of Nursing is ranked as one of the top 5 graduate nurse anesthesia programs in the nation by US News and World Report.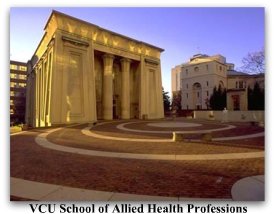 VCU School of Nursing Anesthesia
Virginia Commonwealth University
School of Allied Health Professions
Department of Nurse Anesthesia
1200 East  Broad Street
P.O. Box 980226
Richmond, VA 23298
Contact Information
Michael D Fallacaro, CRNA, DNS, Professor and Chairman
ph: (804) 828-9808
fax: (804) 828-0581
email: mdfallac@vcu.edu
General Program Information
email: nrsa@vcu.edu
Quick Facts
CRNA Degree offered
Master of Science in Nurse Anesthesia, Combined MSNA and DNAP Program, Post-master's clinical doctorate – DNAP
Program Length
28 months, full time
Credit Hours
73 credit hours, 7 semesters
Starting Month
August
Application Deadline
Review of Applications is ongoing with a deadline of Oct 1, however applications received byJanuary 1, are given priority consideration.  You should know by one month after you have submitted your completed application if you are going to be asked for an interview.  If you have not heard from them after a month, call them.
Entire Program Cost of CRNA School at VCU School of Nursing.
Tuition is calculated at the 2015 rate. Tuition at most schools increases each academic year. Over the duration of the program, expect to pay a tuition that is 5% to 15% higher than what is shown here.
Cost of In State Tuition: $50,737
*Fees and expenses: $4,435
Grand Total: $55,172
Cost of Out of State Tuition:$85,648
*Fees and expenses: $4,435
Grand Total: $90,083
*This includes the cost of books and supplies, application fee, test fees and miscellaneous school expenses.
VCU School of Nursing Tuition Link
Class Size
21-24 Richmond campus
6-8 Abingdon campus
5-6 Roanoke campus
5 Northern Virginia campus
Number of Applicants
Very competitive
CRNA Program Summary
Are you concerned that the VCU School Of Nursing Program won't give you the specific experiences or training you need to be a successful CRNA? Learn what standards CRNA Programs must meet in order to be accredited by the Council on Accreditation of Nurse Anesthesia (COA).
This CRNA program (as well as all others that are accredited by the COA) prepares you to take the CCNA certification exam at the conclusion of the program, allowing you to become a CRNA.
The VCU School of Nursing CRNA Program is offered both in Richmond (primary location) and South West Virginia (through distance learning technologies).
As a student in Virginia Commonwealth University's nurse anesthesia master's program, you'll spend your first 3 semesters in classes, completing the "Didactic Phase". As part of their front – loaded curriculum, your classes in chemistry, nurse anesthesia, pharmacology and physiology will prepare you for the clinical experience you'll begin your second year.
In addition to your core science classes, you'll take six professional courses (Principles and Practice of Nurse Anesthesia I-6) which will include classroom presentations, simulator work and practical lab demonstrations and exercises. Your class load is specifically designed to take you from simple to complex, and to integrate theory and clinical exercises.
The Center for Research in Human Simulation will give you the opportunity to practice your skills on SimMan and SimBaby, before you practice on live patients. This is an advantage that many CRNA programs can't offer, and will give you confidence before you begin your clinical experience.
As part of the "Clinical Practicum", you'll spend your last two years (six semesters) in direct patient care. During this time, you'll have the opportunity to administer all types of general and regional anesthesia techniques to a variety of patients ranging in medical and surgical acuity.
You'll be encouraged to think critically, evaluate your performance, and be fully accountable for your clinical skills and competencies. As your knowledge and experience increase, so will your level of responsibility.
After completing the curriculum, you'll not only feel confident in your skills as a nurse anesthetist, you'll be prepared to pass the CRNA boards with flying colors and you'll be highly sought after for employment.
Program Requirements
Looking for something specific? Find CRNA schools categorized by their unique requirements.
Some CRNA schools require much more out of their applicants than others. See how the requirements at Main Keyword compare to most CRNA school's requirements.
CRNA Program Requirements
BSN
Or a baccalaureate degree in a related science.
RN:
Current RN license. You will need an RN license for the state of Virginia by the completion of the first semester.
Critical Care:
A minimum of one year recent experience in an area of acute care nursing.  This experience must be completed by matriculation not application.
They do not accept:
Operating Room
Stepdown Unit
GPA:
Cumulative undergraduate grade point average of 3.0 or higher on a 4.0 scale (preferred). For the past three years the average GPA has been a 3.73.
Minimum GRE scores:
The GRE must have been completed within the last 5 years.   For the past three years the average GRE score has been 306.
Course Prerequisites
Organic chemistry OR a web-based medicinal chemistry prep course offered through VCU's Department of Chemistry. Lab is not required.  Must be completed by matriculation.
VCU School of Nursing CRNA Program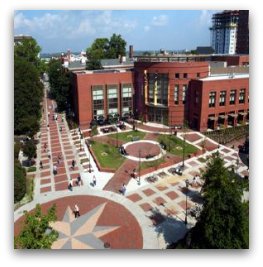 School's Performance
CRNA School Rankings – U.S. News & World Report (2011)
4.0 out of 5.0. Ranked #1 out of 107 CRNA programs.
*Please note: CRNA rankings are bias and subjective. Read disclaimer about how CRNA rankings are created.*
Accredited CRNA Programs are reviewed regularly.
VCU School of Nursing Anesthesia was last reviewed in May, 2011. It was given 10 yearsaccreditation and will be reviewed again May, 2021. This shows that the program is very stable.
Pass Rate for CRNA Boards at VCU School Of Nursing
Please note: It is extremely rare for a student at any CRNA school to not eventually pass the exam. Most students who don't pass the first time pass the second. Very rarely does a person ever take it a third time. This statistic only measures how well the program prepares students to pass the test the first time around.
First-time test takers 2014: 95%
National average (2008): 89.9%
Attrition Rate
2014 – 2%
Employment Rate
2014 – 100%
CRNA Salaries
An average nurse anesthetist salary in Virginia
Virginia CRNA salaries are about the same as the national average and range from $140k-160k range.
An average annual nurse anesthetist salary in the US is $163,467 (according to a 2008 study)
Rural average: $174,214
Metropolitan average: $164,148
Suburban average: $156,630
Average starting CRNA salaries range from: $110,000-$130,000.
FAQs
Will I be able to work part-time during the program?
Employment while completing this program is strongly discouraged.
Do I need to have CCRN certification before applying?
No, you do not need to have the CCRN certification when applying. However, it is very much encouraged.
Is financial aid available?
Yes, various financial aid opportunities are available. You can contact the Financial Aid Office for more information.
All information given on this site about VCU School of Nursing's CRNA Master's Program was taken directly from their website.
*This page was updated January 30th, 2016.*
Did you find an error on this page? Please report it here