This doctor of nursing program is rated top in the nation! The Virginia Commonwealth University's Anesthesia Program was ranked #1 in 2011.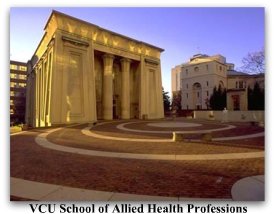 Virginia Commonwealth University
School of Allied Health Professions
Department of Nurse Anesthesia
On the Medical College of Virginia Campus
P.O. Box 980226
Richmond, VA 23298
Contact Information
Michael D Fallacaro, CRNA, DNS, Professor and Chairman
ph: (804) 828-9808
fax: (804) 828-0581
email: mdfallac@vcu.edu
Admissions questions:
Marjorie Taylor-Goodwin, Program Specialist
ph: (804) 828-6726
email: mltaylor@vcu.edu
Curriculum and capstone project questions:
Suzanne Wright, PhD, CRNA, Interim Director of Doctoral Education
ph: (804) 828-9808
email: smwright@vcu.edu
Quick Facts
CRNA Degree offered
etpDNAP, Post-master's clinical doctorate – DNAP
Program Length
36 months
Credit Hours 
93
Starting Month
January
Application Deadline
March 14, 2017
Cost of the etpDNAP
Cost of In State Tuition: $70,542
Fees and expenses: $10,035
Grand Total: $80,577
Cost of Out of State Tuition: $110,119
Fees and expenses: $10,035
Grand Total: $120,154
Class Size
20 – 24 Richmond site
6 – 8 Abingdon site
5 – 6 Roanoke site
5 – 6 Alexandria site
CRNA Training
The etpDNAP will give you additional knowledge and skills in leadership, education and application of best evidence to practice.  The etpDNAP program is a front loaded program with clinical experiences starting during the first semester of your second year.
You will build a professional portfolio which will include written case studies of clinical experiences that have significance for nurse anesthesia practice.
Program Requirements
CRNA Program Requirements
BSN
Or a baccalaureate degree in a related science.
RN:
Current RN license. You will need an RN license for the state of Virginia by the completion of the third semester.
Critical Care:
A minimum of one year recent experience in an area of acute care nursing.  This experience must be completed by matriculation not application.  Note: ER and PACU may be acceptable depending on knowledge base from experiences.
They do not accept:
Operating Room
Step down Unit
GPA:
Cumulative undergraduate grade point average of 3.0 or higher on a 4.0 scale (preferred). For the past three years the average GPA has been a 3.6.  They still encourage all to apply and stress that the 3.6 GPA is just the average.
Minimum GRE scores:
The GRE must have been completed within the last 5 years.   The average GRE score is 307.  Again, they stress 307 is just the average and encourage all to apply.
Certifications
CCRN highly recommended
VCU School of Nursing CRNA Program
CRNA School Performance
CRNA School Rankings – U.S. News & World Report (2011)
4.0 out of 5.0. Ranked #1 out of 107 CRNA programs.
*Please note: CRNA rankings are bias and subjective. Read disclaimer about how CRNA rankings are created.*
Accredited CRNA Programs are reviewed regularly.
Doctor of Nursing Anesthesia at Virginia Commonwealth University Nurse Anesthetist Program was last reviewed 05/2011. It was given 10 years accreditation and will be reviewed again 05/2021. This shows that the program is very stable.
Pass Rate for CRNA Boards at VCU School Of Nursing
Please note: It is extremely rare for a student at any CRNA school to not eventually pass the exam. Most students who don't pass the first time pass the second. Very rarely does a person ever take it a third time. This statistic only measures how well the program prepares students to pass the test the first time around.
First-time test takers 2015: 91% (MSN program)
National average (2008): 89.9%
Attrition Rate
2015 – 2% (MSN program)
Employment Rate
2015 – 100% (MSN program)
Return to Doctor of Nursing at VCU
CRNA Salaries
An average nurse anesthetist salary in Virginia
Virginia CRNA salaries are about the same as the national average and range from $140k-160k range.
An average annual nurse anesthetist salary in the US is $163,467 (according to a 2008 study)
Rural average: $174,214
Metropolitan average: $164,148
Suburban average: $156,630
Average starting CRNA salaries range from: $110,000-$130,000.
"This page was updated September 26th, 2016."
Did you find an error on this page? Please report it here