The complexity and diversity of available clinical services is one of USC Medical Center's most compelling recruiting advantages.  The new DNAP program will begin June 1, 2017.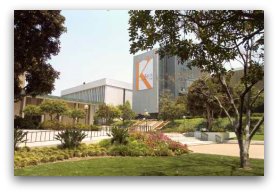 USC Medical Center
University of Southern California (USC)
Program of Nurse Anesthesia
Department of Anesthesiology
Keck School of Medicine
1540 Alcazar Street
CHP #205
Los Angeles, CA 90089-9012
Contact Information
Michele E. Gold, CRNA, PhD, Program Director
mgold@usc.edu
ph: (323) 442-2037
fax: (323) 865-9518
email: uscnap@usc.edu
Quick Facts
CRNA Degree offered
DNAP
Program Length
36 months, full time
Credit Hours
72 semester units
Starting Month
June – online hybrid, August is on campus.
Application Deadline
December 31st (Program recommends completing application two weeks before deadline.)
Entire Program Cost of CRNA School at USC Medical Center.
Tuition is calculated at the 2016-2017 rate. Tuition at most schools increases each academic year. Over the duration of the program, expect to pay a tuition that is 5% to 15% higher than what is shown here.
Cost of Tuition: $136,907
Fees and expenses: $4,065
Grand Total: $140,972
Fees and expenses include: estimated cost of textbooks, SEE, National Exam Fee, University Fees, Medatrax and prodigy board review.
Class Size
16 – 20 students
Number of Applicants
2016: 90 applicants, 60 interviewed.
CRNA Training
Consistent with most nurse anesthetist programs, Keck School of Medicine is primarily front loaded, with the majority of your core classes offered the first 2 semesters. An advantage of this program is that you'll begin your clinical experience during your second semester, allowing you to put your knowledge into proper context.
As part of Keck's CRNA Program, your clinical experience will provide you with everything you need to be a successful CRNA. Their Anesthesiology Department supports the busiest penetrating trauma service in the United States, and the clinical activities of the USC University Hospital receive Medicare's highest clinical severity index of all academic centers in the state.
The complexity and diversity of available clinical services provides the Department with one of its most compelling recruiting advantages.
As a student in USC Medical Center's CRNA Program, you will gain experience in a variety ofclinical specialty areas including:
cardiothoracic
neurosurgical
genitourinary
gynecologic
head and neck
plastic
orthopedic
trauma
obstetric
pediatric
outpatient procedures
Students will have at their disposal the most sophisticated anesthesia equipment, including the use of the patient simulation center.
Under the guidance of expert CRNA and physician faculty, resident nurse anesthetists are responsible for the administration and management of:
general anesthesia
regional anesthetic techniques
modalities of invasive monitoring
acute and chronic pain management
Program Requirements
BSN:
Baccalaureate degree is required from an accredited institution. It does not have to be a BSN (though most applicants will have a BSN)
RN:
current CA RN licensure
Critical Care:
1 year of critical care experience as an RN (Average clinical experience of accepted students is 3.8 years.)
Acceptable critical care experience includes:
Surgical ICU
Medical ICU
Neurosurgical ICU
Trauma ICU
Pediatric/Neonatal ICU
Will be determined on an individual basis:
GPA:
Minimum of 3.0 (2016 Average Cumulative GPA of accepted students was 3.49)
Minimum GRE scores:
Minimum combined score of 300 is required on the verbal and quantitative sections of the GRE general test. (2016 average GRE score was 304.)
Certifications:
BCLS (Basic Cardiac Life Support)
ACLS (Advanced Cardiac Life Support)
PALS (Pediatric Advanced Life Support)
Conversational Spanish is strongly recommended
CRNA Educational Requirements – satisfactory completion of the following college classes:
Combination of inorganic, organic and biochemistry (lab not required). Classes can be combined – all content must be covered. One semester of each (individual or combined) is acceptable.
Statistics OR Nursing Research (one semester)
Anatomy (one semester)
Physiology (one semester)
Biology (one semester)
Intro to Physics (lab not required; one semester)
English comprehension (one semester)
Health Assessment (one semester)
USC Medical Center's CRNA program website
CRNA School Performance
CRNA School Rankings – U.S. News & World Report (2011)
2.8 out of 5.0. Ranked 41 out of 107 CRNA programs.
*Please note: CRNA rankings are somewhat bias and subjective. Read disclaimer about how CRNA rankings are created.*
Accredited CRNA Programs are reviewed regularly.
USC Medical Center Nurse Anesthetist Program was last reviewed 05/2009. It was given 10 years accreditation and will be reviewed again 05/2019. This shows that the program is very stable.
Pass Rate for CRNA Boards at USC Medical Center
First-time test takers: 82% (Class of 2015)
National average (2008): 89.9%
Attrition Rate
0% (Class of 2015)
Employment Rate 
100% (Class of 2015)
CRNA Salaries
An average nurse anesthetist salary in California
California CRNA salaries are among the highest in the U.S., largely because of the higher cost of living. Most jobs range from $150k-$200k per year.
An average annual nurse anesthetist salary in the US is $163,467 (according to a 2008 study)
Rural average: $174,214
Metropolitan average: $164,148
Suburban average: $156,630
Average starting CRNA salaries range from: $110,000-$130,000.
*This page was updated January 22nd, 2016.*
Did you find an error on this page? Please report it here