The University of Tennessee Health Science Center is one of six CRNA schools in Tennessee.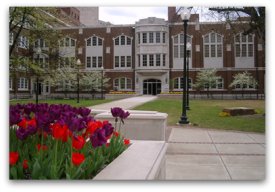 University of Tennessee Health Science Center (UTHSC)
College of Nursing
Nurse Anesthesia Option
920 Madison Avenue, #510
Memphis, TN 38163
Contact Information
Dwayne Accardo, DNP, CRNA, Director of Nurse Anesthesia
ph: (901) 448-6102
tf: (800) 733-2498
fax: (901) 448-4121
email: daccardo@uthsc.edu
Quick Facts
CRNA Degree offered
Doctor of Nursing Practice in Anesthesia
Program Length
36 months
Credit Hours
101 credit hours
Start Date
First Monday of June (they do have activities in May before the first day of classes)
Application Deadline
September 1st using the NursingCAS online system.
Entire Program Cost of CRNA School at University of Tennessee Health Science.
Tuition is calculated at the 2015-2016 rate. Tuition at most schools increases each academic year. Over the duration of the program, expect to pay a tuition that is 5% to 15% higher than what is shown here.
Cost of In State Tuition: $45,192
*Fees and expenses: $21,147
Grand Total: $66,339
Cost of Out of State Tuition: $113,126
*Fees and expenses: $21,147
Grand Total: $134,273
*This estimate is supplied by all-crna-schools.com and represents the average cost of text books, institutional fees and other supplies that are necessary for CRNA school. The chart online shows living expenses included in their total.  Since everyone has different living expenses, that cost was left out of our equation.
University of Tennessee Health Science Tuition Link
Number of Applicants
There are generally 3-4 applicants for every available seat in the class.
Class Size
16-22
CRNA Program Summary
Are you concerned that University of Tennessee Health Science Center's Nurse Anesthesia Program won't give you the specific experiences or training you need to be a successful CRNA? Learn what standards CRNA Programs must meet in order to be accredited by the Council on Accreditation of Nurse Anesthesia (COA).

This CRNA program (as well as all others that are accredited by the COA) prepares you to take the CCNA certification exam at the conclusion of the program, allowing you to become a CRNA.
Summary
The DNP CRNA program at UTHSC runs on a term system, where each term is 20 weeks in length. Summer/Fall term is July through December; Winter/Spring term runs January through May.
It follows a front-loaded format where the first 4 terms are spent on campus at UTHCS and are dedicated to didactic training. The fifth term is transitional, with both didactic and clinical experience. The last four terms are dedicated full-time to clinical education with the educational experience culminating in a project.
Clinical Sites
Primary clinical sites include 5 hospitals in Memphis and one in Germantown, TN. Specialty rotations during the senior year include hospitals in Memphis and one in New Albany, Mississippi.
During your specialty rotations, you will have the opportunity to learn cardiothoracic anesthesia, pediatric anesthesia, neurosurgical anesthesia, OB anesthesia, trauma anesthesia, and rural site anesthesia.
Program Requirements
Looking for something specific? Find CRNA schools categorized by their unique requirements.

Some CRNA schools require much more out of their applicants than others. See how the requirements at the University of Tennessee Health Science Center compare to most CRNA school's requirements.
CRNA Program Requirements
Required Bachelor Degree
BSN or MSN (Bachelor of Science in Nursing or Master of Science in Nursing). You must at least have your BSN by the time you apply. Your application will not be considered if your degree is not complete.
RN:
Registered Nursing license is required
Critical Care:
A minimum of one year of RN experience in adult and/or pediatric Critical Care is required within two years prior to application. This requirement must be complete by the time you apply to the program.
Acceptable critical care experience includes:
ICU (Intensive Care Unit)
Surgical ICU
Coronary Care Unit
Medical ICU
Pediatric ICU
Neonatal ICU
*High acuity Surgical ICU in a tertiary medical center is strongly preferred
They do not accept:
OR (Operating Room)
PACU (Post Anesthesia Care Unit)
Labor and Delivery
ER (Emergency Room)
GPA:
You need a cumulative GPA of 3.0 on a 4.0 scale.
Minimum GRE scores:
There is no minimum GRE score required but it must have been taken within the last 5 years. To be competitive, you should score at least 153 on the verbal, 144 on the quantitative sections and a 4.5 or above on the analytical writing section.
International Students:
TOEFL is required if English is not your native language. It should be noted that the official minimum TOEFL Score must be earned within two years prior to your application.
Shadow a CRNA for a day:
Not required, but recommended.
Certification:
BLS (Basic Life Support)
ACLS (Advanced Cardiac Life Support)
PALS (Pediatric Advanced Life Support)
APRN Certification if applicable
CCRN is recommended
Course Prerequisites
If you took Chemistry more than 5 years ago, it's a good idea to take it again. This online course from the University of New England is highly recommended.
University of Tennessee Health Science Center's CRNA program website
CRNA School Performance
CRNA School Rankings – U.S. News & World Report (2011)
2.9 out of 5.0. Ranked 32 out of 107 CRNA programs.
*Please note: CRNA rankings are bias and subjective. Read disclaimer about how CRNA rankings are created.*
Accredited CRNA Programs are reviewed regularly.
University of Tennessee Health Science Center's Nurse Anesthetist Program was last reviewed 10/2009. It was given the maximum of 10 years accreditation and will be reviewed again 10/2019. This program is in full compliance with the COA's accreditation standards.
Pass Rate for CRNA Boards at University of Tennessee Health Science Center
Please note: It is extremely rare for a student at any CRNA school to not eventually pass the exam. Most students who don't pass the first time pass the second. Very rarely does a person ever take it a third time. This statistic only measures how well the program prepares students to pass the test the first time around.
First-time test takers: 88% (Class of 2015)
National average (2008): 89.9%
Employment Rate
100% (Class of 2015)
Attrition Rate
11% (Class of 2015)
CRNA Salaries
An average nurse anesthetist salary in Tennessee
Tennessee CRNA salaries are a little higher than the national average and range from $150k to $180k.
An average annual nurse anesthetist salary in the US is $163,467 (according to a 2008 study)
Rural average: $174,214
Metropolitan average: $164,148
Suburban average: $156,630
Average starting CRNA salaries range from: $110,000-$130,000.
Frequently Asked Questions
Who should my three letters of recommendation be from?
A Clinical supervisor and two professors.
Is an interview required?
Yes, interviews are required by invitation only. These usually occur in September.
Can I work while I'm in the program?
Working is strongly discouraged while undergoing the Nurse Anesthesia program due to the academic rigors and commitment required.
All information given on this site about University of Tennessee Health Science's Nurse Anesthetist Program was taken directly from their website.
*This page was updated August 31st, 2016.*
Did you find an error on this page? Please report it here