The University of Southern Mississippi is the only CRNA school in Mississippi.
The University of Southern Mississippi
College of Nursing
Nurse Anesthesia Program
118 College Drive #5095
Hattiesburg, MS 39406
Contact Information 
Marjorie Geisz-Everson, CRNA, PhD, Interim Program Director
Nicole Magee, Administrative Assistant/Academic Coordinator
ph: (601) 266-5500
email: nicole.magee@usm.edu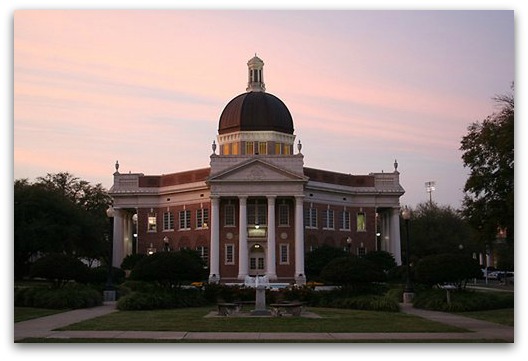 Quick Facts
CRNA Degree offered 
Doctor of Nursing Practice
Program Length
36 months full time
Credit Hours
117 semester hours
Starting Month
January
Application Deadline
June 30th (opens January 1) Notified for interview in August, interviews are scheduled for mid-September and expect to hear about acceptance during the end of September.
Entire Program Cost of CRNA School at University of Southern Mississippi
Tuition listed is for new students and covers the duration of the program.  Expect tuition to increase by 5-15% more than what is shown here due to annual tuition increases.
Cost of In State Tuition: $63,000
*Fees and expenses: $2,100
Grand Total: $65,100
Cost of In State Tuition: $81,000
*Fees and expenses: $2,100
Grand Total: $83,100
* This includes the estimated cost of textbooks and application fee.
Class Size
20 students (usually interview around 60 applicants)
Program Requirements
Looking for something specific? Find CRNA schools categorized by their unique requirements.
Some CRNA schools require much more out of their applicants than others. See how the requirements at the University of Southern Mississippi compare to most CRNA school's requirements.
CRNA Program Requirements
Required Degree
Bachelor of Science in Nursing degree (BSN) or Master of Science in Nursing (MSN) from a nationally accredited  (National League for Nursing Accreditation Commission or the Commission on Collegiate Nursing Education)
RN:
Current unencumbered license to practice nursing in any state with eligibility for licensure in Mississippi.  Mississippi license will be required by the time of matriculation.
Critical Care:
Applicants must be currently working as an RN and have a minimum of 1 year (2 years preferred), full-time experience as a registered nurse in a critical care setting. Applicants must have experience in continuous ECG Monitoring, invasive monitoring, vasoactive infusion management, and ventilator management.
Acceptable critical care experience includes:
ICU (Intensive Care Unit)
CVICU (Cardiovascular Intensive Care Unit)
SICU (Surgical Intensive Care)
Neurosurgical ICU
MICU (Medical Intensive Care Unit)
Level III Pediatric ICU
Level III Neonatal ICU
They do not accept:
Coronary ICU
Post Anesthesia ICU
Surgery
Step-down Units
Emergency Room
GPA:
3.0 and above.
Minimum GRE scores:
GRE scores of 300 or higher (a combination of verbal and quantitative scores on the 130-170 score scale). A score of 1000 or higher (a combination of verbal and quantitative scores on the 200-800 score scale). A writing score of 4.0 or higher. Must be taken within the last 5 years.
Certifications:
PALS (Pediatric Advanced Life Support)
ACLS (Advanced Cardiac Life Support)
CCRN
Course Prerequisites
Approved graduate level statistics, completed with a B or better, within the last 5 years. Biostatistics is preferred.
Observe a CRNA
Highly Recommended
University of Southern Mississippi Nurse Anesthesia program website
CRNA School Performance
CRNA School Rankings – U.S. News & World Report (2011) 
Ranking and scores are not available for University of Southern Mississippi.
*Please note: CRNA rankings are bias and subjective. Read disclaimer about how CRNA rankings are created.*
Accredited CRNA Programs are reviewed regularly.
USM Nurse Anesthetist Program was last reviewed in October, 2012. It was given five years accreditation and will be reviewed again in October, 2017. 5 years accreditation is standard for a new CRNA Program.
First Time Pass Rate
50% (Class of 2015)
Attrition Rate
10% (Class of 2015)
Employment Rate
94% (Class of 2015)
CRNA Salaries
An average nurse anesthetist salary in Mississippi
Mississippi CRNA salaries tend to be below the national average and range from $120k-$140k. Starting salaries for nurse anesthetists in Mississippi tend to be lower than that range.
An average annual nurse anesthetist salary in the US is $163,467 (according to a 2008 study)
Rural average: $174,214
Metropolitan average: $164,148
Suburban average: $156,630
Average starting CRNA salaries range from: $110,000-$130,000.
FAQs
How many clinical sites are affiliated with the USM NAP? Will I be required to rotate to all of the sites? 
The USM NAP has 11 clinical sites, including two level II Trauma Centers, two military hospitals, CRNA-only practices, ambulatory surgery centers, and office-based anesthesia.  As a student, you will rotate to all of the clinical sites in order to maximize learning opportunities.
Will I be expected to cover call shifts and Holidays while in clinical?
Yes. You will be assigned call shifts and rotation shifts (e.g. 3-11, 11-7, weekends, and Holidays) to maximize clinical learning experiences.
Do they require a Capstone Project? 
Yes.  You will be required to share your findings either by report, project or oral/poster presentation.
How many vacation days am I given? 
25 days of vacation/sick leave time during the 36 months.
All information given on this site about the University of Southern Mississippi was taken directly from their website.
*This page was created March 27, 2017.*
Did you find an error on this page? Please report it here