The University of Kansas is in the first 10 percent of nurse anesthesia programs in the nation to offer an entry level clinical doctorate and their DNP program is also the only one of its kind in Kansas.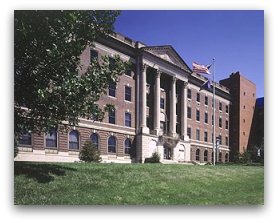 University of Kansas Medical Center
Nurse Anesthetist Program
MailStop 2020
3901 Rainbow Boulevard
Kansas City, KS 66160
Contact Information
Donna S Nyght, CRNA, DNP
Clinical Assistant Professor & Chair
ph: (913) 588-6612
fax: (913) 588-3334
email: dnyght@kumc.edu
Nurse Anesthesia Program email: na@kumc.edu
Quick Facts
CRNA Degree offered
Doctor of Nursing Practice degree
Program Length
36 months
Credit Hours
81 credit hours
Start Date
June
Application Deadline
Applications accepted March 15-July 15
Entire Program Cost of CRNA School at University of Kansas Medical Center.
Tuition is calculated at the 2016-2017 rate. Tuition at most schools increases each academic year. Over the duration of the program, expect to pay a tuition that is 5% to 15% higher than what is shown here.
Cost of In State Tuition: $35,714
*Fees and expenses: $28,009
Grand Total: $63,723
Cost of Out of State Tuition: $58,504
*Fees and expenses: $28,009
Grand Total: $86,513
*This includes the cost of books and supplies, test fees and miscellaneous school expenses.
University of Kansas Medical Center Tuition Link
Class Size
24
Number of Applicants
80 – 100
When did this CRNA Program begin?
In 1966
CRNA Program Summary
Academic and Clinical Experience
Are you concerned that the University of Kansas Medical Center Nurse Anesthesia Program won't give you the specific experiences or training you need to be a successful CRNA? Learn what standards CRNA Programs must meet in order to be accredited by the Council on Accreditation of Nurse Anesthesia (COA).
This CRNA program (as well as all others that are accredited by the COA) prepares you to take the CCNA certification exam at the conclusion of the program, allowing you to become a CRNA.
During the first two semesters, courses are mostly class-room based and are scheduled on most days of the week, Monday-Friday. Many courses are online, though this is not a distance learning program.
During the remainder of the three-year program (semesters 3-9), you will be assigned in the clinic with a variable schedule that will include 12-hour days in the operating room as well as overnight, weekend and holiday call. During this time, you'll continue to take theory, research and other courses which are mostly web-based but also have some class room time.
Most of your clinic experience will be gained at the University of Kansas Hospital, however, in the final year in the program, you'll also be assigned to other clinic sites. This will give you a broader clinical experience. Several of these clinic sites are outside the Kansas City Metropolitan area.
Program Requirements
Looking for something specific? Find CRNA schools categorized by their unique requirements.
Some CRNA schools require much more out of their applicants than others. See how the requirements at University of Kansas Medical Center compare to most CRNA school's requirements.
CRNA Program Requirements
BSN
Or a Bachelor's degree in an appropriate discipline.
RN:
License as a Registered Nurse (RN) in the states of Kansas and Missouri, or be eligible for licensure in MO, KS, NE, and OK.  Must obtain Kansas license by Feb 28 of the year entering the program, all other licenses will be obtained during the program as experiences require them.
Critical Care:
Two years experience as a registered nurse with a minimum 1 year of recent, full-time experience in ICU. The one year of ICU experience must be completed prior to the official enrollment date.
Acceptable critical care experience includes:
CCU (Coronary Care Unit)
MICU (Medical Intensive Care Unit)
CICU (Cardiac ICU)
PICU (Pediatric ICU)
ICU (Long Term Acute Care)
NSICU (Neurosurgical/Neuroscience/Neurocritical care)
They do not accept:
NICU (Neonatal ICU)
CCL (Cardiac Catherization Lab)
Long Term Acute Care Hospital
PACU (Post Anesthesia Care)
They may accept flight nursing, contact school for details.
GPA:
3.0 for all cumulative college course work as well as in the sciences. If your cumulative GPA is less than 3.0, will be considered on a case-by-case basis.
Minimum GRE scores:
Not required
Certifications:
ACLS (Advanced Cardiac Life Support)
PALS (Pediatric Advanced Life Support)
BLS (Basic Life Support)
CCRN certification is not required but is strongly recommended.
CRNA Educational Requirements
Statistics (A nursing research class does not count for this requirement. The class must contain both parametric and nonparametric content.)
Chemistry – two classes covering the topics of inorganic, organic and biochemistry.
Microbiology
Anatomy
*Physiology
Graduate Level writing skills
All prerequisites must be completed by the end of the summer semester of the year applicant is applying to the program.
*Physiology must have been completed within 10 years of program start date with a minimum grade of B. NOTE: In lieu of separate anatomy and physiology courses, two semesters of a combined Anatomy/Physiology course are acceptable (such as A&P 1 and A&P 2). A grade of B must be attained in both courses and both courses must be taken within the last ten years.
Shadowing Experience
Shadow experience with a CRNA or anesthesiologist is also required.
University of Kansas CRNA Program website
CRNA School Performance
CRNA School Rankings – U.S. News & World Report (2011)
2.7 out of 5.0. Ranked 48 out of 107 CRNA programs.
*Please note: CRNA rankings are somewhat bias and subjective. Read disclaimer about how CRNA rankings are created.*
Accredited CRNA Programs are reviewed regularly.
University of Kansas Medical Center's Nurse Anesthetist Program was last reviewed 05/2010. It was given the maximum of 10 years accreditation and will be reviewed again 05/2020. This shows that the program is in full compliance with the COA's accreditation standards.
Pass Rate for CRNA Boards at University of Kansas Medical Center
Please note: It is extremely rare for a student at any CRNA school to not eventually pass the exam. Most students who don't pass the first time pass the second. Very rarely does a person ever take it a third time. This statistic only measures how well the program prepares students to pass the test the first time around.
First-time test takers: 86% (Class of 2015)
National average (2008): 89.9%
Attrition Rate 
12.5% (Class of 2015)
CRNA Employment Rate of program graduates
100% (Class of 2015)
CRNA Salaries
An average nurse anesthetist salary in Kansas
Kansas CRNA salaries are about the same as the U.S. average and fluctuate around  $150k.
An average annual nurse anesthetist salary in the US is $163,467 (according to a 2008 study)
Rural average: $174,214
Metropolitan average: $164,148
Suburban average: $156,630
Average starting CRNA salaries range from: $110,000-$130,000.
Frequently Asked Questions
How many hours should I expect to be engaged in the program each week?
The program is very intense and you should expect to spend up to 70 hours per week dedicated to fulfilling clinic responsibilities, attending classes, and studying.
Can I work while I'm in the program?
Learning anesthesia is very demanding therefore student employment is strongly discouraged. You'll have a full course schedule and almost all of the students in the program find it impossible to work in addition to the program requirements.
All information given on this site about University of Kansas Medical Center's Nurse Anesthetist Program was taken directly from their website.
*This page was updated May 7th, 2017.*
Did you find an error on this page? Please report it here