The University of Akron is one of seven CRNA schools in Ohio.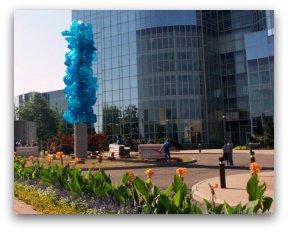 University of Akron Ohio
College of Nursing
Graduate Anesthesia Program
209 Carroll Street
Akron, OH 44325
Contact Information
Brian Radesic DNP, MSN, CRNA
Program Director Nurse Anesthesia Program, Assistant Director School of Nursing
Office: Mary Gladwin Hall 302
Phone: 330/972-5175
Fax: 330/972-6632
Email: radesic@uakron.edu
Rebecca Bidinotto MHS, BSN, CRNA
Associate Dir, Associate Professor of Instruction, Nurse Anesthesia Program
Office: MGH 302B
Phone: 330/972-5406
Fax: 330/972-6632
Email: rbidinotto@uakron.edu
Kelly Pond DNP, MSN, CRNA
Senior Professor of Instruction, Nurse Anesthesia Program
Office: Mary Gladwin Hall 319
Phone: 330/972-5406
Fax: 330/972-6632
Email: pond@uakron.edu
Quick Facts
CRNA Degree offered
Master of Science in Nursing, Post-Master's Certificate (entry), Post Master's DNP (completion)
Program Length
27 months, full time
Credit Hours
20 credits of graduate nursing work and 42 credits of graduate anesthesia work – totaling 62 credit hours
Starting Month
June
Application Deadline
August 1st. Once accepted, you may begin taking core classes and will be eligible to interview for the graduate anesthesia program in October. Students admitted into the graduate anesthesia program will begin anesthesia coursework in June of the following year. Interviews are held on a Friday and Saturday in early October.
Entire Program Cost of CRNA School at University of Akron Ohio.
Please note that tuition is calculated at the 2014 rate. Tuition at most schools increases each academic year. Over the duration of the program, expect to pay a tuition that is 5% to 15% higher than what is shown here. (As of 2017 – the tuition for 2014 is still the only tuition prices available.)
Cost of In State Tuition: $22,773.24 
*Fees and expenses: $2,045
Grand Total: $24,818.24
Cost of Out of State Tuition: $35,368.20
*Fees and expenses: $2,045
Grand Total: $37,413.20
*This estimate is provided by all-crna-schools.com and represents the average cost of textbooks and application fee.
This total only includes 42 credits and does not include the 20 Graduate core courses that need to be completed prior the anesthesia courses.  Please see the tuition link to determine what your additional cost will be.
Class Size: 
32-36
CRNA Program Summary
Are you concerned that University of Akron Ohio's Nurse Anesthesia Program won't give you the specific experiences or training you need to be a successful CRNA? Learn what standards CRNA Programs must meet in order to be accredited by the Council on Accreditation of Nurse Anesthesia (COA).
This CRNA program (as well as all others that are accredited by the COA) prepares you to take the CCNA certification exam at the conclusion of the program, allowing you to become a CRNA.
The curriculum follows a predominantly front-loaded didactic format. The majority of the first year focuses on didactic work with approximately 20 hours/week in clinical experiences.
The curriculum consists of 20 credits of core graduate nursing course work and 42 credits of graduate anesthesia course work. This program includes a 24 month residency allowing students to gain clinical practice that is required by the COA.
The curriculum affords the student the opportunity to gain experience in all types and techniques of anesthesia care including regional anesthesia administration and invasive line placement.
Thirty clinical sites are offered throughout the State of Ohio.
Program Requirements
Looking for something specific? Find CRNA schools categorized by their unique requirements.
Some CRNA schools require much more out of their applicants than others. See how the requirements at University of Akron Ohio compare to most CRNA school's requirements.
CRNA Program Requirements
Required Bachelors Degree
BSN (Bachelor's of Science in Nursing) degree from a CCNE or NLN accredited baccalaureate nursing program.
BSN degree must include 3 hours of chemistry, 6 hours of anatomy & physiology, and 3 hours of microbiology.
Although the majority of applicants hold the BSN degree, an RN-MSN option is available for the associate degree or diploma-prepared nurse. RNs that don't hold a BSN should refer to their program guides for the RN-BSN or RN-MSN track.
RN:
Current Ohio State license
Critical Care:
A minimum of one year of current adult critical care experience. Current experience is defined as one consecutive year of adult critical care nursing.
Examples of acceptable critical care experience include:
Intensive Care Unit (ICU)
Coronary Care Unit (CCU)
Surgical ICU
Medical ICU
They do not accept:
Neonatal Intensive Care Units (NICU)
Pediatric Intensive Care Units (PICU)
Emergency Room (ER)
Post-Anesthesia Care Units (PACU)
Operating Room
Labor and Delivery Room
Step Down Telemetry Units
Cardiac Catheterization Labs
GPA:
A minimum of a 3.0 GPA on a 4.0 scale (or the equivalent) from undergraduate work.
Minimum GRE scores:
No longer require the GRE
Certifications:
ACLS (Advanced Cardiac Life Support)
*PALS (Pediatric Advanced Life Support)
CCRN (Critical Care Registered Nurse) certification prior to interview
*Though not needed for the application, you will be required to maintain PALS certification during the program.
Shadow a CRNA
Shadow a CRNA for a minimum of 16 hours (specific documentation is not required)
Prerequisites
Please see the Nurse Anesthesia Curriculum for the Core Courses that must also be taken before starting the Nurse Anesthesia Track.
University of Akron Ohio's CRNA program website
CRNA School Performance
CRNA School Rankings – Schools by Rank 2016
Ranked #19 by AllCRNASchools.com
*Please note Read about how CRNA rankings are created.*
Accredited CRNA Programs are reviewed regularly.
University of Akron Ohio Nurse Anesthetist Program was last reviewed 06/2016. It was given 8 years accreditation and will be reviewed again 05/2024.
First Time Test Takers:
88.2% (2015) 89.2% (2014)  100% (2013)
Attrition Rate:
0% (2011 – 2015)
Employment Rate:
100% (2009 – 2015)
CRNA Salaries
An average nurse anesthetist salary in Ohio
Ohio CRNA salaries are about the same as the national average and range from $145k to $170k.
An average annual nurse anesthetist salary in the US is $163,467 (according to a 2008 study)
Rural average: $174,214
Metropolitan average: $164,148
Suburban average: $156,630
Average starting CRNA salaries range from: $110,000-$130,000.
Frequently Asked Question
Can I work as an RN while I'm in the program?
You may work part time during the first two semesters, but not in the second year of the program.
All information given on this site about University of Akron Ohio's Nurse Anesthetist Program was taken directly from their website.
*This page was updated July 15th, 2017.*
Did you find an error on this page? Please report it here