The University of North Dakota is the only CRNA school in North Dakota.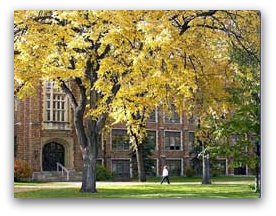 University of North Dakota
Nurse Anesthesia Specialization
College of Nursing
430 Oxford St-stop 9025
Grand Forks, ND 58202
Contact Information
Kevin C. Buettner, PhD, CRNA, Program Director
ph: (701) 777-4509
fax: (701) 777-4096
email: kevin.buettner@email.und.edu
General Information
701-777-4555
und.graduatenursing@email.UND.edu
Quick Facts
CRNA Degree offered
Master of Science with Major in Nursing, Post-Masters DNP (completion)
Program Length
28 months, full time.
Once you have been admitted to the program, you may take any of the College of Nursing (non-anesthesia) core courses listed for the first academic year. The program has a 28-month duration regardless of the number of courses taken early, but taking any of these early will lighten your workload during the academic phase.
Credit Hours
76 credit hours
Starting Month
August
Application Deadline
September 1st is the application deadline for the following Fall semester.
Entire Program Cost of CRNA School at University North Dakota.
Please note that tuition is calculated at the current 2015-2016 rate. Tuition at most schools increases slightly each academic year. Over the duration of the program, expect to pay a tuition that is slightly higher than what is shown here.
Cost of In State Tuition: $27,369
*Fees and expenses: $13,010
Grand Total: $40,379
**Cost of Out of State Tuition: $65,365
*Fees and expenses: $13,010
Grand Total: $78,075
*Fees and expenses include program fees, estimated cost of textbooks and supplies, AANA membership and certification exam fee.
*This estimate does not include the cost of mandatory health insurance.
**Residents of Minnesota are eligible for a lower rate than the out of state rate but it is slightly higher than the instate rate.
Class Size
12
Number of Applicants
60-80 per year
CRNA Training
Are you concerned that University North Dakota's Nurse Anesthesia Program won't give you the specific experiences or training you need to be a successful CRNA? Learn what standards CRNA Programs must meet in order to be accredited by the Council on Accreditation of Nurse Anesthesia (COA).
This CRNA program (as well as all others that are accredited by the COA) prepares you to take the CCNA certification exam at the conclusion of the program, allowing you to become a CRNA.
During your first year at University North Dakota, you'll spend most of your time on campus at the College of Nursing.
You'll begin using the full-body patient simulator during your first semester. This will teach you airway management skills, positioning, patient safety, medication administration and sequence development, among other skills.
During Spring semester of your first year, you'll begin to develop your clinical skills, become more familiar with the operating room environment, and to begin to apply theory to practice.
At the end of your fifth semester, you'll be completely finished with class work and will switch to a full time clinical schedule. During this time, you'll be on call one day per week.
You will rotate to three or four clinical sites located in North Dakota and western Minnesota. In the past, students have greatly exceeded the minimum number of clinical hours and surgical cases required of the Council on Certification of Nurse Anesthetists.
Program Requirements
Looking for something specific? Find CRNA schools categorized by their unique requirements.

Some CRNA schools require much more out of their applicants than others. See how the requirements at University North Dakota compare to most CRNA school's requirements.
CRNA Program Requirements
Required Bachelor Degree
A baccalaureate degree in nursing (BSN) from an NLN or CCNE accredited nursing program. Graduates from non-accredited or foreign schools are evaluated individually.
RN:
Current RN license
Critical Care:
A minimum of one year full-time experience (two or more years preferred) as a registered nurse in a critical care setting.
Desired settings would include:
Medical ICU
Surgical ICU
Cardiovascular ICU/ Cardiac Care Unit
Neurologic ICU
Trauma ICU
*They prefer primary experience to be with the adult population
Experience that does NOT meet the minimum 1 year critical care requirement
Emergency Room experience is not considered "critical care" due to the relatively short duration of individual patient care, although it is considered helpful in forming a well-rounded practitioner.
GPA:
A minimum GPA of 3.0 is based on all years of study at the undergraduate level and includes a GPA of 3.0 in undergraduate science coursework.
GRE:
Not required
Certifications are not required for admission but are to be maintained throughout the program:
ACLS (Advanced Cardiac Life Support)
PALS (Pediatric Advanced Life Support)
CRNA Educational Requirements
A statistics course (graduate or undergraduate level)
An undergraduate course in College Algebra (UND math placement testing or an ACT score of 26+ on the math portion may be used to waive this requirement).
**Upper division Biochemistry (in addition to chemistry courses taken as part of a BSN program)
**UND recommends the online biochemistry course offered by the University of New England.
University North Dakota's CRNA program website
CRNA School Performance
CRNA School Rankings – U.S. News & World Report (2011)
3.0 out of 5.0. Ranked 26 out of 107 CRNA programs.
*Please note: CRNA rankings are bias and subjective. Read disclaimer about how CRNA rankings are created.*
Accredited CRNA Programs are reviewed regularly.
University North Dakota Nurse Anesthetist Program was last reviewed 01/2011. It was given the maximum of 10 years accreditation and will be reviewed again 01/2021. This shows that the program is in full compliance with the COA's accreditation standards.
Pass Rate for CRNA Boards at University North Dakota
Please note: It is extremely rare for a student at any CRNA school to not eventually pass the exam. Most students who don't pass the first time pass the second. Very rarely does a person ever take it a third time. This statistic only measures how well the program prepares students to pass the test the first time around.
First-time test takers: 92% (Class of 2015)
National average (2008): 89.9%
 Attrition Rate
0% (Class of 2015)
Employment Rate
100% (Class of 2015)
CRNA Salaries
An average nurse anesthetist salary in North Dakota
North Dakota CRNA salaries are slightly above the national average and range from $150k-170k.
An average annual nurse anesthetist salary in the US is $163,467 (according to a 2008 study)
Rural average: $174,214
Metropolitan average: $164,148
Suburban average: $156,630
Average starting CRNA salaries range from: $110,000-$130,000.
Frequently Asked Questions
What is the difference between the thesis option and the independent study option?
Students may opt to complete either a thesis or develop a non-thesis independent project.
For students completing the thesis option, the final thesis defense serves as the comprehensive examination.
The independent project may take the form of a clinical study, presentation of a paper suitable for publication, or development of materials related to the students specialization.
How many hours should I expect to be engaged in the program each week?
This commitment averages 50-60 hours a week, year round, assuming that two hours of study are required for each class hour. This commitment figure includes time spent in the classroom, in clinical, and in study.
All information given on this site about University North Dakota's Nurse Anesthetist Program was taken directly from their website.
*This page was updated January 30th, 2017.*
Did you find an error on this page? Please report it here