The State University New York at Brooklyn is voluntarily closing 5/31/2018 according to the COA.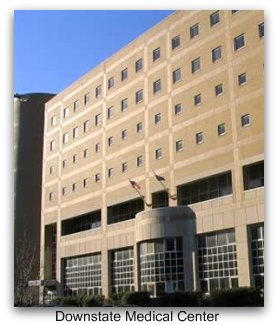 State University New York at Brooklyn
SUNY Health Science Center at Brooklyn
Nurse Anesthesia Program
450 Clarkson Avenue
Brooklyn, NY 11203
Contact Information
Joseph Jennas, CRNA, MS, Program Director
ph: (718) 270-7657
fax: (718) 270-7628
email: Joseph.Jennas@downstate.edu
Quick Facts
CRNA Degree offered
Master of Science Nurse Anesthesia
Program Length
27 months
Credit Hours
61 semester hours
Starting Month
September
Application Deadline 
There is a new deadline date each year. To start in the September 2016 program, you need to apply by October 16th, 2015.
Entire Program Cost of CRNA School at SUNY Downstate Medical Center.
Tuition is calculated at the 2015-2016 rate. Tuition at most schools increases each academic year. Over the duration of the program, expect to pay a tuition that is 5% to 15% higher than what is shown here.
Cost of In State Tuition: $32,158
*Fees and expenses: $3,522
Grand Total: $35,678
Cost of Out of State Tuition: $65,700
*Fees and expenses: $3,522
Grand Total: $69,222
*This includes the cost of student health fee, books and supplies, technology fee and miscellaneous school expenses.
SUNY Downstate Medical Center Tuition Link
CRNA Program Summary
Are you concerned that the SUNY Downstate Medical Center Nurse Anesthesia Program won't give you the specific experiences or training you need to be a successful CRNA? Learn whatstandards CRNA Programs must meet in order to be accredited by the Council on Accreditation of Nurse Anesthesia (COA).
This CRNA program (as well as all others that are accredited by the COA) prepares you to take the CCNA certification exam at the conclusion of the program, allowing you to become a CRNA.
The CRNA program is front loaded with the bulk of the course work completed in the first year of study.
Clinical practicum begins in the summer of the first year (after Fall and Spring semesters).
Program Requirements
Looking for something specific? Find CRNA schools categorized by their unique requirements.
Some CRNA schools require much more out of their applicants than others. See how the requirements at SUNY Downstate Medical Center compare to most CRNA school's requirements.
CRNA Program Requirements
Bachelor Degree Required
Bachelor of Science Degree in Nursing from a college or university accredited by a regional accrediting organization recognized by the Council for Higher Education Accreditation (CHEA) such as the Middle States Association of Colleges and Schools, New England Association of Schools and Colleges, North Central Association, Northwest Commission on Colleges and Universities, Southern Association of Colleges and Schools, and the Western Association of Schools and Colleges.
RN:
A New York State R.N. license
Critical Care:
Minimum of two years of current critical care experience, (EXCLUDING ORIENTATION), which must be completed within the last three (3) years by the time of application.
This experience must be completed at one of the following:
Surgical ICU
Medical ICU
Cardio Thoracic ICU
Experience in the following settings are acceptable ONLY if combined with one of the experiences listed above for a minimum of one year.
Neonatal ICU
Pediatric ICU
Coronary ICU
Neurosurgical
GPA:
3.3 out of 4.0 is preferred.
Minimum GRE scores:
The GRE is not required
TOEFL
All applicants, whose preparatory education was principally in a language other than English and you have not completed at least one year of full-time study in a regionally accredited college or university in the United States, and at least 24 semester credits, including two courses in English composition, you must upload a copy of your test results (TOEFL/IELTS).
Certifications:
Critical Care Nurse (CCRN) is required
*BLS (Basic Life Support)
*ACLS (Advanced Cardiac Life Support)
*PALS (Pediatric Advanced Life Support)
*must be issued from the "American Heart Association"
CRNA Educational Requirements
A grade of "B" or better in the following undergraduate nursing courses:
Statistics
Nursing Research
Undergraduate Health/Physical Assessment Skills
SUNY Downstate Medical Center's CRNA program website
School's Performance
CRNA School Rankings – U.S. News & World Report (2011)
This Nurse Anesthesia Program received a score of less than 2.0 out of 5.0 and is considered "less than adequate" by US News and World Report. It received no rank.
*Please note: CRNA rankings are bias and subjective. Read disclaimer about how CRNA rankings are created.*
Accredited CRNA Programs are reviewed regularly.
SUNY Downstate Medical Center Nurse Anesthetist Program was last reviewed 05/2015. It was given 2 years accreditation (maximum is 10) and will be reviewed again 05/2017.
Attrition Rate
Class of 2015 – 0%
Employment Rate
Class of 2015 – 100%
Exam Pass Rate
Class of 2015 – 89%
CRNA Salaries
An average nurse anesthetist salary in New York
New York CRNA salaries are lower than the national average and range from $130k-160k.
An average annual nurse anesthetist salary in the US is $163,467 (according to a 2008 study)
Rural average: $174,214
Metropolitan average: $164,148
Suburban average: $156,630
Average starting CRNA salaries range from: $110,000-$130,000.
All information given on this site about SUNY Downstate Medical Center's Nurse Anesthetist Program was taken directly from their website.
*This page was updated May 5th, 2017*
Did you find an error on this page? Please report it here