The University at SUNY Buffalo CRNA program ranked #17 in 2011.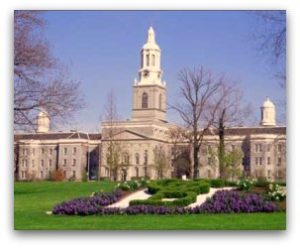 SUNY Buffalo
State University of New York – Buffalo
UB School of Nursing
317D Wende Hall
3435 Main Street
Buffalo, NY 14214
Contact Information
For initial or general inquires, contact:
Lauren McGowan
Recruitment & Admissions Specialist
202 Beck Hall
Phone: 716-829-3228
Email: nursing@buffalo.edu
Kristine Faust, DNAP, MBA, CRNA
Program Director, Nurse Anesthetist Program; Clinical Associate Professor
326 Wende Hall
Phone: 716-829-3223
Email: ksfaust@buffalo.edu
Office of Graduate Student Services
Tel: (716) 829-2537
Email: nursing@buffalo.edu
Quick Facts
CRNA Degree offered
Doctor of Nursing Practice, Post-Master's DNP
Program Length
36 months, full time
Credit Hours
123 semester hours
Starting Month
May
Application Deadline 
November 1st
Entire Program Cost of CRNA School at SUNY Buffalo.

Tuition is calculated at the 2016 rates. Tuition at most schools increases each academic year. Over the duration of the program, students can expect to pay an entire program cost that is 5-15% higher than the rates below.
Cost of In State Tuition: $75,423
*Fees and expenses: $2,096
Grand Total: $77,519
Cost of Out of State Tuition: $130,913
*Fees and expenses: $2,096
Grand Total: $133,009
Please Note: Tuition includes Summer, Spring and Fall: tuition, comprehensive fees, Academic Excellence Fees, Session Fees and Summer Transcript Fee.  Fees and Expenses includes estimated cost of books and application fee.
Class Size
18-20
Number of Applicants
Around 100
CRNA Program Summary
Are you concerned that the SUNY Buffalo Nurse Anesthesia Program won't give you the specific experiences or training you need to be a successful CRNA? Learn what standards CRNA Programs must meet in order to be accredited by the Council on Accreditation of Nurse Anesthesia (COA).
This CRNA program (as well as all others that are accredited by the COA) prepares you to take the CCNA certification exam at the conclusion of the program, allowing you to become a CRNA.
The Nurse Anesthetist Program prepares you for the challenges you will face as a CRNA.
The small class size fosters a supportive, closely-knit community. It also allows the school to monitor the abilities and progress of students to individualize clinical training experiences.
Helpful and accessible, the nationally recognized faculty are leaders, teachers, scholars, and researchers who practice what they teach. Program courses are immediately applicable to nursing practice. The school recently constructed a health assessment lab, called the Center for Nursing Research, and the newly remodeled Patient Simulation Center supports student research and practice needs.
You will receive an education equipping you to assume clinical, educational, research, and leadership positions within the advanced nursing specialty. The Patient Simulation Center has an operating room with advanced monitoring and gas-delivery systems and provides training to manage rare and critical events.
Program Requirements
Looking for something specific? Find CRNA schools categorized by their unique requirements.
Some CRNA schools require much more out of their applicants than others. See how the requirements at SUNY Buffalo compare to most CRNA school's requirements.
CRNA Program Requirements
Required Bachelor Degree
Bachelor of Science in Nursing
RN
A valid US RN license at the time of enrollment.
Critical Care
A minimum of one year of critical care experience as a registered professional nurse is required.
This experience is most often acquired within an Intensive Care Unit, where you have been involved in advanced assessment and clinical decision-making based on the interpretation of advanced hemodynamic monitoring and diagnostic assessment. Most applicants possess more than one year of supportive critical care experience.
GPA
A minimum overall GPA of at least 3.0 is required.
GRE Scores
GRE scores must be submitted.  GRE scores obtained only within the last 5 years will be accepted.  They will accept MAT scores in place of the GRE.
TOEFL
International applicants will need to take the Test of English as a Foreign Language.
Science Class Prerequisites
There are currently no specific class prerequisites for SUNY Buffalo's CRNA Program.
Certifications
Applicants are encouraged to have their CCRN.
SUNY Buffalo's CRNA program website
School's Performance
CRNA School Rankings – U.S. News & World Report (2011)
3.2 out of 5.0. Ranked 17 out of 107 CRNA programs.
*Please note: CRNA rankings are bias and subjective. Read disclaimer about how CRNA rankings are created.*
Accredited CRNA Programs are reviewed regularly.
SUNY Buffalo Nurse Anesthetist Program was last reviewed in October 2010. The institution was granted a full ten years accreditation and will be reviewed again in October 2020. This shows that the program is in full compliance with the COA's accreditation standards.
Pass Rate for CRNA Boards.
Please note: It is extremely rare for a student at any CRNA school to not eventually pass the exam. Most students who don't pass the first time pass the second. Very rarely does a person ever take it a third time. This statistic only measures how well the program prepares students to pass the test the first time around.
First-time test takers: 100% (2015)
National average (2008): 89.9%
Attrition Rate
0% (2015)
CRNA Employment Rate of program graduates
100%  (2015)
CRNA Salaries
An average nurse anesthetist salary in New York
New York CRNA salaries are lower than the national average and range from $130,000-160,000.
An average annual nurse anesthetist salary in the US is $163,467 (according to a 2008 study)
Rural average: $174,214
Metropolitan average: $164,148
Suburban average: $156,630
Average starting CRNA salaries range from: $110,000-$130,000.
FAQs
How many hours should I expect to be engaged in the program each week?
50-56 hours during the didactic phase (first year); 58-60 hours per week during the clinical residency.
Can I work as an RN while I'm in the program?
The DNP program is extremely demanding and does not afford time for employment outside the program.
All information given on this site about SUNY Buffalo's Nurse Anesthetist Program was taken directly from their website or from communications with the school administration.
*If you have additional information or there are other questions you would like answered about SUNY Buffalo's Nurse Anesthetist Program, email the school directly.
*This page was updated August 10th, 2016.*
Did you find an error on this page? Please report it here