Gonzaga University is the only CRNA school in Washington.  They enrolled their first cohort of DNAP students in the Fall of 2015.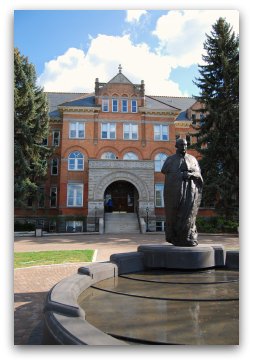 Sacred Heart Medical Center Spokane Nurse Anesthesia School
Sacred Heart Medical Center Spokane
Gonzaga University
502 E. Boone Avenue
Tilford Center Suite 312
Spokane, WA 99258
Contact Information
Program Directors:
Scot Pettey, CRNA, DNAP
John Weisbrod, CRNA
For general application information and inquiries contact:
Karen Wilson
DNAP Administrative Assistant
Phone (509) 474-4971
DNAP@providence.org
Quick Facts
CRNA Degree offered
Doctor of Nurse Anesthesia Practice (DNAP)
Program Length
36 months, full time
Credit Hours
93
Starting Month
May
Application Deadline  
September 1, interviews occur in October.
Entire Program Cost of CRNA School at Sacred Heart Medical Center Spokane.
Tuition is calculated at the 2016-2017 rate. Tuition at most schools increases each academic year. Over the duration of the program, expect to pay a tuition that is 5% to 15% higher than what is shown here.
Cost of In State Tuition: $88,815
*Fees and expenses: $3,800
Grand Total: $92,615
*This includes the cost of books, supplies, test fees and miscellaneous school expenses. This figure is an estimation based on typical fees and expenses in a nurse anesthesia program.
Sacred Heart Medical Center Spokane Tuition Link
Class Size
Up to 10 will be accepted
When did this CRNA Program begin?
In 1979
CRNA Program Summary
Are you concerned that the Sacred Heart Medical Center Spokane Nurse Anesthesia Program won't give you the specific experiences or training you need to be a successful CRNA? Learn what standards CRNA Programs must meet in order to be accredited by the Council on Accreditation of Nurse Anesthesia (COA).
This CRNA program (as well as all others that are accredited by the COA) prepares you to take the CCNA certification exam at the conclusion of the program, allowing you to become a CRNA.
"Graduates of Gonzaga's DNAP program will receive a practice-based experience blending anesthesia clinical practice with leadership strategies. The curriculum of Gonzaga's DNAP program will build on the extensive education of program participants. In addition to learning the practice of nurse anesthesia, candidates should be prepared to engage in systems thinking to solve complex problems, translate evidence to improve health care practices and population health, lead quality improvement and change initiatives, and demonstrate effective intraprofessional collaboration in the nurse anesthesia field."
The first semester is primarily didactic; clinical practicum begins during the second semester. The education core content is integrated throughout the curriculum.
Program Requirements
Looking for something specific? Find CRNA schools categorized by their unique requirements.
Some CRNA schools require much more out of their applicants than others. See how the requirements at Sacred Heart Medical Center Spokane compare to most CRNA school's requirements.
CRNA Program Requirements
BSN
Bachelor's degree from an accredited university.
RN:
Current RN license with eligibility for licensure in Washington
Critical Care:
Two years experience as a registered nurse, with at least one of those years full time in an adult critical care setting with two years preferred (within the last 5 years).
Examples of acceptable critical care experience include:
General ICU
Adult specialty ICU
Coronary Care ICU
Required competencies include:
Management of adult patients on ventilators
Vasoactive drugs
Invasive monitors
Long-term bedside assessment of critically ill patients
GPA:
3.0 minimum, 3.2 preferred
Minimum GRE scores:
No GRE required
Certification:
ACLS (by start of clinicals)
PALS (by start of clinicals)
CCRN (by application)
Seven (7) Science Course Prerequisites (must be taken prior to interview)
These are just examples of what your 7 courses could be:
Chemistry
Biochemistry
Biology
Microbiology
Physiology
Pathophysiology
Anatomy
Minimum 24 hours cumulative shadowing time with an anesthesia provider.
Sacred Heart Medical Center Spokane's CRNA program website
CRNA School Performance
CRNA School Rankings – U.S. News & World Report (2011)
2.9 out of 5.0. Ranked 32 out of 107 CRNA programs.
*Please note: CRNA rankings are bias and subjective. Read disclaimer about how CRNA rankings are created.*
Accredited CRNA Programs are reviewed regularly.
Sacred Heart Medical Center Spokane Nurse Anesthetist Program was last reviewed 10/2016. It was given 10 years accreditation and will be reviewed again 10/2026. This shows that the program is stable.
Pass Rate for CRNA Boards at Gonzaga University
Please note: It is extremely rare for a student at any CRNA school to not eventually pass the exam. Most students who don't pass the first time pass the second. Very rarely does a person ever take it a third time. This statistic only measures how well the program prepares students to pass the test the first time around.
First-time test takers: 100% (2012, 2013, 2014, 2015, 2016)
Attrition Rate 
12% (Class of 2016)
Employment Rate 
100% since 1979
CRNA Salaries
An average nurse anesthetist salary in Washington
Washington CRNA salaries are about the same as the national average and range from $150k-$170k.
An average annual nurse anesthetist salary in the US is $163,467 (according to a 2008 study)
Rural average: $174,214
Metropolitan average: $164,148
Suburban average: $156,630
Average starting CRNA salaries range from: $110,000-$130,000.
Frequently Asked Questions
Is health insurance provided by Sacred Heart Medical Center Spokane? No, they suggest students looking into the Washington Health Benefit Exchange.
How many vacation days do I get? "A total of forty (40) days is allotted for excused time off during the thirty-six (36) month program. This includes sick time, vacation time and interview time. Absence exceeding forty (40) days must be made up at the end of the program.
"The following holidays are observed: New Year's Day, Memorial Day, Independence Day, Labor Day, Thanksgiving (2 days) and Christmas. In addition, one week's leave is granted between Christmas and New Year's Day, exclusive of forty (40) days allowed as excused time off.
"First year students are required to take one week off between the first and second semesters in May. That week is excluded from the above time."
What are my hours of duty?
"During the first semester of school, classes may be scheduled between 7:00am and 5:00pm. After the first semester clinical duty begins at 6:00am. Evening classes or seminars may occasionally be held. Any student wishing to leave early must report to the Medical Center Program Director or the Clinical Director."
Can I work as an RN while I'm in the program?
"Nursing positions in addition to attendance in the School of Anesthesia must not exceed 20 hours per week. Part-time employment is acceptable if a student shows by his/her grades, punctuality, health, alertness in classes and clinical assignments that he/she can handle the extra duty.
"At no time is nursing employment to interfere with class assignments or anesthesia case assignments, and may not exceed 20 hours per week. Students cannot work 11:00pm to 7:00am preceding any work or call day."
FAQs are quoted directly from Gonzaga University's CRNA program website.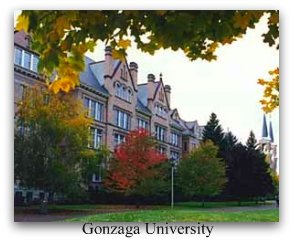 All information given on this site about Sacred Heart Medical Center Spokane's Nurse Anesthetist Program was taken directly from their website.
*This page was updated December 29th, 2016.*
Did you find an error on this page? Please report it here