Old Dominion University now offers the DNP program.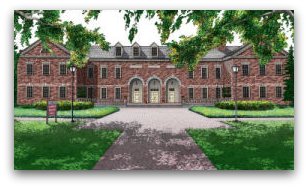 Old Dominion University Nurse Anesthesia School
Virginia Beach Center
1881 University Dr.
Virginia Beach, VA 23453
757-368-4100 (office)
Contact Information
Nathaniel M. Apatov, MSN, PhD, CRNA Program Director
ph: (757) 368-4174
tf: (800) 572-2762
fax: (757) 368-4176
email: napatov@odu.edu
Clarissa DeGroat, Administrative Assistant
(757) 368-4171
cdegroat@odu.edu
Quick Facts
CRNA Degree offered
DNP
Program Length
36 months, full time
Credit Hours
104 credit hours
Starting Month
March
Application Deadline
October 1st
Entire Program Cost of CRNA School at Old Dominion University.
Please note that tuition is calculated at the current 2017-2018 rate. Tuition at most schools increases each academic year. Over the duration of the program, expect to pay a tuition that is 5% to 15% higher than what is shown here.
Cost of In State Tuition: $48,776
Fees and expenses: $2,050
Grand Total: $50,826
*Cost of Out of State Tuition: $129,896
Fees and expenses: $2,050
Grand Total: $131,946
*After one year of paying out of state tuition, you may apply for in-state tuition rates, thus significantly lowering your total cost of education.
Tuition Link for Old Dominion University
When did this CRNA Program begin?
Old Dominion University's Nurse Anesthesia Program was established in 1995 when two Norfolk, Virginia, Schools of Nurse Anesthesia merged to form a university-based program.
DePaul Medical Center School of Nurse Anesthesia, which was established in 1949, and the Sentara Norfolk General Hospital School of Nurse Anesthesia, which was established in 1951, agreed to merge into a single program based within the School of Nursing at Old Dominion University.
Class Size 
10-15
Number of Applicants 
Around 60
CRNA Program Summary
Are you concerned that Old Dominion University's Nurse Anesthesia Program won't give you the specific experiences or training you need to be a successful CRNA? Learn what standards CRNA Programs must meet in order to be accredited by the Council on Accreditation of Nurse Anesthesia (COA).
This CRNA program (as well as all others that are accredited by the COA) prepares you to take the CCNA certification exam at the conclusion of the program, allowing you to become a CRNA.
"Extensive clinical sites incorporate the graduate registered nurse anesthetist into the clinical management of the pediatric, obstetric, trauma, vascular, GI, GU, open heart, ENT, organ transplant, neurological and general surgical anesthesia.
Multiple local primary sites give the student exposure to numerous practitioners with different backgrounds.
We also offer elective clinical rotations which permit the student registered nurse anesthetist to increase her/his depth and breadth of anesthetic areas in which they have a special interest including shock-trauma, rural CRNA based practices, OB, and open heart.
We do not compete with anesthesiology residents at our primary sites. ODU provides the student with the academic scientific basis and clinical skills required to provide quality anesthesia care.
Clinical instruction is provided by both CRNA's and anesthesiologists. Our graduates far surpass the number of cases required by the COA."
Clinical Sites range in distance. The three local primary clinical sites are no more than a 30 minute drive from the university. The two secondary enrichment sites (which are mandatory), are much farther. One of them, in Washington DC, is a 3 ½ hour drive, while the other is in Ohio, at a 9 ½ hour drive. There are 7 additional elective clinical sites.
Though not stated on their website, it is likely that you will spend several weeks/months at one time completing these two rotations, so there will be no daily commuting.
Program Requirements
Looking for something specific? Find CRNA schools categorized by their unique requirements.
Some CRNA schools require much more out of their applicants than others. See how the requirements at Old Dominion University compare to most CRNA school's requirements.
CRNA Program Requirements
Required Bachelor Degree
Baccalaureate degree in a related science, Nursing preferred.
RN:
Current Licensure as a Registered Professional Nurse in Virginia.
Critical Care:
A minimum of one year (2080 hours) of full-time nursing experience in an intensive care unit within the 2 years prior to application. (2 years preferred) Clinical experience must be direct patient care.
Acceptable critical care experience:
ICU
SICU
CCU
MICU
PICU
high acuity surgical ICU experience
Experience in a tertiary medical center is strongly preferred.
They do not accept:
Emergency Room
Recovery Room
Operating Room
Labor and Delivery
Step Down Units
GPA:
Cumulative undergraduate grade point average of 3.0 or above on a 4.0 scale and grades in each required science and nursing course in the undergraduate nursing program of 3.0 or above.
GRE
Satisfactory score on the Graduate Record Examination (combined score of 300)
They do not accept MAT scores.
Certifications:
BLS (Basic Life Support)
ACLS (Advanced Cardiac Life Support)
PALS (Pediatric Advanced Life Support)
CCRN (Critical Care Registered Nurse) – though not required, it's strongly recommended
Undergraduate Course Prerequisites within 10 years of Application
Anatomy
Physiology
Pathophysiology
Pharmacology
Organic Chemistry (preferred) OR Biochemistry
Statistics
Old Dominion University's CRNA program website
CRNA School Performance
CRNA School Rankings – U.S. News & World Report (2011)
This Nurse Anesthesia Program received a score of less than 2.0 out of 5.0 and is considered "less than adequate" by US News and World Report. It received no rank.
*Please note: CRNA rankings are bias and subjective. Read disclaimer about how CRNA rankings are created.*
Accredited CRNA Programs are reviewed regularly.
Old Dominion University Nurse Anesthetist Program was last reviewed 10/2014. The next review will be on 10/2024.
Pass Rate for CRNA Boards at Old Dominion University School of Nursing
Please note: It is extremely rare for a student at any CRNA school to not eventually pass the exam. Most students who don't pass the first time pass the second. Very rarely does a person ever take it a third time. This statistic only measures how well the program prepares students to pass the test the first time around.
First and second attempts 100% pass rate – class of 2014 (MSN program)
Attrition Rate
17% (2014) (MSN program)
Employment Rate
100% (2014) (MSN program)
CRNA Salaries
An average nurse anesthetist salary in Virginia
Virginia CRNA salaries are about the same as the national average and range from $140k to $160k.
An average annual nurse anesthetist salary in the US is $163,467 (according to a 2008 study)
Rural average: $174,214 Metropolitan average: $164,148 Suburban average: $156,630 Average starting CRNA salaries range from: $110,000-$130,000.
Frequently Asked Questions
Are any of the classes offered online?
"The DNP classes will be online, while the anesthesia specific content will be delivered live in the classroom."
How many hours should I expect to be engaged in the program each week? 
You will spend at least 40 hours per week with clinicals.  Expect to put in about 60 hours per week overall.
Can I work as an RN while I'm in the program?  
There is not enough time to work and pass the program.
All information given on this site about Old Dominion University's Nurse Anesthetist Program was taken directly from their website or from the program director.
*This page was updated May 31st, 2017.*
Did you find an error on this page? Please report it here