This new CRNA program was accredited by the COA in May 2011.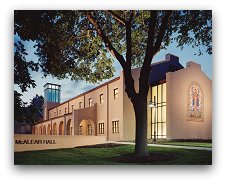 Lourdes University Nurse Anesthesia School
Lourdes University
MSN Nurse Anesthesia Program
6832 Convent Boulevard
Sylvania, OH 43560
Contact Information
Dawn AuBuchon, M.S., C.R.N.A.
Nurse Anesthesia Program Administrator
Office: SCH 237
Phone: 419-517-8961
daubuchon@lourdes.edu
Quick Facts
CRNA Degree offered
Master's of Science in Nursing (NAP)
Program Length
28 months, full time
Credit Hours
64 hours
Starting Month
August
Application Deadline
September 1.  Interviews are held late October/early November.
Entire Program Cost of CRNA School at Lourdes College.
Tuition for each entering cohort is fixed for the duration of the program.
Cost of Tuition: $69,230
Fees and expenses: $2,050
Grand Total: $71,280
Tuition is clearly stated and is easy to find from the NAP program website.
Class Size
Currently the maximum number of students per cohort is 12-16, with strategic plans to increase the number of students per cohort to 18 in the future.
Number of Applicants
Unknown
When did this program begin?
2012
Program Affiliation
Lourdes College is Franciscan (closely affiliated with the Roman Catholic Church). The school promotes learning, reverence and service.
Program Requirements
Looking for something specific? Find CRNA schools categorized by their unique requirements.
Some CRNA schools require much more out of their applicants than others. See how the requirements at Lourdes College compare to most CRNA school's requirements.
CRNA Program Requirements
Required Bachelor Degree
You must possess a bachelor's degree from a regionally accredited institution. It does not need to be a BSN. Other appropriate majors include Bachelor of Science in Physics, Chemistry or Biology.
RN:
Unencumbered RN license to practice nursing – Ohio licensure is required prior to starting the program.
Critical Care:
A minimum of one year experience (within the last five years) in a critical care area is required prior to matriculation.
GPA:
Minimum cumulative GPA of 3.0 and a minimum math/science GPA of 3.0.
Minimum GRE scores:
Not listed on website as required.
Certifications:
BLS (Basic Life Support)
ACLS (Advanced Cardiac Life Support)
PALS (Pediatric Advanced Life Support)
CCRN
Course Prerequisites:
Grade of 3.0 or better and completed within the last 10 years.
Inorganic Chemistry
Organic Chemistry
Anatomy and Physiology
Accepted candidates must complete a graduate level statistics prior to matriculation.
Shadow a CRNA
Complete a minimum shadowing experience of at least one day with an anesthesia provider prior to application (8-16 hours).
Lourdes College's CRNA program website
CRNA School Performance
CRNA School Rankings – U.S. News & World Report (2011)
Received no rank, as the program didn't exist at the time of the survey.
*Please note: CRNA rankings are bias and subjective. Read disclaimer about how CRNA rankings are created.*
Accredited CRNA Programs are reviewed regularly.
Lourdes College Nurse Anesthetist Program was first reviewed 6/2016. It was given 10 years accreditation, which is the maximum amount of years. It will be reviewed again 6/2026.
Attrition Rate
8% (2015)
Employment Rate
100% (2015)
First Time Test Taking Pass Rate
67% (2015)
CRNA Salaries
An average nurse anesthetist salary in Ohio
Ohio CRNA salaries range from $145k-170k and are about the same as the US average.
An average annual nurse anesthetist salary in the US is $163,467 (according to a 2008 study)
Rural average: $174,214
Metropolitan average: $164,148
Suburban average: $156,630
Average starting CRNA salaries range from: $110,000-$130,000.
All information given on this site about Lourdes College's Nurse Anesthetist Program was taken directly from their website.
*This page was updated March 19th, 2017.*
Did you find an error on this page? Please report it here