Geisinger Nurse Anesthesia Program opened in August 2009, replacing one that closed down about ten years ago. This time, they offer their program in conjunction with Bloomsburg University of Pennsylvania.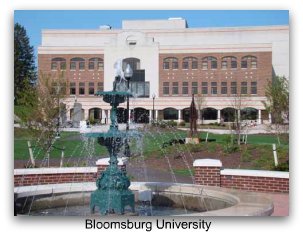 Geisinger Health System
With Bloomsburg University of Pennsylvania
Nurse Anesthesia Program
100 North Academy Avenue
Danville, PA 17822
Contact Information
Debra Minzola, Ph.D., MSN, CRNA, Interim Program Director
Ph: 570-271-6763
E: djminzola@geisinger.edu
djminzola@bloomu.edu
Quick Facts
CRNA Degree offered
Master of Science in Nursing
Program Length
33 months, full time
Credit Hours
68 credits
Starting Month
August
Application Deadline
July 1st.  Interviews are held in September. Classes will begin the following fall.
Entire Program Cost of CRNA School at Geisinger Nurse Anesthesia.
Tuition is calculated at the 2016-2017 rate. Tuition at most schools increases each academic year. Over the duration of the program, expect to pay a tuition that is 5% to 15% higher than what is shown here.
Cost of In State Tuition: $34,612
*Fees and expenses: $8,604
Grand Total: $43,216
Cost of Out of State Tuition: $51,884
*Fees and expenses: $8,604
Grand Total: $60,488
*This includes the cost of application fee, health insurance, books, recreational fee, student union operations fee, transportation fee and miscellaneous school expenses.
Geisinger Nurse Anesthesia Tuition Link
Class Size
12 students are admitted each year
When did this CRNA Program begin?
September 2009
CRNA Program Summary
Are you concerned that Geisinger Nurse Anesthesia Program won't give you the specific experiences or training you need to be a successful CRNA? Learn what standards CRNA Programs must meet in order to be accredited by the Council on Accreditation of Nurse Anesthesia (COA).

This CRNA program (as well as all others that are accredited by the COA) prepares you to take the CCNA certification exam at the conclusion of the program, allowing you to become a CRNA.
Students will spend the first fall and spring semesters taking core graduate-level nursing courses. During the first summer semester, students will begin the clinical component at Geisinger Medical Center in Danville taking courses such as pharmacology, pathophysiology, chemistry and physics as they relate to the administration of anesthesia.
Students are placed in a variety of settings as appropriate to the clinical course objectives and goals. The selection is made jointly by the faculty adviser and the individual student. Attention is given to selecting clinical sites relatively close to the student's place of residence insofar as possible.
Program Requirements
Looking for something specific? Find CRNA schools categorized by their unique requirements.
Some CRNA schools require much more out of their applicants than others. See how the requirements at Geisinger Nurse Anesthesia Program compare to most CRNA school's requirements.
CRNA Program Requirements
Required Bachelor Degree
Bachelor of Science in Nursing degree (BSN) from a nationally accredited school
RN:
Current, unencumbered Pennsylvania professional nursing license.
Critical Care:
One year of recent experience in critical care nursing
Acceptable critical care experience includes:
ICU (Intensive Care Unit)
CCU (Coronary Care Unit)
Pediatric ICU
Neonatal ICU
QPA (Rather than GPA):
Undergraduate quality point average (QPA) of at least 3.0. QPA measures your level of achievement, not just your grade. In this system, Honors and AP classes are worth more than regular classes.
Minimum GRE scores:
Graduate Record Exam is not required
International Students:
The Test of English as a Foreign Language (TOEFL) with a minimum score of 550 (paper based); 79 (internet based); 213 (computer based); or the Test of Spoken English (where available) is required of all international students.
Certifications:
ACLS (Advanced Cardiac Life Support)
PALS (Pediatric Advanced Life Support)
Course Prerequisites
Statistics
Chemistry
Research
Health Assessment
Shadow a CRNA for a minimum of 8 hours
Geisinger Nurse Anesthesia Program's CRNA program website
CRNA School Performance
CRNA School Rankings – U.S. News & World Report (2011)
2.4 out of 5.0. Ranked 72 out of 107 CRNA programs.
*Please note: CRNA rankings are bias and subjective. Read disclaimer about how CRNA rankings are created.*
Accredited CRNA Programs are reviewed regularly.
Geisinger Nurse Anesthesia Program Nurse Anesthetist Program was last reviewed 05/2015. It was given 10 years accreditation and will be reviewed again 05/2025.
Pass Rate for CRNA Boards at Geisinger Health System with Bloomsburg University of Pennsylvania
First-time test takers: 100% (2016)
National average: 87.7%
Attrition Rate
0% (2016)
CRNA Employment Rate of program graduates 
100% (2016)
CRNA Salaries
An average nurse anesthetist salary in Pennsylvania
Pennsylvania CRNA salaries are lower than the national average and range from $130-$150k.
An average annual nurse anesthetist salary in the US is $163,467 (according to a 2008 study)
Rural average: $174,214
Metropolitan average: $164,148
Suburban average: $156,630
Average starting CRNA salaries range from: $110,000-$130,000.
All information given on this site about Geisinger Nurse Anesthesia's Nurse Anesthetist Program was taken directly from their website.
*This page was updated February 28th, 2017.*
Did you find an error on this page? Please report it here