Fairfield University is one of four CRNA schools in Connecticut.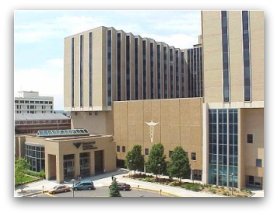 Fairfield University Ct. and Bridgeport Hospital
Nurse Anesthesia Program
267 Grant Street
Perry 3
Bridgeport, CT 06610
Contact Information
Nancy A Moriber, PhD, CRNA, APRN, Track Coordinator
ph: (203) 254-4000 ext, 3445
Bridgeport Hospital ph: (203) 384-3054
email: nmoriber@fairfield.edu
Quick Facts
CRNA Degree offered
Doctor of Nursing Practice (DNP)
Program Length
36 months, full time
Credit Hours
75 semester hours
Starting Month
May
Application Deadline
Rolling Admission
Cost of CRNA School at Fairfield University Ct. and Bridgeport Hospital Tuition at most schools increases each academic year. Over the duration of the program, expect to pay a tuition that is 5% to 15% higher than what is shown here.  This tuition is for the 2014-2015 school year.
Cost of Tuition: $75,000
*Fees and expenses: $7,120
Grand Total: $82,120
*This includes the cost of books, application fee, exam fees and hospital/lab fees.
Class Size
12-15
DNP Education
As a DNP student at Fairfield University, you'll be encouraged to achieve the highest level of advanced clinical nursing practice possible through course work, seminars, and tutorials as well as clinical experiences, immersion opportunities, and a required practice dissertation. As with all education at Fairfield, yours will be rigorous, experiential, and inspirational. You'll be expected to develop a broad and thorough understanding of the:
Scientific and ethical foundations of reflective practice
Environmental, social, economic, political, and regulatory forces that affect the delivery of quality healthcare and shape public debate
Translation of research into practice by designing and evaluating innovations in care to improve the health status of individuals, families, and populations
A DNP education also offers:
The ability to appraise and apply scientific evidence to improve practice
The capacity to use a cross-population perspective to assess, manage, and evaluate common problems
A terminal degree in an advanced clinical specialty practice
Parity with the educational preparation of advanced practitioners in other health professions
Program Requirements
Looking for something specific? Find CRNA schools categorized by their unique requirements.
Some CRNA schools require much more out of their applicants than others. See how the requirements at Main Keyword compare to most CRNA school's requirements.
Program Requirements
BSN applicants for the DNP at Fairfield must hold a baccalaureate degree in nursing from a regionally accredited college or university (or the international equivalent).
RN:
RN license to practice in the US at the time of application, a Connecticut RN license will be required upon admission.
Critical Care:
1 year RN critical care experience. Acceptable critical care experience includes:
Surgical ICU
Cardio-Thoracic ICU
Medical ICU
Critical Care Unit
Neonatal ICU
Pediatric ICU
The following experience is reviewed on a case by case basis:
Post Anesthesia Care Unit
Neurosurgical ICU
The following experience is NOT accepted
Telemetry
Step-down units
Emergency Room
GPA:
Cumulative undergraduate 3.0, Science GPA of 3.0
TOEFL:
All international students whose native language is not English must demonstrate proficiency in the English language. A TOEFL composite score of 550 for the paper test, 213 for the computer-based test or 79-80 on the Internet-based test (IBT) are strongly recommended for admission to the graduate school.
Certifications:
BCLS (Basic Cardiac Life Support)
ACLS (Advanced Cardiac Life Support)
PALS (Pediatric Advanced Life Support)
CRNA Educational Requirements
Biology – 2 semesters
Chemistry – at least 1 semester
Microbiology – 1 semester
College Math – 1 semester
Physics – strongly recommended
Fairfield University program website
CRNA School Performance
CRNA School Rankings – U.S. News & World Report (2011)
2.5 out of 5.0. Ranked 63 out of 107 CRNA programs
*Please note: CRNA rankings are somewhat bias and subjective. Read disclaimer about how CRNA rankings are created.*
Accredited CRNA Programs are reviewed regularly.
Fairfield University Ct. and Bridgeport Hospital's Nurse Anesthetist Program was last reviewed 10/2010. It was given 10 years accreditation and will be reviewed again 10/2020. This shows that the program is very stable.
Pass Rate for CRNA Boards at Alabama Fairfield University Ct. & Bridgeport Hospital
First-time test takers: 96% (Class of 2017)
National average (2008): 89.9%
Attrition Rate 
0% (Class of 2016)
CRNA Employment Rate of program graduates 
100%
CRNA Salaries
An average nurse anesthetist salary in Connecticut
Connecticut CRNA salaries tend to be slightly below the national average and fluctuate around the $130k-150k range.
An average annual nurse anesthetist salary in the US is $163,467 (according to a 2008 study)
Rural average: $174,214
Metropolitan average: $164,148
Suburban average: $156,630
Average starting CRNA salaries range from: $110,000-$130,000.
Frequently Asked Questions
Can I work as an RN while I'm in the program? 
Due to the heavy time commitment, the program discourages student employment.
What is the difference between the DNP and the MSN?
The DNP is the preferred degree for advanced practice nursing (AACN, 2004). While programs are still available at the master's level, the DNP is expected to become the standard in the nursing practice.
All information was was taken from Fairfield University CT's CRNA Program website.
*This page was updated May 8th, 2017.*
Did you find an error on this page? Please report it here