Get The Edge Over Other Qualified Applicants, Learn EVERYTHING You Need To Know About CRNA School, And Ace Any Interview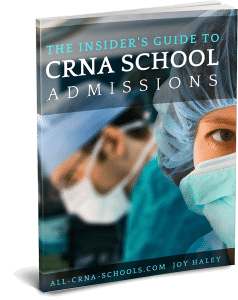 Guaranteed To Give You The Step By Step Blueprint That You Need, All While Saving You Time, Disappointment And Money.
Take a Peak at What's Inside!
Maximizing the years before you apply
The cost of applying – making your $ stretch
Best units for critical care experience
How to shadow a CRNA
Must-have certifications
How to tackle the GRE
Should you take a graduate course before applying?
How to choose the right CRNA school
Why a bad letter of recommendation will kill your application
How to ace the interview
Personal Statement Examples
How to nail the CV
120+ Sample interview questions
How to prepare for the program once you're accepted
IMPORTANT NOTE: The Insider's Guide to CRNA School Admission was previously CRNA School Guide. If you have already purchased the CRNA School Guide, you don't need to purchase this product.
You are protected by our 100% money back guarantee
The up to date, success blueprint that you've been searching for…
With CRNA Insider's Guide you will gain a competitive edge, quicker and easier than you would alone.
It will allow you to avoid common pitfalls of the application process and learn strategies and tips that will make you a well-rounded applicant.
5 Star Reviews: 
I was excited to be asked to review CRNA Insider's Guide.

It is the only e-book I've found that includes, under one cover, all the accurate information to get a great start on becoming a CRNA.

Whether you are in high school, nursing school or working as an RN, this guide has helpful tips in giving you the best start in becoming a nurse anesthetist.

Whether looking for which CRNA schools are the best fit, to ways of paying for your education, it's all covered in this guide.

This is an accurate tool where the time consuming research has been done for you.

I would recommend getting this guide to anyone seriously thinking of becoming a CRNA.  You will not regret it!
Todd Hammon, MSN, CRNA, CCRN, CEN
I was blown away by the extent of information available, and wish I had bought this when I first decided to become a CRNA.

I highly recommend this for anyone who has decided they want to be a CRNA, and the sooner you read it, the more you will gain from this guide.

I have just received my BSN with a 4.0, and thought I could figure it out all on my own. Sure, I was on the right track on how I was going to get into CRNA school, but not having read this guide would have been a disservice.

I originally thought I was buying this package for the database. Little did I know the guide would become the true reason I am so elated to have made this purchase.

Everyone who reads this book will be ahead of all others on the same track, and I truly feel this resource is all I need to make my goal of getting into CRNA school a reality.
Bridget Williford, BSN, RN
After reviewing the information found in this book I was greatly impressed!

I could have saved days and days of research by reading this book sooner.

It had information in it that could have gotten me into better schools and saved me so much time.

It is written for an audience that includes high school students to experienced RNs. There is information about all the tests, certifications, finances, experience, and so much more! Even a chapter dedicated to studying the easy and efficient way.

Several little gems throughout the book were unexpected and beyond appreciated.

I thoroughly recommend it to anyone even thinking about CRNA school.

This is the only book I would recommend for getting things done!
Matthew Harmon, BSN, RN
Avoid making costly mistakes
Avoid the disappointment and numbing feeling of rejection letters
Imagine being able to compare schools quickly, sort out schools that are right for you and get accepted despite low scores.
In reality, the information and process you'll learn with CRNA Insider's Guide is quite different than what most students learn and do.
Most students who apply to CRNA School typically have to learn the hard way, through trial and error and lots of rejection letters.
By avoiding just ONE rejection letter, you save money
Each rejection letter will cost you roughly $130 (application fee for the school which offers accreditation + application fee to the CRNA program specifically + fee to have transcripts sent to the school you're applying to).
If the information you gain from this guide saves you even ONE rejection letter, you will have come out financially ahead…
… and that's not even taking into account the time and emotional energy it costs to apply (which is no small matter).
Prepare for your first acceptance letter!
You're not like most students and you don't have to invest all your time just to be smacked in the face with rejection letters.
Through your participation in the CRNA Insider's Guide, you'll learn new information
-from the mistakes of others-
which means that when you're ready to apply, you can get it right the first time.
See yourself putting in all the effort and hard work and then finally being rewarded with your very first acceptance letter.
Imagine your heart beating faster and faster
to the point that you're overwhelmed with tears of joy.
See yourself clinging on to your acceptance letter as everybody gathers around you with cheers and warm smiles.
You see it don't you?
Hold onto this image – because this reality is truly yours now that you've made the decision to take advantage of the CRNA Insider's Guide and all the benefits it has to offer you.
Organization and focused efforts are important for me.
This program has helped me increase my tunnel vision and only focus on the things that align with my goal of becoming a CRNA.
It's great to know that I'm not alone throughout this process and that I have a step by step guide to rely on.
As an ICU RN, I'm all too familiar with the concept of juggling time and the various balancing acts that come with my career field and having a family.
What I appreciate most is the fact that everything is extremely organized. All of the vital information is right at my fingertips. I don't have to go digging around for hours.
Zac, RN
If you want to be a CRNA you HAVE to get this book!
It will save you countless hours and dollars, while increasing your odds of getting in.
I now have a clear idea of my next steps, and feel much more confident in the process.
Daniel, RN
Here's what the CRNA Insider's Guide can offer you:
CRNA Insider's Guide is a unique resource designed specifically for serious men and women who want to become a CRNA and gain a competitive edge over other qualified applicants. There is nothing else you can do for your education or your career and that is as organized and informative as the CRNA Insider's Guide.
You don't have to worry about searching for real information
Real information is scattered across the internet and more often than not, hidden. Researching each of the individual topics can truly be a nightmare and have you spending several hours searching while still ending up nowhere. With CRNA Insider's Guide you can forget about wasting your valuable time because all the heavy lifting is already done for you.
You can prepare while an undergrad, have a life and remain completely organized
With CRNA Insider's Guide, you will clearly see that this is your road-map towards a successful career as a CRNA. Where you are when you start is as important as how you prepare. You will discover early on how to get on the right track and more importantly, stay there. You will be guided on what classes to take and omit, as you are guided towards your career path.
With CRNA Insider's Guide, you will clearly see that this is your road-map towards a successful career as a CRNA. Where you are when you start is as important as how you prepare. You will discover early on how to get on the right track and more importantly, stay there. You will be guided on what classes to take and omit, as you are guided towards your career path.
You won't wonder if you're getting the right kind of ICU experience
CRNA Insider's Guide will truly have you armed and prepared for everything imaginable. Want to get into ICU but you're not an RN yet? No problem. There's a step by step strategy to get you there and rest assured we've got it. ICU competition can be fierce, but as you can see, having a guide combined with the right strategy will literally place you a step or two ahead of everyone else.
You will not agonize over whether you're making the right career decision.
Picture yourself happy at the fact that you finally decided on a career path for your life …only to invest years and years and then realize that you made the wrong choice. CRNA Insider's Guide is here to prevent this from happening. In all actuality, you'll be thankful and overjoyed at the fact that you had enough wisdom to invest in a guide that not only saved you time but helped you learn EVERYTHING you needed to know about becoming a CRNA. (Talk about music to your ears!)
You will learn the dos and don'ts about Shadowing
With CRNA Insider's Guide you'll instantly learn who you should shadow and more importantly, when. There are several benefits that come with shadowing, but making the right choice at the wrong time can literally set you back on your career path.
You will save money
Let's face it. A great guide will show you exactly where the real money is at. CRNAInsider's Guide, however, takes things a step further by sharing with you what you can do in order to actually get it. You'll know exactly how much money is available along with the various requirements and deadlines. This section of the book by itself is worth its weight in gold, literally.  Read this fact very carefully: learning where to go and what to do in order to save money is not a good thing, it's clearly a great thing!
You will learn a 3-step strategy to GRE Success
As you're participating in the CRNA Insider's Guide, I invite you to notice that the strategies given are all about saving you time. Think about that for a second. There's no guesswork here. You'll instantly know if the GRE is something that's for you or not. While everybody else is trying to figure their process and plan out, you'll be advancing further ahead towards your goal of becoming a CRNA.
You don't have to allow low marks to get you down
With CRNA Insider's Guide, you will clearly see that low marks simply mean you need a unique strategy in order to make you and your application shine bright. You'll learn vital tips on how to shift the focus of your acceptance towards your strengths verses your weaknesses.
You will not have to take any graduate courses before applying unless you meet two criteria
CRNA Insider's Guide was created to help give you the edge over other qualified applicants. After all, we're talking about not only a career but a rewarding and potential six figure yearly income. Remember the philosophy work smart, not hard? Well, there are only two main reasons to take a graduate course. Both reasons are covered in full detail.
You will know exactly which graduate courses to take and why
As you're participating in your CRNA Insider's Guide, we take it a step further then just telling you what you can do to have success. Should you happen to be one of the not so lucky ones that meet the two main criteria (for needing grad courses), just know that you'll learn exactly what your options are and in every instance, you'll know specifically what course or courses to take and specifically, why.
Learn how to avoid the wrong kind of recommendation letters
The wrong recommendation letter can derail all efforts towards your school acceptance. Absolutely no mistakes can be made here. You're literally placing your career in someone else's hands. Any expert will agree that a mistake here can cost you everything. Read this section of the book carefully and don't take this information lightly.
You will learn what you can do to ace the interview
With CRNA Insider's Guide, you will be able to dive into the minds of the admissions committee and gain a competitive edge towards your school acceptance.
Discover a two-minute trick that will boost your confidence before your interview.
It is a proven fact that applicants who know and practice this skill are perceived as more competent and capable and more likely to be chosen for admission.
You will stop wasting time!
And most importantly, you will not waste any of your precious time!
Bonus 1 – 7 Creative Ways to Pay for CRNA School
There's no need to go completely in debt to become a CRNA. Learn some of the most common and creative ways CRNA students have paid for their advanced training, without taking out loans.
Bonus 2 – 2014 & 2015 Exclusive All-CRNA-School-Ranks
For the first time ever, schools are ranked by their performance, NOT on their popularity or long-standing reputation.
Bonus 3 – The most efficient way to study
Learn why the most popular study techniques are not the most efficient, and how you can reduce your study time dramatically while increasing your long-term memory.

Joy Haley, All-CRNA-Schools.com

I'm 100% confident that you are going to be completely satisfied with your purchase. If  for any reason you're not happy, I stand by my full 30 days 60 days money back guarantee.
Buy the paperback:
$

55.00
Know with certainty which schools you should apply to.
Have a clear path for the steps you need to take before you apply.
Show up to your first interview with confidence.
Know beyond a shadow of a doubt that this is indeed the right career path for you.
Avoid being blindsided by the expenses of applying. Be prepared financially.
Be ahead of the competition at every step of the way.
What's included?
All-CRNA-Schools' exclusive DATA based RANKS!
7 Creative Ways to Pay for CRNA School
Study Techniques that will Save You Time and Improve Long-Term Retention
Thank you so much!  The School Guide is outstanding.
Jan Green, Boise Idaho

Thank you for the work you do, this is easily the most comprehensive and best resource out there! Keep up the good work guys! I can't wait until I can finally start applying to schools!
Justin Jackson, Pheonix, Arizona

You are protected by our 100% money back guarantee