The Charleston Area Medical Center School of Nurse Anesthesia is the only CRNA school in West Virginia.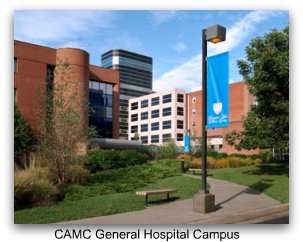 Charleston Area Medical Center
School of Nurse Anesthesia
3110 MacCorkle Ave., SE
Room 2041
Charleston, WV 25304
Contact Information
Nancy L Tierney, CRNA, DMP, Director
ph: (304) 388-9950
fax: (304) 388-9955
email: nancy.tierney@camc.org
Ditty Rosengarten, Staff Assistant
dittyh.rosengarten@camc.org
Quick Facts
CRNA Degree offered
Doctor of Management Practice in Nurse Anesthesia (DMPNA)
Program Length
36 months, full time
Credit Hours
127
Starting Month
May
Application Deadline
Applications are accepted year round. Applications must be completed by October 1, to be considered for the class entering the following May.
The Admissions Committee begins its evaluations in November of the year prior to enrollment. Applicants who complete their packet early help facilitate the evaluation process. See theirwebsite for additional admissions information.
Entire Program Cost of CRNA School at Charleston Area Medical Center.
Please note that tuition is calculated at the 2016 rate. Tuition at most schools increases slightly each academic year. Over the duration of the program, expect to pay a tuition that is slightly higher than what is shown here.
Cost of Tuition: $88,500
Fees and expenses: $11,100
Grand Total: $99,600
Once enrolled, students are entitled to student health services, which provide treatment of on the job illnesses and injuries. CAMC has a dental clinic and pharmacy on campus.
Low cost apartment/housing is available through CAMC. Contact the school education office for more information.
Free parking is provided. Scrub suits are provided and laundered.
Many students receive financial sponsorship while in school. In return, the student commits to a contractual agreement to work for the sponsor after successful graduation and certification. Many employers of CRNAs offer these sponsorships, including CAMC.
Class Size
25-26 students
Number of Applicants
Well over 100. Early application is highly recommended.
CRNA Training
Are you concerned that Charleston Area Medical Center's Nurse Anesthesia School won't give you the specific experiences or training you need to be a successful CRNA? Learn what standards CRNA Programs must meet in order to be accredited by the Council on Accreditation of Nurse Anesthesia (COA).
This CRNA program (as well as all others that are accredited by the COA) prepares you to take the CCNA certification exam at the conclusion of the program, allowing you to become a CRNA.
CAMC CRNA School has an integrated program, allowing you to participate in didactic and clinical education simultaneously. You can compare this with a front loaded program, which would have you complete all didactic courses before you begin your clinical experience.
The didactic component of the program includes two areas of focus:
Advanced Professional Nurse Anesthesia Practice, which includes anesthesia, basic sciences, basic and advanced principals of anesthesia practice, chemistry/physics, pharmacology, professional aspects of anesthesia practice and clinical practicum, as well as
Management Skills and Leadership Development, which includes business, policy, leadership and management.
This one-of-a-kind, entry level nurse anesthesia program offers registered nurses the unique opportunity to develop their capabilities as business leaders along with their transition to advanced practice nursing. Many established nurse anesthetists believe that business acumen is a vital component of aiming toward professional perfection.
At Charleston Area Medical Center, you would begin clinical education in the simulation lab during your second semester and progress to the operating room in your third semester.
Throughout your clinical experience, you will rotate to all three CAMC hospitals (Memorial, General, Women's & Children's) as well as to the Surgicare outpatient facility. You will not need to travel to other cities or other hospitals to obtain your clinical experience.
Throughout your clinical training, you will participate in approximately 650-700 cases. The minimum number of cases required by the COA is 450. Average among CRNA programs is 773.
Program Requirements
Looking for something specific? Find CRNA schools categorized by their unique requirements.

Some CRNA schools require much more out of their applicants than others. See how the requirements at Charleston Area Medical Center Nurse Anesthesia School compare to most CRNA school's requirements.
CRNA Program Requirements
Required Bachelor Degree
You need either a bachelor (or higher) degree in nursing, OR an associate degree in nursing accompanied by an appropriate bachelor degree.
RN:
A current, valid, professional registered nursing license in one jurisdiction of the United States. Once you're accepted, you'll need to maintain licensure in the State of West Virginia.
Critical Care:
A minimum of one year experience (2 years preferred) or its part-time equivalent as a registered professional nurse in a critical care setting in which you have had the opportunity to develop as an independent decision maker, demonstrate psychomotor skills and the ability to use and interpret advanced monitoring techniques based on a knowledge of physiologic and pharmacological principles.
You may apply if you will have two years of experience before classes start.
Any of these intensive care units will qualify, though this is not an all-inclusive list:
Medical ICU
Surgical ICU
Neonatal ICU
Pediatric ICU
Cardiovascular ICU
Cardiopulmonary ICU
Others
Even if you have never worked in an intensive care unit, there are other types of environments that offer similar opportunities for growth. These may include:
Operating Room (OR)
Post Anesthesia Care Unit (PACU)
Others
When describing your unit in your application, remember the things the committee will be looking for (see above).
Many anesthesia students come from non-ICU backgrounds and do well in school and on the certification exam (boards). BUT, statistically, as a group, students with ICU experience have higher grades and higher first time pass rates on boards.
GPA:
Minimum overall undergraduate grade point average of 3.0.
Minimum GRE scores:
A minimum score of 900 on the combined verbal and quantitative portions of the Graduate Records Examination (GRE) for the old format and 297(Verbal 153, Quantitative 144) for the current format. GRE scores must be no older than five (5) years.
Certifications: 
ACLS (Advanced Cardiac Life Support)
PALS (Pediatric Advanced Life Support)
CRNA Educational Requirements
There are no specific course prerequisites for this CRNA program.
Charleston Area Medical Center Nurse Anesthesia School's program website
CRNA School Performance
CRNA School Rankings – U.S. News & World Report (2011)
2.3 out of 5.0. Ranked 85 out of 107 CRNA programs.
*Please note: CRNA rankings are bias and subjective. Read disclaimer about how CRNA rankings are created.*
Accredited CRNA Programs are reviewed regularly.
Charleston Area Medical Center's Nurse Anesthesia School was last reviewed 05/2008. It was given the maximum of 10 years accreditation and will be reviewed again 05/2018. This shows that the program is in full compliance with the COA's accreditation standards.
Pass Rate for CRNA Boards at Charleston Area Medical Center School of Nurse Anesthesia
Please note: It is extremely rare for a student at any CRNA school to not eventually pass the exam. Most students who don't pass the first time pass the second. Very rarely does a person ever take it a third time. This statistic only measures how well the program prepares students to pass the test the first time around.
First-time test takers: 96% (2015)
National average (2008): 89.9%
Attrition Rate
3.9% (2015)
CRNA Employment Rate of program graduates
100% (2015)
CRNA Salaries
An average nurse anesthetist salary in West Virginia
West Virginia CRNA salaries range from $140k-170k.
An average annual nurse anesthetist salary in the US is $163,467 (according to a 2008 study)
Rural average: $174,214
Metropolitan average: $164,148
Suburban average: $156,630
Average starting CRNA salaries range from: $110,000-$130,000.
All information given on this site about Charleston Area Medical Center School of Nurse Anesthesia was taken directly from their website.
See CRNA School Reviews
*This page was updated March 31st, 2017.*
Did you find an error on this page? Please report it here