Cal State University Fullerton's Nurse Anesthetist Program was ranked #22 in 2011.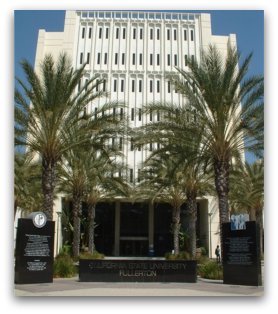 Cal State University Fullerton
Kaiser Permanente School of Anesthesia
100 S. Los Robles, Ste 501
Pasadena, CA 91188
Contact Information
John J Nagelhout, CRNA, PhD FAAN, Director
email: john.j.nagelhout@kp.org
Sandra Hinkson, Administrative Specialist III
email: Sandra.j.Hinkson@kp.org
ph: (626) 564-3016
fax: (626) 564-3099
Quick Facts
CRNA Degree offered
Master of Science in Nurse Anesthesia
Program Length
24 months
Credit Hours
71 units
Starting Month
August
Application Deadline
Applications become available online November 1st. You must complete your application online by November 30.  Interviews are held in February and acceptance or denial letters are sent out in March.
Cost of CRNA School at Cal State University Fullerton
Cost of in state tuition: $33,000
*Fees and Expenses: $2,230
Grand Total: $35,230.00
Cost of in state tuition: $59,412
*Fees and Expenses: $2,230
Grand Total: $61,642.00
*This includes the cost of books and supplies, test fees, membership fees and miscellaneous school expenses.
Tuition and fees information is derived from the Kaiser Permanente School of Anesthesia website.
Class Size
35-40
Number of Applicants
over 400 – check out this link to their website for more information about their selection/interview process
Program Requirements
CRNA Program Requirements
Required Baccalaureate Degree
Bachelor or Masters degree in Nursing. Note that the school must have WASC accreditation if located in California. If it is not located in California, then it must have MSCHE, NEASC, NCA-HLC, SACS or WASC accreditation.
RN
Active and unrestricted, if you do not have a current California RN license you will need to obtain one by the start of the program in August.
Critical Care
Minimum of 1 year of current experience as a RN in an adult critical care ICU. Competitive applicant will have 2-3 years of critical care experience.
Acceptable experiences:
Medical ICU
Surgical ICU
Coronary Care Unit
Trauma ICU
Cardiovascular ICU
Neuro ICU
Burn ICU
CT ICU
They do not accept:
Emergency Room
Post Anesthesia Care Unit
Step Down Unit
Cath Lab
GPA
Minimum cumulative GPA of 3.2 on a 4.0 scale in the BSN or MSN.  Competitive applicant will have 3.5 GPA and all A's in the science classes.
GRE Scores
Not required
TOEFL
All applicants, regardless of citizenship, whose preparatory education was principally in a language other than English, must demonstrate competence in English by taking the TOEFL test. A minimum score of 550 (paper) or 213 (computer) on the TOEFL test is required.
Certifications
BLS (Basic Life Support)
ACLS (Advanced Cardiac Life Support)
PALS (Pediatric Advanced Life Support)
CCRN and TNCC are highly recommended
Program Prerequisites
Upper division statistics course (completed with a C or better)
Upper-division (junior/senior University level) statistics courses completed within the United States are automatically accepted to meet pre-requisite requirements. Classes taken at a lower division level or outside the United States may be considered upon evaluation by Cal State University Fullerton.
Cal State University Fullerton's CRNA program website
CRNA School Performance
CRNA School Rankings – U.S. News & World Report (2011)
3.1 out of 5.0. Ranked 22 out of 107 CRNA programs.
*Please note: CRNA rankings are somewhat bias and subjective. Read disclaimer about how CRNA rankings are created.*
Accredited CRNA Programs are reviewed regularly.
Cal State University Fullerton Nurse Anesthetist Program was last reviewed 05/2007. It was given 10 years accreditation and will be reviewed again 05/2017. This shows that the program is very stable.
Pass Rate for CRNA Boards at Cal State University Fullerton
Please note: It is extremely rare for a student at any CRNA school to not eventually pass the exam. Most students who don't pass the first time pass the second. Very rarely does a person ever take it a third time. This statistic only measures how well the program prepares students to pass the test the first time around.
First-time test takers: 93% Class of 2016

Attrition Rate
2016 – 3%
Employment Rate
2016 – 100%
CRNA Salaries
An average nurse anesthetist salary in California
California CRNA salaries are among the highest in the U.S., largely because of the higher cost of living. Most jobs range from $150,000-$200,000 per year.
An average annual nurse anesthetist salary in the US is $163,467 (according to a 2008 study)
Rural average: $174,214
Metropolitan average: $164,148
Suburban average: $156,630
Average starting CRNA salaries range from: $110,000-$130,000.
Frequently Asked Questions
I'm not sure I'm qualified. Can a school representative review my qualifications before I apply?
Kaiser Permanente School of Anesthesia provides personal counseling sessions for prospective applicants prior to applying to the program. In fact, all qualified Southern California Area applicants are required to attend a counseling session.
Your background will be reviewed on an individual basis either in person or by telephone. The admissions representative will advise you to continue the application process, if appropriate, as well as answer questions regarding the program.
Is Kaiser CRNA the right choice for me?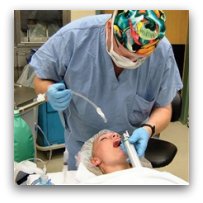 Cal State University Fullerton's nurse anesthetist program is not for everyone. It is an extremely demanding program and it's been said by graduates that you'll have to put your life on hold while you're working on your degree. If you're struggling through any marriage issues, emotional issues or any issues that may affect your ability to focus, you may want to apply elsewhere – or work through them before you start.
Also, it's located in a hot, dry desert area that's in the midst of the Los Angeles area. You'll be dealing with lots of traffic, and LOTS of driving. On the flip side, you'll be close to the ocean, and if you like city living, you'll feel right at home and you'll never run out of fun things to do.
See CRNA School Reviews
State / Cost / Rank / App. Deadline /Unique Programs / Home
*This page was updated February 20th, 2017.*
Did you find an error on this page? Please report it here