Boston College Nursing is one of two CRNA schools in Massachusetts.

Boston College Anesthesia Program
William F. Connell School of Nursing
Nurse Anesthesia Program
140 Commonwealth Avenue
Chestnut Hill, MA 02467
Contact Information
Susan A Emery, PhD, CRNA, Program Director
ph: (617)-552-6844
email: susan.emery@bc.edu
For more information, contact Arlene Ross, Program Assistant, at 617-552-2756 or arlene.ross@bc.edu.
Quick Facts
CRNA Degree offered
Master of Science in Nursing, Post-Master's Certificate (not a DNP)
Program Length
27 months, full time
Credit Hours 
70 semester hours
Starting Month
January
Application Deadline
June 30 for January enrollment. Interviews will be scheduled upon completion of applicant review. All requirements must be completed prior to the deadline.
Cost of CRNA School at Boston College
Tuition is calculated at the 2016-2017 rate. Tuition at most schools increases each academic year. Over the duration of the program, expect to pay a tuition that is 5% to 15% higher than what is shown here.
Cost of Tuition: $83,700
*Fees and expenses: $8,025
Grand Total: $91,725
* This includes the estimated cost of books, application fee, SEE, id card, clinical lab fee, student activity fees, and other miscellaneous school expenses.  You will need to add health insurance – the school offers some if you do not already have coverage.

Boston College Connell School of Nursing Tuition

CRNA Training
The Boston College nursing anesthesia program is a front-loaded curriculum. Students begin the program in January of each year and the Spring and Summer semesters consist of 15 credits of didactic coursework. Each semester there is a blend of core courses required for all Master of Science nursing students and specialty courses related to nurse anesthesia practice.
The fall semester begins the clinical practicum for the program and from this point on students are in the operating room 4 days per week and at the college 1 day per week. The clinical practicum incorporates experience in many different types of anesthesia, including regional.
Program Requirements
CRNA Program Requirements
BSN
A bachelor of science in nursing or a master of science in nursing
RN: 
An unrestricted license as an RN in the U.S. is accepted for the application process. Massachusetts RN license is required for matriculation.
Critical Care:
A minimum of one year of critical care experience as an RN. Acceptable critical care experience includes:
ICU
Surgical ICU
Medical ICU
Critical Care Unit
Pediatric ICU
Neonatal ICU
High acuity Surgical ICU in a tertiary medical center is strongly preferred
GPA:
An undergraduate grade point average of B or better (3.0)
GRE scores:
Must be within the last 5 years
International Students
Official TOEFL scores with a minimum of 100 on the TOEFL iBT (internet based test); 7.5 on the IELTS Band (academic); 600 or greater on the paper test; or 250 on the CBT (computer-based test).
NCLEX-RN Examination results/RN licensure
Official transcript(s) evaluation (by the Commission on Graduate Foreign Nursing Schools or World Education Services) from all post-secondary institutions at which you have studied
The TOEFL score is not required if you meet both of the following criteria: You are a citizen of the United States, Australia, Canada ( except Quebec), Great Britain, Ireland, New Zealand, Guyana, an Anglophone country of Africa, or an English-speaking country of the Caribbean AND your native language is English.
Certifications:
ACLS Advanced Cardiac Life Support
PALS Pediatric Advanced Life Support
CRNA Educational Requirements
Boston College Nursing Anesthesia Program's website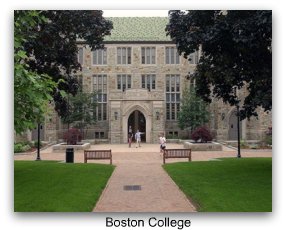 CRNA School Performance
CRNA School Rankings – Schools by Rank 2106
Ranked 61 for the 2015 graduating class.
*Please note: how CRNA rankings are created.*
Accredited CRNA Programs are reviewed regularly.
Boston College Nursing Anesthesia Program was last reviewed 06/2016. It was given 10 years accreditation and will be reviewed again 05/2026. This shows that the program is very stable.
Pass Rate for CRNA Boards at Boston College CRNA 
Please note: It is extremely rare for a student at any CRNA school to not eventually pass the exam. Most students who don't pass the first time pass the second. Very rarely does a person ever take it a third time. This statistic only measures how well the program prepares students to pass the test the first time around.
First-time test takers: 100% (2016), 100% (2015), 93.8% (2014), 92.9% (2013
Attrition Rate 
0% (2016), 12% (2015), 0% (2014), 12.2% (2013)
Employment Rate 
100% (2016), 100% (2015), 93.8% (2014), 100% (2013)
CRNA Salaries
An average nurse anesthetist salary in Massachusetts
Massachusetts CRNA salaries are below the national average and range from $130k-150k.
An average annual nurse anesthetist salary in the US is $163,467 (according to a 2008 study)
Rural average: $174,214
Metropolitan average: $164,148
Suburban average: $156,630
Average starting CRNA salaries range from: $110,000-$130,000.
Frequently Asked Questions
Can I work as an RN while I'm in the program?
The decision to work during the program is an individual one but is not recommended. As the program is only offered in a full-time format, the number of credit hours each semester varies but is as high as 15 credits per semester.
Once the clinical component begins in the third semester, students are in class one full day and in the operating room four full days with care plans and course work which must be completed in the evenings and on weekends. The workload of the program makes it very difficult to work.
I currently possess a master's degree in nursing. Can I apply to the nurse anesthesia program? Would the curriculum be different for me? How long would the program take to complete? Would I be granted a second master's degree?
Applicants with a prior master's degree in nursing are considered for the additional specialty option (post-master's certificate). Following acceptance into the program, prior course syllabi are reviewed for comparison with similar courses at Boston College.
It may be possible to be exempt from select core courses after review by the associate dean for graduate programs and the nurse anesthesia program director. The time to completion of the program remains 27 months and upon graduation, a certificate of completion is awarded.
*This page was updated July 21st, 2017.*
Did you find an error on this page? Please report it here