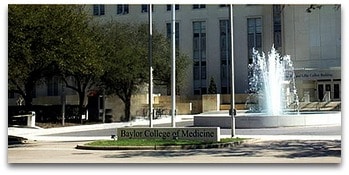 Baylor's CRNA program was ranked #5 in 2011.
Baylor College of Medicine Houston
Graduate Program in Nurse Anesthesia
MS:BCM115
One Baylor Plaza
Houston, Texas 77030
Contact Information
James R Walker, CRNA, DNP, FNAP, FAAN, Director
ph: (713) 798-8650
fax: (713) 798-2743
email: jrwalker@bcm.edu
General Inquiries
Email: crna@bcm.edu
Quick Facts
CRNA Degree offered
Doctor of Nursing Practice for the BSN prepared registered nurse, as well as an MSN-DNP completion program. This page details the BSN-DNP program.
Program Length
36 months, full time
Credit Hours
132 semester hours, 31 of which are offered online
Starting Month
January
Application Deadline
Application deadline is July 1 of the year prior to which admission is being sought. All supporting documents must be received by July 15.
The online application is only accessible February 15 through July 1st of each year.
Entire Program Cost of CRNA School at Baylor College of Medicine Houston. Please note that tuition is calculated at the 2015-2016 rate. Tuition at most schools increases each academic year. Over the duration of the program, expect to pay a tuition that is 5% to 15% higher than what is shown here.
Cost of Tuition: $55,608
Fees and expenses: $21,529
* Grand Total: $77,137
Visit their tuition page to get a better understanding of calculations.  This number includes: tuition, fees, application fee and book supplies. 
Class Size
Baylor College of Medicine Houston accepts 15 students each year into the standard BSN-DNP program. In addition, 30 master's prepared CRNAs are admitted who wish to advance their careers with the DNP degree.
Number of Applicants
They receive 55-130 applications depending on the year.
CRNA Training
Are you concerned Baylor College of Medicine Houston won't give you the specific experiences or training you need to be a successful CRNA? Learn what standards CRNA Programs must meet in order to be accredited by the Council on Accreditation of Nurse Anesthesia (COA).
During the first 18 months of the program at Baylor College of Medicine Houston, you'll be in the didactic phase, gaining a solid foundation in the science of nurse anesthesiology. This phase is divided into 9 blocks where one block builds upon the foundation laid in the previous block. This repetition of information will give you a huge advantage when you take the CRNA boards at the end of the program, and is one of the main reasons for Baylor's high board pass rate.
During blocks 3, 5 and 6, you'll gain hands-on experience in nurse anesthesia with the use of their high fidelity human patient simulator. The simulator is programmed to mimic the physiology of almost any patient. This gives you the opportunity to develop your skills in a non-threatening environment before you are expected to care for real patients.
The last 18 months are dedicated to the clinical phase. Note that all of your clinical experience will be gained at nearby hospitals. Many students walk, ride their bikes or take the bus to clinical (although you'll most likely want your car for late night shifts).
Each clinical site was chosen to give you a specific experience in anesthesia. Through your rotation at each site, you'll gain a broad range of skills and experiences.
In your 9 months at Ben Taub General Hospital, you'll gain experience in general operating room anesthesia techniques as well as obstetrics.
During your three months at the VA Medical Center, you'll learn geriatric anesthesia and more specifically, anesthetic care for open-heart, major vascular, thoracic, urologic, neurologic, orthopedic, ENT, eye and plastic procedures.
During your 4 months at the Methodist Hospital, you'll gain exposure to outpatient anesthesia, in addition to anesthesia administration in general, plastic, orthopedic, urologic, gynecologic, ENT, oral, ophthalmologic, minor vascular, major endovascular, and interventional radiologic procedures. At the Heart Center, you'll also gain experience in the anesthetic management of patients undergoing cardiac, thoracic, vascular (major and peripheral), and transplantation procedures.
In your 1 month at the Children's Hospital, you'll be exposed to a variety of surgical procedures (inpatient and outpatient settings), and will also be expected to attend a morning lecture series led by the faculty anesthesiologists and nurse anesthetists.
Finally, at St. Luke's Episcopal Hospital, you'll gain exposure to the practice of anesthesia in the private hospital setting.
Program Requirements
Looking for something specific? Find CRNA schools categorized by their unique requirements.
Some CRNA schools require much more out of their applicants than others. See how the requirements at Baylor College of Medicine Houston compare to most CRNA school's requirements.
CRNA Program Requirements
Required Bachelor Degree
BSN (Bachelor of Science in Nursing) from a fully accredited college or university in the United States.
RN:
All applicants must possess a valid, unencumbered RN license from Texas.  Students must maintain current Texas R.N. licensure at all times during the program.
Critical Care:
A minimum of one year (two years preferred) of experience in an area of intensive care nursing.
ICU in any setting, for example:
Cardiovascular ICU
Surgical ICU
Neuro ICU
Medical ICU
Pediatric ICU (Level III)
Neonatal ICU (Level III)
Open-Heart Recovery Unit
They do NOT accept:
Step Down or transition care areas
Post-Coronary Care
Intermediate Care Units
Progressive Care Units
Recovery Room/ Post Anesthesia Care Unit
Operating Room
Emergency Room
GPA
Cumulative undergraduate grade point average of 3.0 or better (where A = 4.0)
GRE
Completion of the Graduate Record Examination (verbal, quantitative, and analytical writing sections).The GRE exam must have been taken within the past four years.  Only the most recent GRE scores will be considered. ALL applicants are required to take the GRE. No exceptions.
In order for an applicant's GRE scores to be competitive, they recommend scores at or above the 50th percentile on all three sections of the exam (verbal, quantitative, and analytical writing). They will continue to accept old test version GRE scores as long as scores are not more than four years old as of the application deadline.
The Average Student
Based on the most recent incoming class, the average student is 27 years of age, has a mean grade point average of 3.67 on a 4.0 scale, and a composite score on the Graduate Record Exam of 1155 (verbal + quantitative). All students are registered nurses with experience in intensive care settings.
Certifications:
BLS (Basic Life Support)
ACLS (Advanced Cardiac Life Support)
PALS (Pediatric Advanced Life Support)
CCRN (Critical Care Registered Nurse) strongly encouraged
Undergraduate Class Prerequisites with a B or better:
Organic Chemistry
Statistics
They will accept AP credit for statistics provided the official transcript reflects credit for three semester hours of statistics and the applicant submits a copy of the score report (or other documentation) confirming that he or she received a score of 4 or better on the advanced placement exam for statistics.
Baylor College of Medicine Houston's CRNA program website
CRNA School Performance
CRNA School Rankings – U.S. News & World Report (2011)
3.5 out of 5.0. Ranked 5 out of 107 CRNA programs.
*Please note: CRNA rankings are bias and subjective. Read disclaimer about how CRNA rankings are created.*
Accredited CRNA Programs are reviewed regularly.
Baylor College of Medicine Houston's Nurse Anesthetist Program was last reviewed 05/2014. It was given the maximum of 10 years accreditation and will be reviewed again 05/2024. This shows that the program is in full compliance with the COA's accreditation standards.
Pass Rate for CRNA Boards at Baylor College of Medicine Houston
In the last 10 years, they've had only 3 students that didn't pass the first time.
Class of 2014 and 2015 -100%
National average (2008): 89.9%
Attrition Rate
13.3% (Class of 2015)
Employment Rate
100%
CRNA Salaries
An average nurse anesthetist salary in Texas
Average Texas CRNA salaries range from $140k-170k.
An average annual nurse anesthetist salary in the US is $163,467 (according to a 2008 study)
Rural average: $174,214
Metropolitan average: $164,148
Suburban average: $156,630
Average starting CRNA salaries range from: $110,000-$130,000.
Frequently Asked Questions
Describe the capstone project
During the last 9 months of the program at Baylor College of Medicine Houston, you'll complete a capstone project with the guidance of a faculty advisor.
Through this project, you will gain critical thinking skills as a result of analyzing current literature and exploring key anesthesia care issues. You will be encouraged to communicate with precision, cogency and force in both written and oral forms.
What is the class schedule?
Mon – Friday 8am to 5pm. You will rarely be asked to do anything on the weekends.
Can I work as an RN while I'm in the program?
Outside employment is strongly discouraged. If you do choose to work, you may be able to work 1-2 weekend shifts per month during the first year. You will find it virtually impossible to work during the clinical phase of the program.
What is the basis of selection?
The Admissions Committee at Baylor College of Medicine Houston will select those candidates whom they consider to be most likely to succeed in graduate studies in nurse anesthesia as evidenced by:
Undergraduate and graduate (if applicable) academic achievement.
Graduate Record Examination scores (if applicable).
Evaluation of accomplishments and character by faculty and supervisors.
Interview with the Admissions Committee.
All information given on this site about Baylor College of Medicine Houston's Nurse Anesthetist Program was taken directly from their website.
*This page was updated April 30th, 2016.*
Did you find an error on this page? Please report it here