Barry University's CRNA school is in the heart of Miami Shores.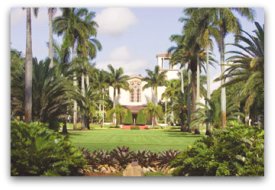 Barry University Florida
Anesthesiology Program
421 N 21st Avenue
Hollywood, FL 33020
Barry University – Health Sciences Admissions
11300 NE 2nd Avenue
Miami Shores, FL 33161-6695
Phone number:305-899-3379
Toll-free:1-800-756-6000, ext. 3379
E-mail: healthsciences@barry.edu
Contact Information
Rebecca Lee, DNP, CRNA
Program Director
ph: (305) 899-3230
fax: (305) 899-3366
email: ane@mail.barry.edu
Quick Facts
CRNA Degrees offered
Master of Science in Anesthesiology, currently transitioning to DNP, Post Master's Certificate
Program Length
28 months
Credit Hours
51 semester hours
Starting Month
January
Application Deadline
May 1. Applications received after May 1 are considered on a space available basis.
Entire Program Cost of CRNA School at Barry University.
Tuition is calculated at the 2016 rate.  Tuition at most schools increases each academic year. Over the duration of the program, expect to pay a tuition that is 5% to 15% higher than what is shown here.
Cost of In State Tuition: $50,490
*Fees and expenses:$2,230
Grand Total: $52,720
*This includes the cost of application fee, books and graduation fee.
Barry University Florida Tuition Link
Class Size
64-78 (4 year average is 70.5)
Clinical Locations
The Program covers most of Florida's Clinical regions:
White sandy beach areas of Tampa/St. Petersburg/Clearwater/Sarasota
The growing Ocala/Gainesville area
Family-centered Orlando and central Florida
The tropical West Palm Beaches
Sunny South Florida – Fort Lauderdale and Miami
Choose your destination and be guaranteed the full range of anesthetic experiences.
Classroom work is offered live on the Miami Shores campus, or off-campus via Internet Video Conferencing in many locations.
With advances in technology, you can attend Barry's Program from just about any location in the world!
Faculty are available at each location; you bond with your classmates in the Program and those assigned to your geographic cohort.
Program Requirements
Looking for something specific? Find CRNA schools categorized by their unique requirements.
Some CRNA schools require much more out of their applicants than others. See how the requirements at Main Keyword compare to most CRNA school's requirements.
CRNA Program Requirements
BSN
Or a baccalaureate degree in an appropriate science. A non science degree will be considered on a case by case basis.
RN:
A current, unrestricted license as an RN in the U.S. Students must provide a Florida RN license once admitted to the program.
Critical Care:
One year, full-time clinical experience as a Registered Nurse in a critical care setting within the last 3 years.
Clinical experience should be direct patient care
should routinely require non-invasive and invasive monitoring
continuous pharmacologic infusions
mechanical ventilation
GPA:
3.0 minimum. Emphasis is given to the last 60 hours of undergraduate work. Applicants with a master's degree from a regionally accredited college or university will have their graduate GPA included for admissions consideration.
Minimum GRE scores:
Satisfactory scores required – must be taken within 5 years of application. The GRE requirement may be waived for applicants with an earned graduate degree.
TOELF:
(Test of English as a Foreign Language) Required for non-native English speakers. Minimum score of 550 on the written version, 213 on the computer version, or at least 79 on the internet-based TOEFL. The TOEFL may be waived for applicants with a minimum of 24 college level academic units earned from a primarily English speaking institution.
Certifications:
BLS (Basic Life Support)
ACLS (Advanced Cardiac Life Support)
PALS (Pediatric Advanced Life Support)
CCRN is not required but is highly regarded
Course Prerequisites
Chemistry: B or better, must have a lab component and the course (not the lab) must be taken within 5 years of the beginning of the program (organic or bio-chemistry preferred).
One science/math course: Examples include: advanced physiology, pharmacology, physics, genetics, statistics, algebra.
Observe or shadow a CRNA
Strongly encouraged
Head-Start Plan
ANE 627A – Advanced Research and Evidence Based Practice, ANE 525A-Professional Aspects of Anesthesiology, and ANE 560-Chemistry and Physics for Anesthesia can be taken online during the summer and fall semesters prior to spring enrollment.
Barry University Florida's CRNA Admissions website
CRNA School Performance
CRNA School Rankings – U.S. News & World Report (2011)
2.5 on a 4.0 scale. Ranked 64 out of 107 CRNA programs
*Please note: CRNA rankings are bias and subjective. Read disclaimer about how CRNA rankings are created.*
Accredited CRNA Programs are reviewed regularly.
Barry University Florida Nurse Anesthetist Program was last reviewed in October 2010. It was given the maximum of 10 years accreditation and will be reviewed again in October 2020. This shows that the program is in full compliance with the COA's accreditation standards.
Pass Rate for CRNA Boards at Barry University Florida
Please note: It is extremely rare for a student at any CRNA school to not eventually pass the exam. Most students who don't pass the first time pass the second. Very rarely does a person ever take it a third time. This statistic only measures how well the program prepares students to pass the test the first time around.
First-time test takers: 90% (2015)
National average (2008): 89.9%
Attrition Rate
12% – (2015)
Employment Rate
100% – (2015)
CRNA Salaries
An average nurse anesthetist salary in Florida
Florida CRNA salaries hover right around the national average and fluctuate between $150k-175k.
An average annual nurse anesthetist salary in the US is $163,467 (according to a 2008 study)
Rural average: $174,214
Metropolitan average: $164,148
Suburban average: $156,630
Average starting CRNA salaries range from: $110,000-$130,000.
Frequently Asked Questions
How many hours should I expect to be engaged in the program each week?
Barry University Florida Nurse Anesthetist Residents average just over 60 hours per week of committed time devoted to didactics, clinical training and study time.
Can I work as an RN while I'm in the program?
You will not be able to work while enrolled in the program, so plan your finances accordingly.
What makes this school unique?
Barry University Florida's nurse anesthetist program provides the opportunity to participate in more than three times the required number of clinical cases and anesthesia hours. They teach general, regional, sedation, invasive line insertion, OB, hearts, trauma, and more!
All information given on this site about Barry University Florida's Nurse Anesthetist Program was taken directly from their website.
*This page was updated April 12th, 2017.*
Did you find an error on this page? Please report it here