Baptist Health & Murray State University is the only CRNA school in Kentucky.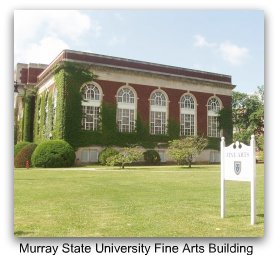 Baptist Health & Murray State University
Nurse Anesthetist Program
900 Hospital Drive
Madisonville, KY 42431
Contact Information
Lorrie E Springer, CRNA, MSN, Program Director
ph: (270) 824-3460
fax: (270) 824-3469
email: lspringe@baptisthealth-madisonville.com
Dina Byers, PhD, ARNP, CNC-C
270-809-6223
dbyers@murraystate.edu
Quick Facts
CRNA Degree offered
Doctor of Nursing Practice
Program Length
36 months
Credit Hours
81 credit hours
Starting Month
August
Application Deadline
November 1st. Applications submitted after the appropriate date will be considered on a space-available basis.
Cost of CRNA School at Baptist Health & Murray State University
Please note that tuition is calculated at the current 2015-2016 rate. Tuition at most schools increases slightly each academic year. Over the duration of the program, expect to pay a tuition that is slightly higher than what is shown here.
In State Tuition total: $56,196
*Total expenses: $2,000
In State Grand total: $58,246
Out of State Tuition Total: $66,222
*Total expenses: $2,000
Out of State Grand Total: $68,272
Murray State University Tuition Link
The following counties will receive the Kentucky Instate rate:   Tennessee: Henry, Obion, Stewart, and Weakley Counties  
Class Size
18
Number of Applicants
120
CRNA Program Summary
Are you concerned that Baptist Health & Murray State University Nurse Anesthesia Program won't give you the specific experiences or training you need to be a successful CRNA? Learn what standards CRNA Programs must meet in order to be accredited by the Council on Accreditation of Nurse Anesthesia (COA).
This CRNA program (as well as all others that are accredited by the COA) prepares you to take the CCNA certification exam at the conclusion of the program, allowing you to become a CRNA.
The program is dedicated to graduating nurse anesthetists of the highest professional competence residing in a rural area who are committed to returning to rural areas to practice.
During the first 4 semesters, you'll be completing the bulk of your core classes as well as your nursing anesthesia specialization courses.
For the remaining 3 semesters , you'll be finishing up your specialization classes while focusing the majority of your time on your clinical experience.
Program Requirements
CRNA Program Requirements – all must be completed by the application deadline
BSN
Bachelors of Science in Nursing from an NLNAC or CCNE accredited school.
RN:
License to practice as a registered nurse, plus you will also have to have license for any state you intend on completing clinical hours.
Critical Care:
A minimum of two years of RN experience in an acute critical care setting within the past 5 years.
The do not accept ER experience as critical care.
GPA:
Undergraduate cumulative GPA of 3.0.
GRE – no longer required
TOEFL:
Test Of English as a Foreign Language score 550; pass oral proficiency exam administered by the Department of Nursing, if applicable.
Certifications:
CPR (Cardio Pulmonary Resuscitation)
ACLS (Advanced Cardiac Life Support)
PALS (Pediatric Advanced Life Support)
CCRN (not required but will give you extra points so it is HIGHLY recommended)
CRNA Educational Requirements 
Chemistry – 4 credits: organic, inorganic or biochemistry course
Murray State University CRNA program website
Baptist Health Program Website
CRNA School Performance
CRNA School Rankings – U.S. News & World Report (2011)
2.0 out of 5.0. Ranked 100 out of 107 CRNA programs.
*Please note: CRNA rankings are somewhat bias and subjective. Read disclaimer about how CRNA rankings are created.*
Accredited CRNA Programs are reviewed regularly.
Baptist Health & Murray State University's Nurse Anesthetist Program was last reviewed 10/2011. It was given 10 years accreditation and will be reviewed again 10/2021. This shows that the program is very stable.
Pass Rate for CRNA Boards at Baptist Health & Murray State University
First-time test takers: 90% (Class of 2015)
National average (2008): 89.9%
Attrition Rate
0% (Class of 2015)
CRNA Employment Rate of program graduates
100% (Class of 2015)
CRNA Salaries
An average nurse anesthetist salary in Kentucky
Kentucky CRNA salaries tend to be slightly above the national average and fluctuate around the $150k-170k range.
An average annual nurse anesthetist salary in the US is $163,467 (according to a 2008 study)
Rural average: $174,214
Metropolitan average: $164,148
Suburban average: $156,630
Average starting CRNA salaries range from: $110,000-$130,000.
Frequently Asked Questions
How many hours should I expect to be engaged in the program each week? No more than 65 hours a week.
Can I work as an RN while I'm in the program?
They do not forbid students from working, but the program is very rigorous and it is highly discouraged.  If a student does try to work, there are restrictions and resignation may be mandated if it interferes with didactic or clinical performance.
What are the primary clinical sites?
Baptist Health, Madisonville, KY and St. Claire Regional Medical Center, Morehead, KY serve as primary clinical sites.
*This page was updated August 10th, 2016.*
Did you find an error on this page? Please report it here