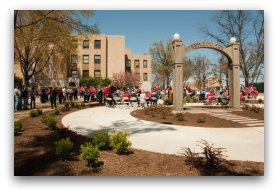 ASU Jonesboro is a fantastic choice if you are looking for a lower-cost program that is not uber-competitive. Better yet, Jonesboro ranks very high on things that matter, like board pass rates and clinical hours. The best part is that your chances of failing out are pretty slim. It's an all-around great choice!
Program Basics
MSN (Master of Science in Nursing)
Class Size: 22
Program Length: 28 months
Starting Month: January
Early Admission Deadline: April 1st
Application Deadline: July 1st
Contact Info
Christie Zitzelberger-Black
Program Administrator
czitzelberger@astate.edu
(870)972-3074
Nursing Department
P.O. Box 910
State University,
AR 72467
ASU Base Tuition (2015) $30,600
Fees & expenses: $14,615
Total Cost: $45,215
Price includes: health insurance, books and supplies, test fees, miscellaneous school/other expenses.
Tuition and fees information is taken from the university website.
Accreditation: 10 years is the maximum given and demonstrates program stability.
Arkansas State University Jonesboro CRNA program's next review is May 2024.
Program Requirements
Bachelor of Science in Nursing from a NLNAC or CCNE accredited College or University
Current RN license in the US
2 years Adult ICU
A minimum of two full years of experience within the past three years as an RN in an adult intensive critical-care setting.
You must be an independent decision maker, have excellent coordination and fine motor skills, excel at starting IVs and catheters, and be skilled with using and interpreting advanced blood pressure monitoring equipment.
Minimum cumulative 3.0 on all undergraduate courses OR 3.0 on the last 60 hours of undergraduate courses.
300 on your GRE
A preferred combined verbal and quantitative score of 300 and an analytical writing section score. Score must be within 5 years of application.
TOEFL – International applicants must submit a minimum score of 570 (paper-based), 213 (computer-based) or 83 (internet-based) on the TOEFL.
CCRN OR CSC: CCRN Certification for Adult, Neonatal and Pediatric Critical Care Nurses
OR
CSC Cardiac Surgery Certification
BLS, PALS ACLS
BLS (Basic Life Support)
PALS (Pediatric Advanced Life Support)
ACLS (Advanced Cardiac Life Support)
Required 2 months prior to entrance into class.
Statistics – 3 semester hour graduate level descriptive and inferential statistics course with a grade of B or better is required for admission.
Find out your chances of acceptance at Jonesboro's CRNA Program. Acceptance rates vary from 5% to 77%? Applying to the RIGHT school makes all the difference.
Reviews
Average Score: N/A (1 rating)
Jonesboro is a great program for any student, but even better for those who want an incredible education but don't want to compete with hundreds of 4.0 students to get in.
Frequently Asked Questions
Is Arkansas State University Jonesboro's Nurse Anesthetist Program right for me?
So… is Arkansas State University Jonesboro right for you? It's the perfect choice if you're looking for a less-competitive CRNA school that still offers a quality education. It's even a great choice if you're looking to relocate there because they don't charge out of state tuition.
What is it like to live in Jonesboro?
Culturally, the Jonesboro area is mostly Christian in religious views (it's right there in the Bible belt), it has a much lower than average cost of living and it is a very safe place to live – especially for a city of its size (116,000). If you don't mind a lot of humidity in the summer (it can get pretty uncomfortable), it may be just right for you!
All information given on this site about Arkansas State University Jonesboro's Nurse Anesthetist Program was taken directly from their website.
Did you find an error on this page? Please report it here.
This page was updated 11/29/2016.